Business minister resigns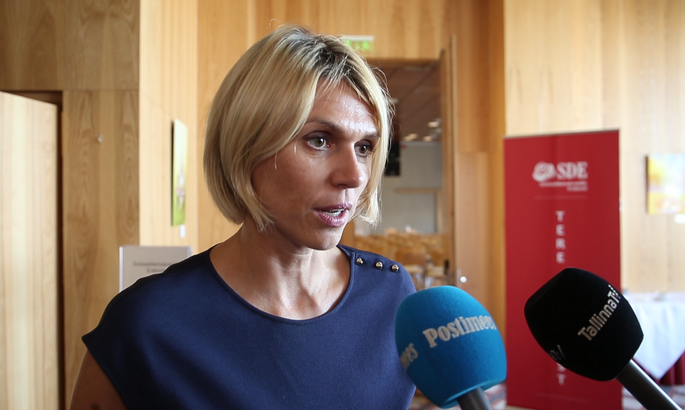 Yesterday, Soc Dems management decided that they continue in coalition and intend to maneuver chairman Jevgeni Ossinovski into government. Also importantly, minister or entrepreneurship Urve Palo said she would step down. 
After weeks of various negotiations to create a new coalition, Soc Dems chairman Jevgeni Ossinovski have in yesterday and voted to continue in the coalition himself. By 35:25, status quo prevailed.
Urve Palo said she had a plan to resign for quite a while but waited to see what the party would think. She denied being forced by the Port of Tallinn corruption story while admitting it made the move easier.
«Port of Tallinn has been under Reform Party management for ten years and even during these past coalition talks Reform has clung to being in charge of it, keeping the post  of chairman and having their members on port's board,» said Ms Palo.
She added that as the board of Port of Tallinn was elected last year, she but also the chairman Remo Holsmer (Reform) had hints by security police that all was not well with the port. «Anyway, it was up to Reform to decide that the old board continued. It is not the role of the minister to confirm council's decision by her signature.»
Ms Palo also said: «I really do not want to work in a government lead by Reform.» Meanwhile, Jevgeni Ossinovski presented a string of items agreed by Soc Dems to be done at government in addition to coalition treaty and presented it what was agreed with Reform and IRL chairmen as a win for Soc Dems. Therewith, he substantiated his vote to continue in the coalition.  
As advised by Soc Dems board and council alike, Mr Ossinovski should go to government as chairman of the party. To this, Mr Ossinovski also agreed.  
His portfolio-to-be remained unclear for the soc dems as at yesterday. The board, having convened for closed session afterwards, put the discussion thereof off to this new week.
It was hinted that Mr Ossinovski would probably avoid stepping into shoes of Ms Palo as business minister. The portfolio might prove nasty due to clouds gathering above his father Oleg Ossinovski, though the son claims to have nothing to do with dad's dealings. If Soc Dems want to keep business minister portfolio, they will have to find another persona.
Within the party's options, there's not much left. Hardly would Mr Ossinovski assume Rannar Vassiljev's job as health and labour minister. And to be culture minister, replacing Indrek Saar, would not be much of a temptation.
The only hefty portfolio the Soc Dems possess is defence minister's. Former chief soc dem Sven Mikser would then have to bow out. In case on need, he'd probably not resist.
The soc dems talk yesterday was swaps within the entire coalition. It remains to be seen, if Reform and IRL like the idea after all the inconvenience already suffered because of the coalition-troubling Mr Ossinovski.
«If Urve Palo steps back the soc dems should find business minister among themselves. If the job fits Mr Ossinovski not, they should start by looking among themselves first,» said Reform vice chairman and interior minister Hanno Pevkur.
IRL chairman and social protection minister Margus Tsahkna acknowledged Mr Ossinovski opting to come to government i.e. soc dems chairman would be linked to governmental responsibility. He echoed the statement by Mr Pevkur, however: let the soc dems look around among themselves first, for a portfolio.
«Enough of the political games, the government has work to do, especially in this security situation and considering the rising migration,» said Mr Tsahkna.
With all that said, speeches at the Soc Dems event yesterday excluded not changes ahead in government, especially in light of revelations to come  regarding the Port of Tallinn issue.