Posing the presidential question: a he or a she?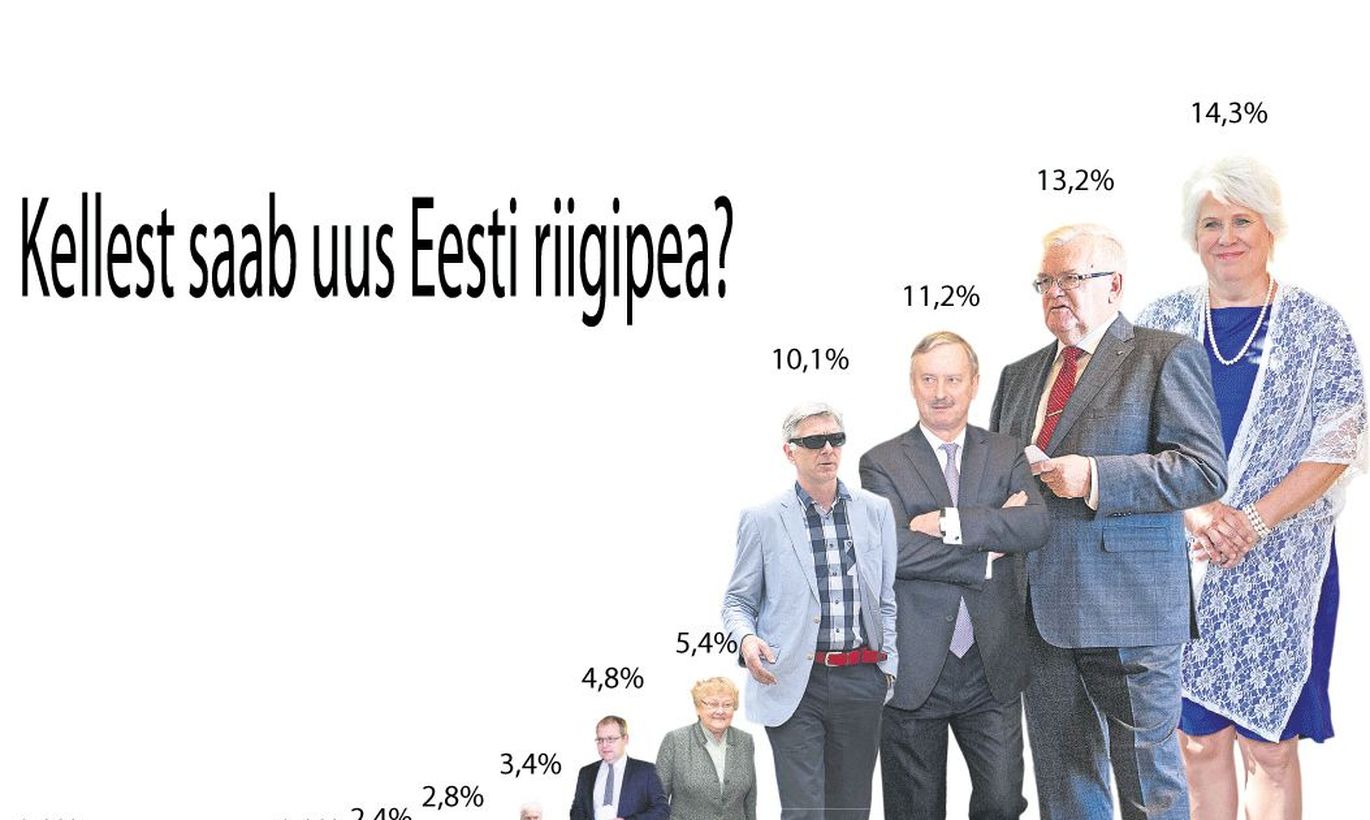 In a little less than a year, Estonia gets its next president. Increasingly, the people are liking our fresh foreign minister Marina Kaljurand.
In mid-August, 1,203 inhabitants of Estonia were interviewed by pollster TNS Emor, in homes and over the Internet, to find out who they would like to follow Lennart Meri, Arnold Rüütel and Toomas Hendrik Ilves as Estonia's new President.
From the options presented, Marina Kaljurand (14.3 percent) is best favoured by Estonians, ladies, gymnasium-educated, middle-aged and elderly, and middle income. Ms Kaljurand is trailed by the again-on-the-job Mayor of Tallinn Edgar Savisaar (13.2 percent) mainly supported by non-Estonians, men, and inhabitants of Tallinn and Ida-Viru County. Siim Kallas places third (11.2 percent) as liked by highly educated and high-earning inhabitants of Estonia.
On the heels of the leading trio, MEP Indrek Tarand with 10.1 percent. As proposed by Centre, he has one try for the job under his belt and stands favoured by respondents under 35 and dwelling in small towns.
As underlined by Emor expert Aivar Voog, the rising popularity of Ms Kaljurand as compared to a March poll must be related to her being better featured in the media as foreign minister.
All three frontrunners – Kaljurand, Savisaar, Kallas – would require all kinds of political agreements and manoeuvres to get elected in Riigikogu. Despite the «love-hate» relationship between Mr Kallas and his native Reform, he might still be the most likely to pass from Riigikogu to the Electoral College. Mr Tarand, with low hopes amid the parties, might have an edge among the college as one popular in the regional small sized towns.
As admitted by Mr Voog, the social demographic profile of Electoral College will definitely not coincide with the entire Estonian population and thus the outcome will be rather unpredictable. «In high likelihood, the new President will not get elected at Riigikogu, and the Electoral College are uncharted waters. There, the crew is very specific as to political preferences, and it is impossible to predict what will be happening,» said Mr Voog.
By Reform, three potential candidates have been set up: Kaljurand, Kallas and Paet. The «weakness» of Ms Kaljurand being that though a nonparty persona she's still lifted up by Reform and Prime Minister and President should not smell same-partyish.
Also, the grapevine keeps telling us that the new president was agreed at the coalition talks and is supposed to be the now President of the Riigikogu Eiki Nestor, a soc dem. On the one hand, the deal (unwritten, but the on-my-honour kind) would serve to keep the current coalition together. Even so, the Soc Dems leader Jevgeni Ossinovski has opted for shake-ups and his party abounds with folks who think the coalition is better broken up. Meaning that Mr Ossinovski is expected to make a mark in party and coalition alike.
There will hardly be a Reform-candidates' show before New Year. Though they might be tempted, an Estonia bursting with issues regarding economy, security and refugees would not stomach a one-party-tour like that. They will announce the candidate at the start of next summer.
As for Centre, they discussed the issue at recent summer camp. It was decided that the party most popular must surely set someone up. «If it's someone from the membership of from the outside is not clear yet,» said their secretary-general Priit Toobal.
He assured us there will be no tour. «We have a President in office and it makes no sense speculating about that before early spring next year,» thinks Mr Toobal.
IRL has said they will surely suggest someone. They aren't saying who, but Tunne Kelam and Jüri Luik listed in the fresh poll got two percent support while former Riigikogu speaker Ene Ergma arrived at 5.4 percent.
Should the elections flop in Riigikogu and Mr Kallas and some weaker candidate emerge, say, there is a bargaining point with IRL – a seat at European Court of Auditors sought by Juhan Parts.