Tallinn top chef opens restaurant in central Moscow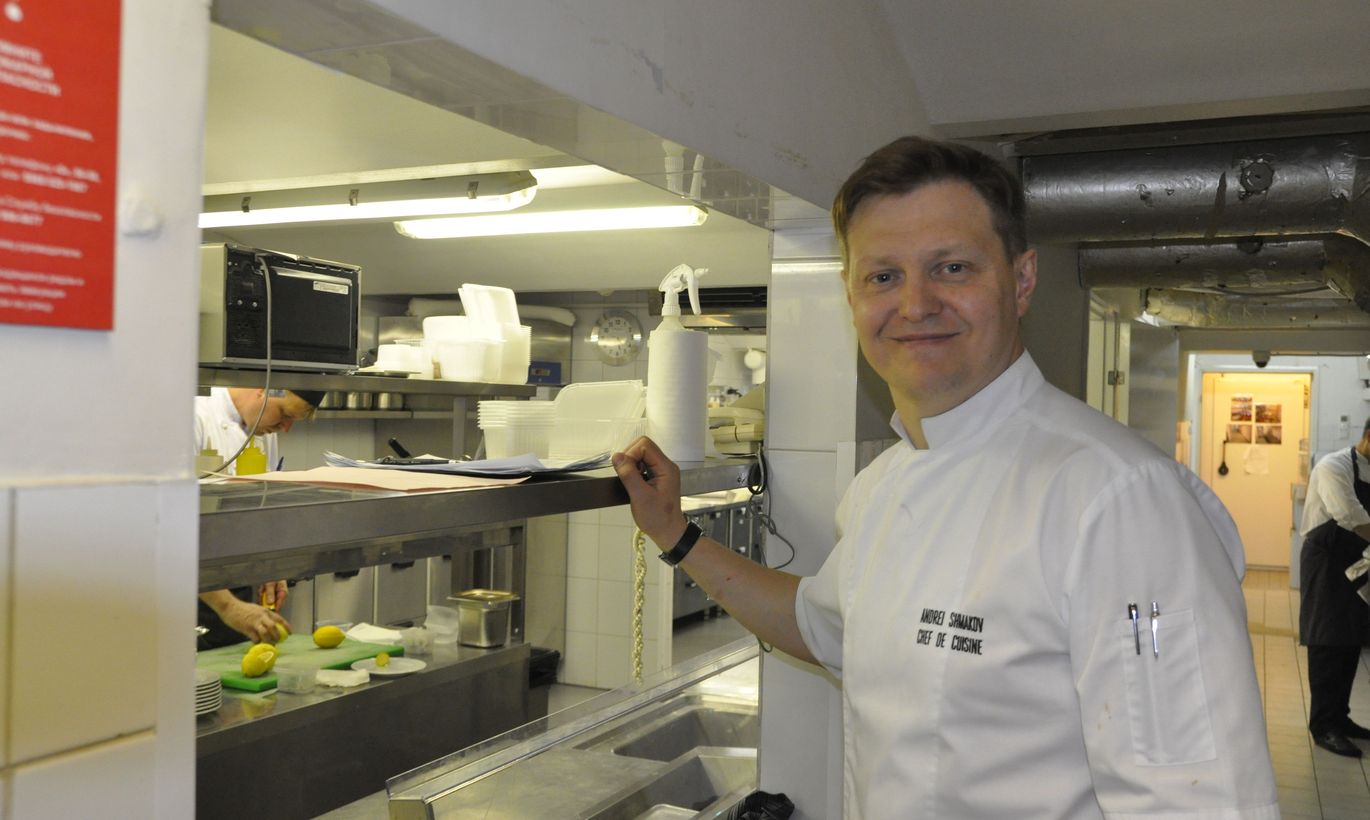 Who is the Estonian chef de cuisine' in charge of the largest army of cooks? In all likelihood, the man is Andrei Šmakov, former chief cook at Tallinn restaurants Ribe and Kadriorg: in one of Moscow's oldest five star hotels, he is boss over a whopping 46 cooks.   
«I was absolutely satisfied with my work in Estonia and unwilling to go anywhere, but the offer was such a challenge: will I, a simple chap from Tallinn, be able to manage the catering and restaurant in such a large hotel,» says Mr Šmakov (42). We are talking about Hotel Metropol, in operation ever since 1905 and boasting a best location in Moscow, right between Red Square and Bolshoi Theatre. «I took the offer as a win at some large cooking competition!» beams the man.
As he got going, two years ago, the large kitchens of Metropol, all modernist and gold and marble, employed a whopping 76 cooks tasked with serving guests in 400 hotel rooms – many of those used to everyday luxury. On top of the menu at the restaurant, Mr Šmakov was responsible for organising the operation of the hotel's breakfast table and lobby-bars. In a word. He started out more like a manager than a chef.
Having worked in restaurants of Tallinn, Mr Šmakov found himself in another world. «Tallinn is a paradise in the sense of having normal food products, normal staff, and normal relations between people, and an overall normal restaurant culture,» recalls Mr Šmakov. «Here, as I started, all was the other way round.»
This spring, Mr Šmakov opened a restaurant called Savva at Metropolis, his own brainchild from start to finish. «I was given total carte blanche, with designing the restaurant and ordering the furniture,» says Mr Šmakov who sees this as an opportunity of a lifetime. The name is after the founder of the hotel, a famous Russian industrialist Savva Mamontov.
When writing recently about the restaurant, the well-known Moscow business paper RBC-Daily presented Mr Šmakov explicitly as an Estonian cook who introduced a totally unique Russian kitchen with strong «Scandinavian-Baltic motifs».
Mr Šmakov, who speaks decent Estonian, travels the Tallinn-Moscow distance weekly: arriving on Tuesday mornings, he flies back to his family on Saturday mornings. Till last fall, he even managed to work at two restaurants: Ribe in Tallinn, and the one at Metropol in Moscow. But preparations for the opening of Savva made the two-front job too exhausting, so now he limits himself to be a consultant at Ribe: helping to put together the menu, and testing the foods while in Tallinn.
Always a major problem in Moscow restaurants is the lack of quality and fresh foodstuffs, which is the main reason the city, wealthy as it is, is still missing a restaurant with even a single Michelin star. Mr Šmakov agrees: the quality of foodstuff is poor but the price is high.
He cites beef tenderloin: the local produce costs €38 a kilogram in our money, while in Estonia we'd get it for €18 at a marketplace. At that, in Savva Mr Šmakov is able to offer foods in the same price class as Ribe in Tallinn.
«Only now, at long last, fresh local foodstuff has appeared in Moscow,» said Mr Šmakov. «For instance, they are bringing good local goat cheese and bread.»
At the moment, restaurants in Moscow feature two chefs from Tallinn. In Graf, an interesting restaurant specialised in game, Vitali Tihhonov works as head chef. For his own right-hand man i.e. sous-chef, Mr Šmakov sought out Nikita Tšunihhin who has worked in the Tallinn restaurants Muuseum and Ö. This winter, a well-known Estonian cook Tõnis Siigur was in Moscow, to present his menu at a leading Moscow restaurant owner Andrei Dellos (among others owner of Cafe Pushkin known to Estonians), at his showcase place Fahrenheit.
«All who are in restaurant business in Moscow are well acquainted with Estonian restaurant life, aware that we currently have the best restaurant culture in the Baltics,» says Mr Šmakov. «From Moscow, they often come here for gastronomic tours.»
Considering that Moscow is a fastest developing European restaurant market at the moment, Mr Šmakov's Savva is a feat indeed. For several years, the Moscow restaurants have lured famous European chefs to work for them or act as consultants – for mega money. Right now, what is very fashionable in Moscow is Scandinavian kitchen – an excellent potential opportunity for other Estonian cooks. The pay is sure to be good, but as exemplified by Mr Šmakov, the work load is severe. «I work nonstop, as I also live at the hotel,» he describes. «At times, it's like I come to the hotel from the airport on Tuesday, and go to the airport from the hotel Saturday morning, and I have never for a moment left the hotel.»
- Opened this May in heart of Moscow, at Hotel Metropol.
- Chef Andrei Šmakov author of idea from scratch.
- Interior merges honourable history and modernism.
- Named after the Russian industrialist Savva Mamontov.
- Offers «new Russian kitchen» combining the traditional Slavic gastronomy with Nordic peculiarities.
- Though housed at a most expensive hotel in Moscow, the average bill is 2,000 roubles (€32).
- More pocket-friendly lunch wherein Mr Šmakov presents his specialties.
- Mr Šmakov intentionally keeps prices pocket-friendly: lunches feature roast calf cheek for €15 and pike meat filled pelmeni for €10; dinners include orzotto with urtica for €11 and roast river trout (€18).