From Abkhazia to Alatskivi: arrive, then survive ...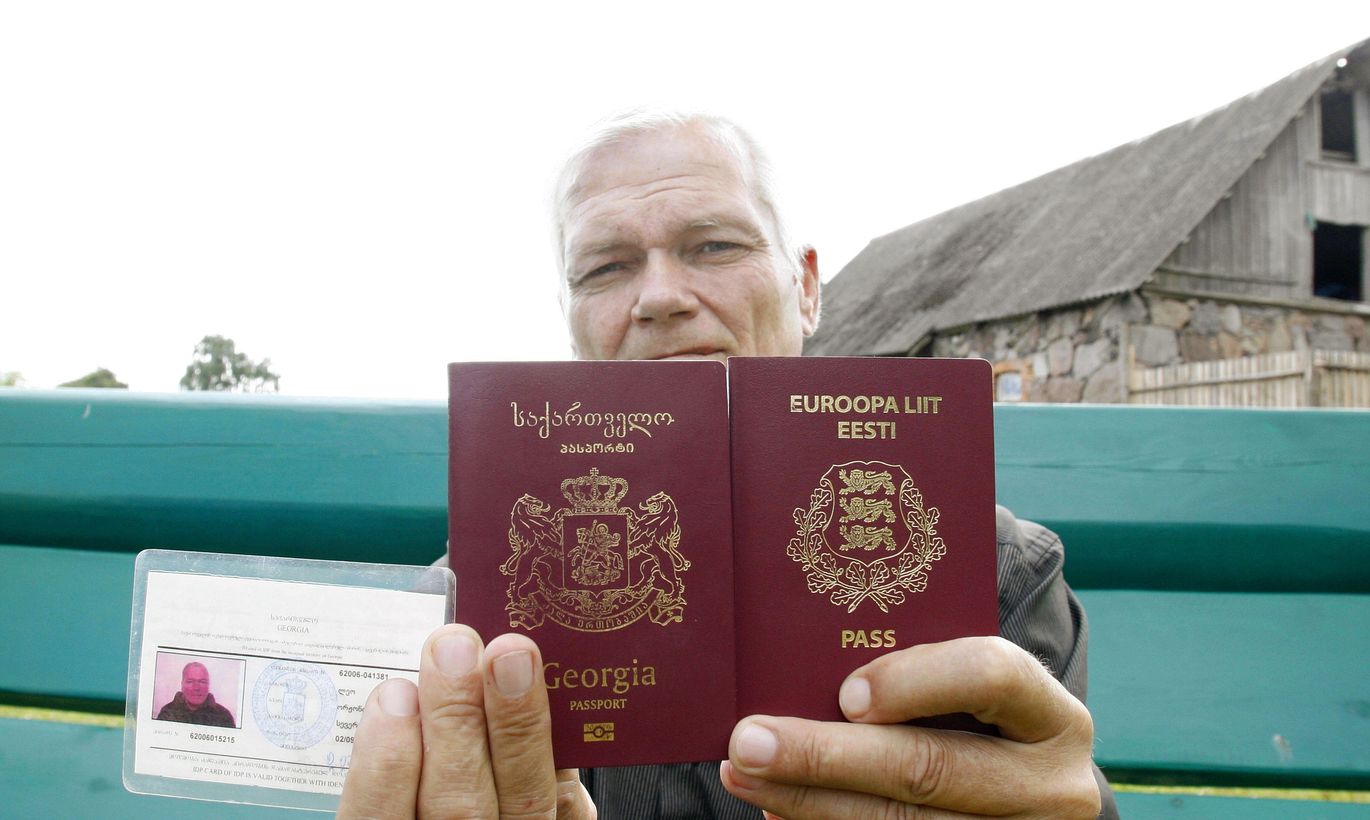 A couple weeks ago, a father with two sons from the mountains of Abkhazia settled in Alatskivi Parish, Tartu County flatlands. According to passports recently received, the men are Estonian citizens. The conversation underneath displays a dilemma of Estonianhood defined.
The eyes of Leo Orzhonia do have this distant mountain look as he eyes the woods around the Village of Haapsipea. Fumbling his pockets for a pack of cigarettes, Mr Orzhonia unearths one with the tax label of Abkhazian Republic unrecognised by Estonia. 
The cigarette is lit, the words pour forth, the hands add emotions with the occasional touch on my shoulder – see, this is life. «Two sons and wife are in Abkhazia still. If I find us a separate place to dwell here, they will come join us. They have not received their Estonian passports as yet,» he tells me.
Right next to us, there sit Mr Orzhonia's two sons and Georg Sikora, a half-brother – at whose house they are currently dwelling. «Leo was born in Suure-Jaani, but our mother went to Georgia and gave him, a baby of nine months, to be raised by a Mergel family,» explains Mr Sikora. Mergels are an ethnic splinter group of Georgians who dwell in Western Georgia and Abkhazia.
Speaking purely about blood, Leo is Estonian according to Mother and Russian by Father. At birth, Leo actually went by the name of Kalev Sikora – the new name was given him by the Mergels after adoption. By the way, now when in Estonia, the Orzhonias are in process of swapping their name for what used to be their real mother's before married – Liiband.
The mother gave Leo away yet went on to raise Georg – before conscript service, Georg moved to Estonia but the half-brother Georg remained in Abkhazia. Thus, Leo and his sons are no descendants of the Estonians who in 19th century founded the Estonian villages in Abkhazia. Still, Georg grew up in the Linda Village of Estonians, while since babyhood Leo lacked any contact with Estonian language and culture. Even so, Georg kept in contact with Leo and thus brother still knows brother.
During the 1992– 1993 Abkhazia War, the Mergel-raised Leo was of the «wrong» nationality i.e. a loser, wherefore the family fled to Georgia. To prove that, he shows a pack of documents issued personally by the minister, being the proof of being a refugee. «Abkhazia was occupied by Russians,» announces Leo. Thus, his views coincide with those if the Estonian government.
Before the war, Leo had eight cows and a nut plantation on five acres. The war robbed it all. He did move back to Abkhazia, though, afterwards. Before the war he had a house – burned down twice during the conflict. Not too well off at the moment, in Abkhazia Leo and sons worked on a farm.
By the way: Leo says Abkhazia still features a curfew, for a couple of decades. From six in the evening till six o'clock in the morning. 
The Russian Leo speaks is the famed Georgian kind – he gets across. But he never ever spoke or understood Estonian. But Georg says one of Leo's sons doesn't even speak Russian, and the other one speaks it just a little. All they speak is Georgian and Mergelese. 
To prove their Estonian citizenship and apply for passports, the Orzhonias went to Georgia, the Estonian embassy in Tbilisi.
Actually, it was years ago that Leo wanted to move to Estonia with his family, but his stepmother the Mergel was totally against. Now, stepmother and stepfather are both dead and buried. Anyway, the half-brother Georg decided to help the relative. «Three years ago, he sought me out,» says Georg. «I went there to Georgia, and help fix his documents here in Estonia.»
During the war in Abkhazia, Leo lost the documents regarding him being adopted. «To begin with, they said in Estonia that he needed to get these documents from Abkhazia. Then he finally managed to secure these and came to Estonia – to be told that Estonian republic does not recognise Abkhazian republic or the documents it issues. Why didn't they tell that before?» says Georg.
Georg said Police and Border Guard Board also required evidence that Leo was an Estonian. «They also asked for a photo from our childhood where I was with my brother,» said Georg. «That was sent also and finally the citizenship was granted.»
Georg said that in Georgia they advised Leo at the Estonian embassy in Tbilisi, a refugee as he was, to perhaps enter Estonia as a refugee. «But the pride in Leo will not allow that – why should he come as a refugee if he is Estonian citizen?» says Georg.
At first glance, Leo becoming an Estonian citizen feels like a close shave, yet falling under citizenship pursuant to birth. Citizenship Act says one parent being Estonian citizen during the birth of a child will do. Leo's mother was citizen of Estonian Republic before the war, thereby so is Leo (is he so desires).  
Leo was granted citizenship first, and then his sons who do have a quarter of Estonian blood in their veins – from the father who never had to apply for Estonian citizenship but only had to prove he had it all along. No matter the Georgian passport that Leo still possesses.
So Leo and sons now dwell in the Village of Haapsipea, hoping to land jobs and find a home. When? Who knows... At least for the time being, the men are optimistic.  
Had Leo applied for refugee status, says Georg, many would have been the benefits. «The state would have given them accommodation, taught them Estonian, and helped with finding a job,» says Georg. «Now, Leo has nothing – he must find it all by himself.» Leo and sons don't even draw unemployment benefits, having never worked in Estonia. But they are registered in Töötukassa (unemployment insurance fund) now and are looking for work. Also via Töötukassa, in August the Orzhonias will be studying the Estonian language.
Leo says he was promised at the embassy in Tbilisi that once they hold Estonian passports, they'd get both jobs and a dwelling. «But now it turns out an Estonian citizen must himself find a job and a home,» interjects Georg, smiling. «They did assume that upon arrival work and dwelling would be provided. Now, there's no home, not even the jobless support.»
Georg and his wife have seven children and the house is tight with space as it is. Now, they are squeezing in relatives from Abkhazia. «One needs to help the relatives, see,» says Georg. At the moment, the family lives on children benefits and disability pension. Truth be told, the relatives from Abkhazia just run out of the money they brought along. Georg's wife says had they known, they would have planted more potatoes.
Leo hopes to land jobs for them three in some farm. In Abkhazia, he used to work as assistant veterinarian for 30 years. «In summer we work, can't do without work!» declares the man, confidently. And the language will be mastered – can't be too hard! Come what may, Leo counts himself an Estonian.
So: should anybody need three working men, do contact the author.