Rally race claims three lives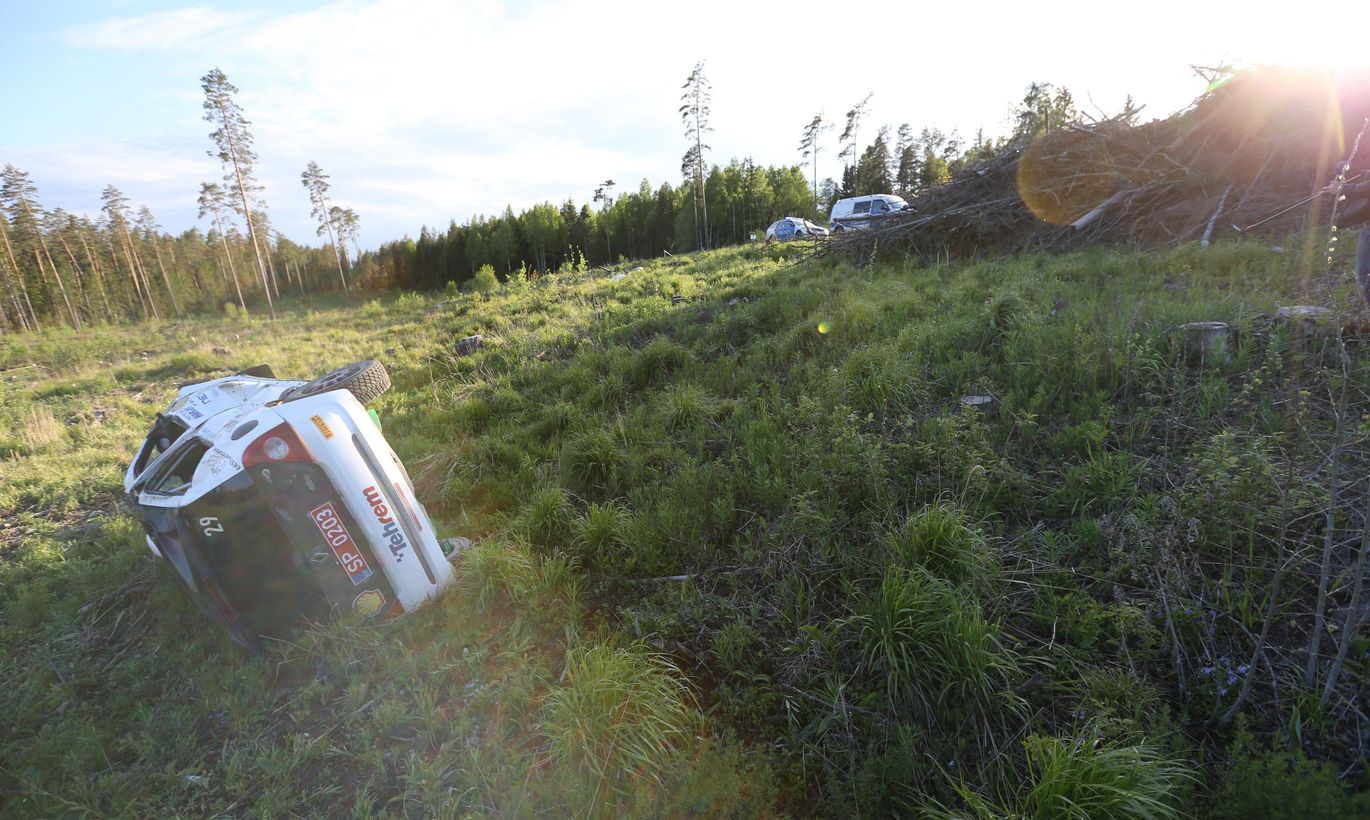 At Harju Rally this past Saturday, Janek Jelle managed mere five speed tests. After that, the aged Lada left him and map reader Taavi Udevald spectators. The day being sunny, it was decided to enjoy the race. Grabbing along mechanic Lauri and the latter's girlfriend Triinu, the coterie headed towards legendary Matsimäe section.
To get a good view watching colleagues speed by, they chose a spot hard for others to access. The aim was to survey the cars going thru two slight curves and go for a jump.
Regarding the jumping spot, security was tight and the area secured. Obviously, no-one could ever dream of anything hazardous happening before the cars were to be flung into the air. Neither did Mr Jelle, a man of many years of rally racing under his belt.
As it happened, there approached the young racer Sander Sepp with map man Ants Uustalu, towards the finish line in his Renault Clio – leaders in their vehicle class, and at end of absolute top ten, all looked happy.
Whatever happened in the curve just before the jumper, investigations will reveal. All we know the sandy road surface had turned soft. Perhaps for that reason the Clio was thrown out up the hill, rolling away for dozens of metres.
On the path of it rolling away, three of the abovementioned met their deaths – Janek Jelle (41), his team mechanic Lauri (25) and the latter's girlfriend Triinu (25).
Mr Sepp and Mr Uustalu we hospitalised for health check but that very evening a police press release said their injuries were not the life-threatening kind. To Postimees' knowledge, contusions resulted from the rolling.
According to Henrik Metstak, standing across the road at the moment the accident happened, it would be hard to point an accusing finger. Security was decent and all spectators nicely behind the red tape. «All that happened was a bad coincidence of things,» he observed. Still in shock of what his eyes beheld, Mr Metstak would not delve into details.
Hindsight wisdom would surely say that the security area might have been broader or people kept out of there altogether. Meanwhile, the corner was so slight that for rally racers this is as good a straight speeding.
Rainer Aus, a famed racer in Estonia who placed second this Saturday, said he marked «full speed» as to the section concerned. Preparing for the race, he never imagined the spot would become soft and cause unexpected trouble.
«I did have a hard time there, had to try hard to stay on the path,» admitted the experienced driver. Like problems were also revealed by a video by spectator.
Regarding the incident, police launched investigation pursuant to penal code section 117 – causing death due to negligence.
Kadri Tamma, PR chief at Office of the Prosecutor General, was unable to specify further proceedings and who would be interrogated. «The people who may have witnessed the accident are traumatized and we cannot tell when we may get the chance to question anyone,» she said.
Accidents with spectators
As for organisers of the rally, they were unwilling to comment for this article. Neither was Avo Kristov, appointed security observer by Estonian Autosport Union, willing to express an opinion. For a broader statement regarding Rally racing in Estonia, he said the security has improved yearly.
«The requirements are tough, but they are followed better than some few years ago,» said Mr Kristov. «At times, even the public has complained that the security is chasing them far off into the woods.»
At any rally, the security observer plays an important role. Before speed tests, he drives the track and should he find it unsafe for the event, he can propose the organiser that it be cancelled. In the case at hand, that never happened – ergo, the official felt it was okay.
While Estonian Autosport Union secretary-general Margus Kiiver agrees that security is decent at rallies in Estonia, there have been several serious accidents with the very spectators these past years.
Thus, at Saaremaa Rally last October, a lady on forbidden territory was run over and had her leg broken. In 2012, it was again Saaremaa that featured a serious accident as a car venturing off the path injured six, one of them seriously. The last fatal accident occurred in 2009 at South-Estonian Rally where a spectator taking pictures in forbidden zone was hit by a car and died on the spot.
A year before that, also in Saaremaa, two spectators loitered in forbidden area thus ending up injured. In late autumn of 2008, while in training, the well-known racer Aleksander Käo drove off the road. Two men standing right then and there perished, including Mr Käo's friend and map reader Riho Luik.