When game becomes reality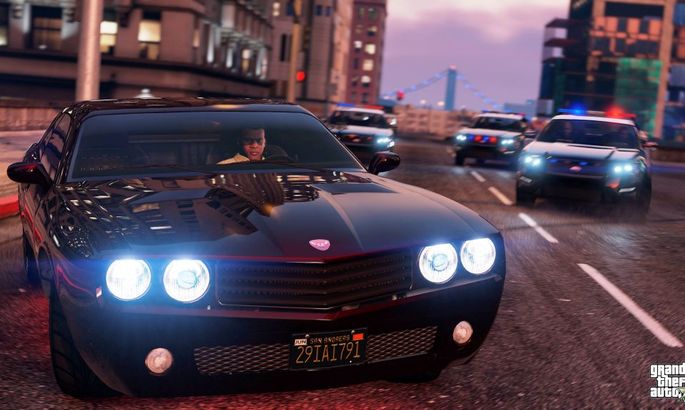 A violent game banned for those under 18 in several nations is freely indulged by Estonian first graders at home and play areas, and purchased in stores.
Though «GTA V» for computers is only on sale in Estonia starting this April, as console version it's been available since end of 2013 – and the earlier variants long before that.
«GTA» has gained popularity among adults and kids alike, to the great aggravation of school psychologists and family therapists. Estonian School Psychologists Union (Eesti Koolipsühholoogide Ühing) board member Kristi Feldman says the game's online version is very popular among children and youth as playable in smartphones.
«The kids say the app isn't the full version and is therefore less dangerous,» says Ms Feldman. This is an earlier «GTA» version, the «San Andreas». What she is deeply troubled about is that the comments are by lots and lots of primary school kids who aren't supposed to play the thing at all.
Mainly, Ms Feldman has detected this among 1st and 3rd graders. The older boys do play it too, but they don't talk as much.
Psychologist and family therapist Kätlin Konstabel says «GTA V» and other violent computer games come with a hazard – if serials seen on TV have an effect on what the kids play, so do the video games.
Ms Feldman is witness how often the expressions and activities from games get transferred into kids' everyday lives. Often, their conversations are about what is in the computer games. 
«I've met many kids who come to me with their quarrels and one I dig into it, the fight begun someplace in a game,» she says.
And to explain what is currently going on at school or IRL, the kids refer back to the games.
«They cannot tell the difference which is the current reality,» says Ms Feldman.
The cases are many and not all reach the school psychologists. At times, it takes months for the kids to get over quarrels birthed by games.
Even in kindergartens, says Ms Konstabel, the letter combination GTA is now known – and the game played at home.
While Great Britain has banned sales of the game to minors, in Estonia it is merely unadvisable.
As admitted by Apollo book stores in Estonia, they do sell the «GTA V», and cannot exclude its being sold to minors.  The price falls between €47–€70.
At Prisma shopping malls, the most pocket-friendly version will set a kid back €49.90. Just as Apollo, they could not deny the little ones... but they do display «explanatory materials helping to realise what the signs on the packages say,» as underlined by marketing chief Silver Säga.
To Ms Konstabel's dismay, the games are available in Estonian play areas. «If in stores they can't forbid them, at playgrounds the owner may decide,» she says.
One such is Supernova, in Tallinn, regarding which a parent said her daughter while at a friend's birthday «happily played 18+ games» including «GTA».
Supernova representative Ert Pehka claims percentage wise these games aren't too much played. Also, they do have an individual there keeping an eye on the kids...  
«In addition to the availability, I'm wondering if the parent's aren't the least interested in what is happening in their kids' computers – even with first graders?» asks Ms Konstabel, stressing its usually the parents who by the game and bring it home.
«Sometimes I get the impression kids play it with their older brothers,» adds Ms Feldman. Also, she cites cases where parents have granted children permission to buy the game as it was the kids' own money.
Based on conversations with parents, Ms Feldman feels it's mainly ignorance, not indifference. «They mean no harm, as if, but will assume no responsibility for what the kid is doing in the computer, as often they are unaware of the content,» notes the school psychologist.
As evidenced in internet forums for parents, the latter might often think this is just some «shooting game they don't approve of but will not stand guard as the kid plays».
Another parent admitted of being ready to have «GTA V» as birthday gift to son aged 10, having been brainwashed by the kid describing it as something everybody plays in his class. 
Another parent admitted the game entered their home by 1st grader son playing it at friends' places. The visits were terminated, and at home time limits set to computer games.
The boy's younger brother developed nightmares due to the game. «Then we just said this is it, no playing for a month at last and no taking it along to bed – if he didn't want these kinds of dreams,» said the parent. That was the end of the playing and the nightmares.
Culture ministry audio video department adviser Indrek Ibrus says they have had the initial talks with social ministry about ways Estonia could apply the EU PEGI ratings, but it's in the early stages.
«Till then, all we can do is advise shop assistants – and parents, first of all – to go by PEGI ratings,» he notes.
Ms Feldman is convinced the parents need to stand firm and take the unpopular no-decisions – explaining why, yet unmovable.
To her own kid of 7, Ms Feldman has had to explain long and hard why the game is even produced. «I've said this is the business world and somebody makes money on that,» she says.
Thereat, the kid has asked why would adults want to play stuff like that, and whether all grown-ups had the wisdom not to act it out in real life.
«Here, words fail me... indeed, why make games like «GTA»?» wonders Ms Feldman.  
As its main theme, «Grand Theft Auto» offers robbery, stealing cars, killings, paid assassinations, drug business, organised crime – presented very real-life. Sex and prostitutes come with the package. In its 5th version, violent as it is, the game has added rapes and battery of women.
Pursuant to EU's PEGI game information system, «GTA» is unadvisable for individuals under 18.
PEGI stands for Pan-European Game Information. The age limits system was created to help parents make knowledgeable choices while buying computer games.
The system was launched in spring 2003 and covers 30 nations of Europe (Austria, Denmark, Hungary, Latvia, Norway, Slovenia, Belgium, Estonia, Iceland, Lithuania, Poland, Spain, Bulgaria, Finland, Ireland, Luxemburg, Portugal, Sweden, Cyprus, France, Israel, Malta, Romania, Switzerland, Czech Republic, Greece, Italy, Holland, Slovakia, and the UK).
The system is supported by major game console producers including Sony, Microsoft and Nintendo, as well as producers and developers of interactive games all over Europe.