Estonian ferries face bright future in Germany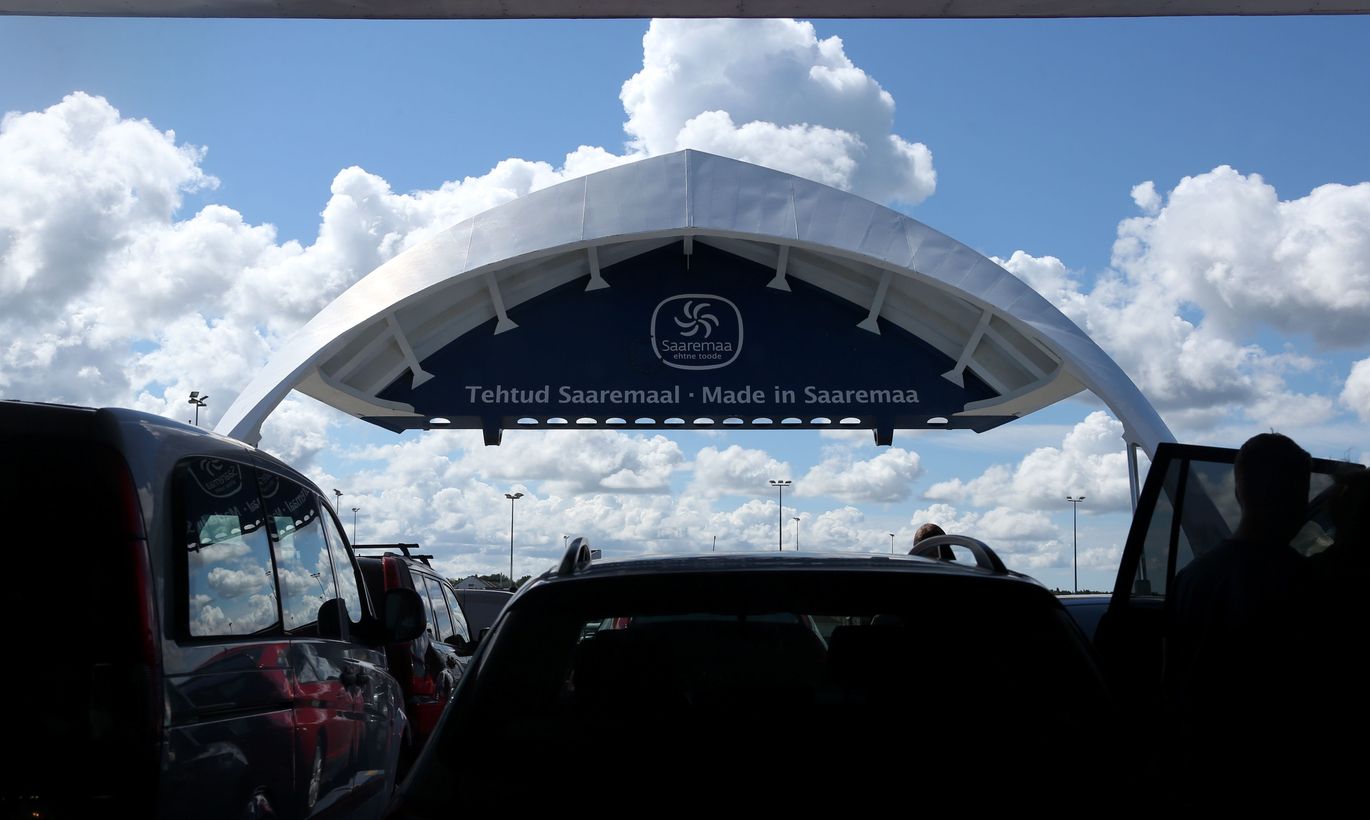 Come fall, the ferryboats Saaremaa and Muhumaa currently sailing the Virtsu-Kuivastu route will be servicing a regular line at the mouth of River Elbe, in Germany. In a year, Hiiumaa is off to join them.
At end of last week, German news agencies announced rebirth of ferryboat traffic between the port town of Cuxhaven on the eastern bank of Elbe and Brunsbüttel on the west, after a 14 years long interlude. Pursuant to announcements, the traffic commences this fall with two ferries loadable from both ends, to which a third one is added in 2016. 
Cuxhaven/Brunsbüttel agency release says the service will be provided by Elb-Link Reederei GmbH which since 1995 is providing ferryboat service between Estonian mainland and island, a company with «undeniable international charisma».
From the reference and several similarities in the names, some German news agencies drew the conclusion that the company is linked to Tallink.
Not so: on its emptyish website, Elb-Link refutes links to Tallink and hints at the actual owner citing Urmas Treiel, chairman of the Vjatšeslav Leedo owned Väinamere Liinid, as representative.
Indeed, German and Estonian commercial registers reveal that Elb-Link Reederei, registered on March 16th, is hundred percent held by S.O. Invest OÜ, registered on February 2nd in Estonia, owned equally by Vjatšeslav Leedo and Katren Helinurm, unmarried partner of ferryboats' owner Olav Miil.
Thus Tõnis Rihvk, head of Väinamere Liinid's parent company Saaremaa Laevakompanii (SLK) was right on stating in a press release at end of last week: «We have no information about SLK vessels to sail on River Rhine.» Verily, it's not going to be Rhine, rather Elbe.
Väinamere Liinid provided no comments for Postimees.
Today, representatives of SLK / Väinamere Liinid meet with economy minister Kristen Michal; according to preliminary information, they will be explaining the company's future plans to the minister.
At the moment, ferryboat Saaremaa is at regular maintenance in Klaipeda, before that it was Muhumaa's turn to be maintenance in Lithuania. Next to Muhumaa, the Saaremaa-mainland line is currently serviced by Regula. Also, ferryboat Ionas has been chartered from the Greek company 2wayferries, which is expected at Väinameri in a couple of weeks.  
As shipowners are providing no information, it is not known when exactly Saaremaa and Muhumaa are moving to Elbe, the Virtsu-Kuivastu line then serviced by Ionas and Regula.
Väinamere Liinid's contract with the state expires on October 1st 2016. Up until then, the Rohuküla-Heltermaa line must contractually be serviced by one new ferryboat i.e. the ferry Hiiumaa. Regarding changing the other ferryboats, shipowner has free hands according to contract entered ten years ago with then economy minister Edgar Savisaar.
Pursuant to contract, the minimal requirements for both ships servicing the line are 400 line metres (area of 2 metres width and 1 metre length) of vehicles and 400 passengers, as well as a warm cabin for 200 passengers and ice class – for both lines Lloyds register 1A or equivalent for one ferry and 1C for the other.
Muhumaa and Saaremaa are both way above the minimal requirements, while Regula and St Ola have vehicle capacity bordering on the minimal. The contract does not prescribe that the company may not change ferries as it sees fit, neither does it need to inform anybody of a swap.
Ferryboat connection between the international ferryboat port Cuxhaven of 48,000 inhabitants and Brunsbüttel, across the river at the mouth of Elbe-Rhine channel with 12,000 inhabitants was discontinued in 2001 when the company Elbe-Ferry, having been running three vessels built in the 1960ies, terminated operations. Now, cars are directed into a tunnel near Hamburg with often jams at peak hours.
According to cost-benefit analysis by Cuxhaven/Brunsbüttel development agencies, traffic between the towns might amount to 265,000 private cars, 48,000 lorries and 625,000 passengers a year. That's about a third of the Väinameri traffic volume back home where vessels of Väinamere Liinid serviced two million passengers and 0.85 million vehicles last year. The above study says traffic volume between Cuxhaven and Brunsbüttel increases yearly.
According to the press release, crossing will be 12 times a day both ways, totalling 24 trips. A car ticket will cost €25 – thrice the price of Estonia's state subsidised Rohuküla-Heltermaa line of almost equal length; even so, commentators at German internet forum elbdampfer-hamburg.de said the price level was reasonable.
It's not known if the ferries will get new names to sail the new lines, but the forum features a suggestion for the vessels to be Christened Schleswig-Holstein and Niedersachsen – after the two Lands to be connected. 
German agencies said restoration of the ferryboat connection would create 50 jobs. A 400 place self-service eatery will be opened, along with a cafe and a souvenir shop. In Brunsbüttel, a new ro-ro ramp will be built, and new lighting installed. Operator estimates the investment to amount to millions, says the press release.
As underlined by Volker Jahnke of Brunsbüttel development agency and organiser of shipowner procurement, the ferryboat line will provide quite a boost for the entire region.
«For us, this is a dream come true,» said Friedrich Kruse, chief of a company bearing his own name in Brunsbüttel. The man said he'd be hauling up to ten trailers a day on these ferries.