Intriguing minister «somewhat humbled» by trust of the people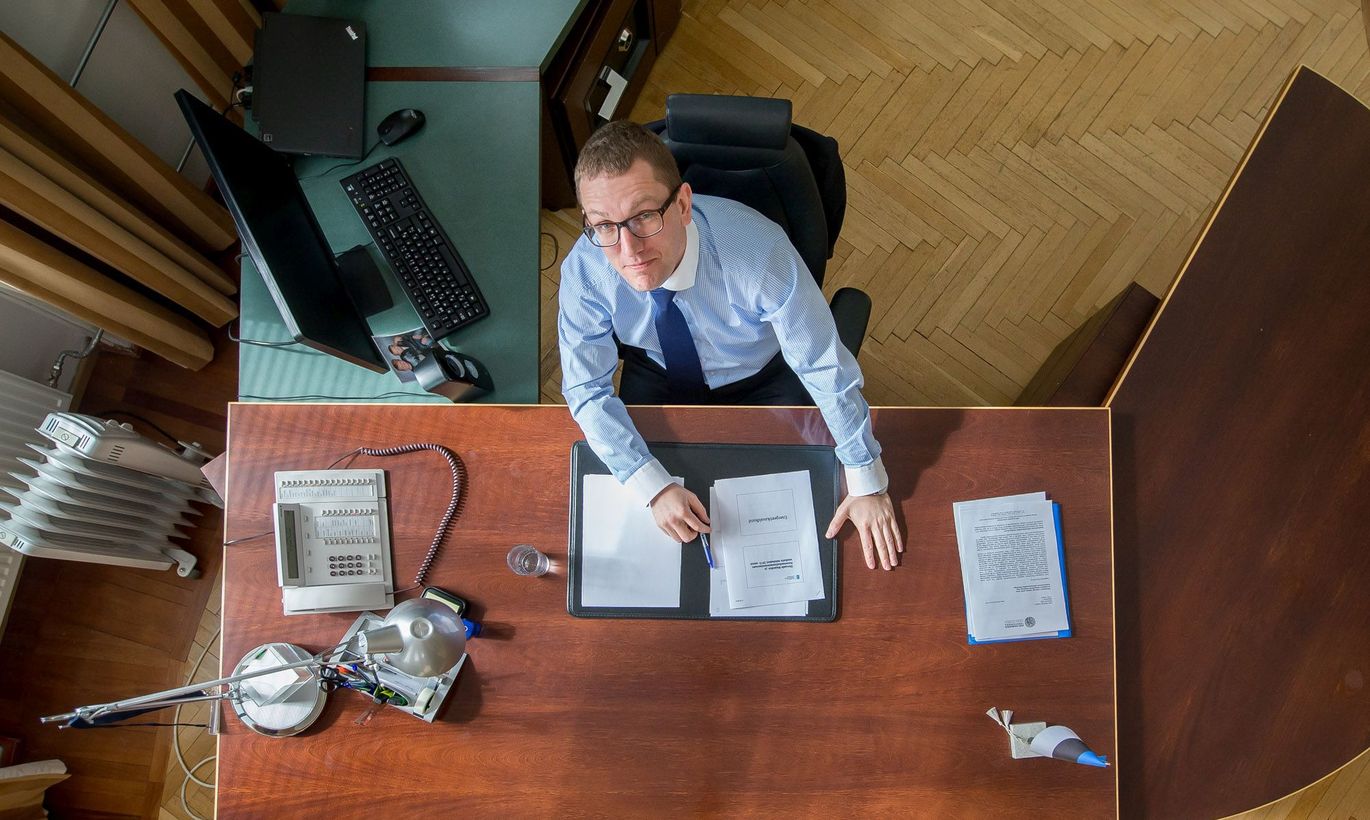 Kristen Michal (Reform), minister of economic affairs in the new government, says gradual lifting of fuel excise and accommodation VAT rate might be prudent. Collecting excise is effective as compared to car or asset tax, as every euro means more money where intended, and no new mechanism/staff is needed to bring it in. Excise is fairer as taxation applies to consumption.
After all the scandals trailing you, was it important to again make it into the government?
Once one runs at elections, the mandate implies an obligation. Nice to put «scandals» in the plural, isn't it? Soon this will be a legend, as if there were very many...
I have pondered a ministerial post during these years, in the previous government it was up, but I desired to wait till the elections to have an assessment. I dare say we did well, and the result is such as, this will sound a bit mawkish, to make one feel somewhat humbled. We were awarded large support. This spells obligation to work, including as a minister. What one has promised, one will need to be doing. And I'm acutely aware the job is not forever.
Last week, the role of Rain Rosimannus in your party was a target of much talk. In Reform, you are like a legal Rosimannus: a vital support force, while also running at elections, securing a convincing mandate and thus «legalised».
(Laughs.) What can I say – I think obviously Rain is more talented than myself. Seriously! In the party, Rain Rosimannus was the one who dealt with the programme. Afterwards, everybody was complaining that the programme matters not at all.
It does, actually. It always has, in Reform Party. All who take the trouble to go through it will realise what a broad work it is. And hard as hell. One must feel the text, the pain of the text, putting it together.
Rain was a member of the delegation, powered by the board, whose task it was to keep track of the programme and to integrate certain sections. Him being behind the table was in every way legitimate and expected. Should someone wish to imply a meaning which was not – well so be it. Also, it may always be claimed that election results mattered not at all and that supernatural powers were to blame for all that went not according to plan. I have not detected any supernatural powers present with Rain. He has such ordinary computer and pen as one may buy at any store.
Did Reform get the kind of power treaty that it wanted?
It's always the best when no agreement is needed at all. Just having the internal monologue about what can be accomplished.
We definitely hoped to lower labour taxes a bit more. But every coalition treaty is a compromise. A coalition is good is everybody unanimously feels they have missed something a bit. This is the kind of a coalition we have now. There is a measure of balance, and the promises most important for all have been weighed out. Andrus Ansip has been open about the principle that partners need to be given more than seems fair. Once you have done that, a coalition will hold.
But perhaps it is better to begin with lower expectations? Perhaps this government did have a difficult start, perhaps there are debates inside the parties, but let it be quietly vented now and the coalition will work? Considering the reforms written into the treaty, disputes will surely be many.
Your economy portfolio was desired by soc dems. Why?
You'd have to ask them. My colleague Urve Palo [SDE] is sitting across the corridor from me. Her domain is export and foreign trade, enterprise, as well as housing. We are doing this work together and a government is a team, isn't it. An important thing we will have to do together is find out which public enterprises need thus to remain, being of strategic importance, and which could be privatised.
You'll need to ask the soc dems what their desires were. No party will get all the governmental posts. Unless of course we'll have a 51-member parliament, but that will surely not be within some 40–50 years...
Perhaps, partially, it was the Ossinovski family? On the very first day of the government, Jevgeni Ossinovski did attack you very personally and it is no secret that the major Soc Dems supporter Oleg Ossinovski is after the railways.
By commenting on that, I'd step on a slippery slope indeed. Time will tell.
That Oleg Ossinovski is interested in the railway, is a fact of course. More than that. But it's another issue with specific plans, desires, dreams. At the very beginning, I released one [Indrek Paal] from the railway council, and if needed others yet, whoever thinks to play around, will find another job.
It is not acceptable for Estonia to have a model where someone sticks their man into a public enterprise board and, as the state looks from afar or looks the other way, things are being done that in private enterprises would not be allowed. This is unacceptable with me also. If the price be personal attacks or mud-throwing, we'll manage that.
How long will the government last? They say that, already, votes are missing to approve the fuel excise rise in Riigikogu. That, latest by fall, the break-up is due.
Chamber of Commerce and Industry, the chief partner in tax issued as representing entrepreneurs, suggested that excise rise and accommodation enterprises VAT rise be applied gradually, by a couple of percent in some years. I think this is the way it will be. Meaning we'll have peace on earth and financial cover secured.
Some demonstrators screamed this Sunday that the money will go into government pocket. Not so. For instance, it will go to increase child benefits or lowering of labour taxes. Not a penny left for the government. All that remains is the joy from working.
I think this government will last. The year 2018 is very important, when Estonia assumes EU presidency. For that, preparations are underway and the load will be unbelievable. As well as the scrutiny. If all parties think ahead a bit, this government will make it thru the term. But, time will tell – perhaps, someone will succeed in toppling the government before fall already.
Not much reason to doubt that, at the moment. 
Helpers are always around.
As economy minister, do you see some other options than a sharp excise rise?
The options are many indeed. If we desire change, and desire we do, such as would help the economy along, for years the entrepreneurs have sought after lowered labour taxes. Now this is in the works and it needs financial cover. As do the promises by other coalition partners.
Might sound funny, but nowadays a car is like a family member. A car or asset tax would also be an option. But collecting excise is effective as compared to car or asset tax, as every euro means more money where intended, and no new mechanism or staff is needed to bring it in. Excise is fairer as applied to taxation of consumption: if you are effective, the spending is lower.   
What's your view on car tax?
Different nations have differing taxes. There's the excise, engine tax, asset tax, progressive income tax. The idea of Estonian taxation – what they call our dogma – is for the state to create an environment where people are able to be industrious, forward-looking, diligent. For that, people will not be punished.
A gradual rise of fuel excise and accommodation enterprise VAT rate may indeed be a prudent solution as we will need to see that our competitiveness will not suffer.
When desiring to somehow carry and develop the society, expenses need to be covered some way and the state to be made more effective. Like the state reform – this needs to be tackled in earnest and the keyword is lowered overall administrative load. State reform means reviewing which enterprises should be state-owned. I think that wherever the market is working, the state will not need to be owner. I would not specify at the moment, but such enterprises are many. Of course, with privatisations, one must be careful with strategic enterprises. But if the market is working and the state has no strategic interest, then the state needs not to be owner.
The mainland-island ferryboat connection already got an overhaul during the time of Ms Palo, and the year to come brings public ferries. We hear that Vjatšeslav Leedo has already promised his vessels all over the world. Are you ready for the tiny chance that the new ships will fail to arrive and the sea fill see a day filled with stillness?
For this, my predecessors Juhan Parts [IRL] and Urve Palo have toiled hard. Both have been convinced that, in the sometimes emotional debate, state-ordered ferries are the best solution. The work is Port of Tallinn's responsibility and they are currently claiming all is okay time-wise. Should something go wrong, many will have several sleepless nights.
A simple mainland guy, I'm totally pleased with the service as it is, all goes very smooth. Surely, this is thanks to all who have put in the effort. With public ferries, the service should not be inferior; for taxpayer, it must be economical but not on account of quality.
Ever since last fall, we are waiting for European Commission decision if state aid to Estonian Air was legal. If not, what will happen?
We do not have the commission's decision and thus speculations would be vain. Looking ahead, the state does have to think «what if...»
At the moment, Estonian Air's market share in Estonian aviation is about 27 percent. No longer vast, that is – it used to be over 40 percent once. Inhabitants of Estonia are interested in as many timely direct flights as possible, in expedient destinations. So this is what the state needs to deal with.
As economy minister, what are your priority and future trend?
I've met with chamber of commerce and industry, as well as employers' confederation, and both desire less state regulation. They think brakes should be applied to the production of laws. I totally agree. As minister, I highly appreciate cooperation with these associations and with entrepreneurs.
Also, what is definitely of importance for Estonia is IT and digital services, and faster connections: ID-card security, e-services, cyber defence, e-residency, as well as export of out IT-solutions. This is a vital base for our business and in the six years to come €90m will be invested into IT development.
Next to cyber defence, what also matters much is energy security.
Sure, and Estonia is actually quite independent regarding energy. 2013 data says it's most independent in Europe i.e. only 12 percent of energy consumed comes from abroad. As for heating of homes, the keyword is renewable energy, and first of all an affordable price for the consumer. For independence, local commodities are vital as well.
Your domain is huge – from trains to the Russalka intersection.
It is huge indeed and there's lot of work to do. Which is fine, that's how I like it. Yes, in transport also further development is needed with consumer comfort and quality. At Elron, for instance, we must strive towards enhanced user friendliness. In the future, it might for instance be possible to buy a sandwich and something to drink, on a train.
Naturally, roads are important, and traffic safety. The relevant agencies have it right – in the future, zero deaths on Estonian roads. In our domain, this spells things like bypass lanes, road construction and lots of other things. As an example of that, we will have Tallinn-Pärnu-Ikla highway 2+1 bypasses during 2015–2019, and Haabersti and Russalka intersections in 2017 and 2018. Tongue in cheek – by being stuck in the jams of the latter two, this is getting kind of personal.
Born on July 12th 1975, in Tallinn
Education: Tallinn 17th Secondary School. Higher education from Academy Nord in law (2009). Master's studies in law at Tallinn University unfinished. Tallinn Pedagogical University public administration in 1994–1999
Employment: Riigikogu X, XI, XII and XIII memberships. 2011–2012, justice minister. 2003–2011, Reform Party secretary-general. 2002–2003, Tallinn City Centre elder. 2002, adviser to Prime Minister Siim Kallas. 2001–2002, adviser/chief of staff for regional minister. 1999–2001, adviser to Reform faction at Riigikogu. 1996–1999, adviser to Tallinn city council Reform faction
Two sons
Hobbies: literature, sports, fishing