Bigger money poured into roads, this year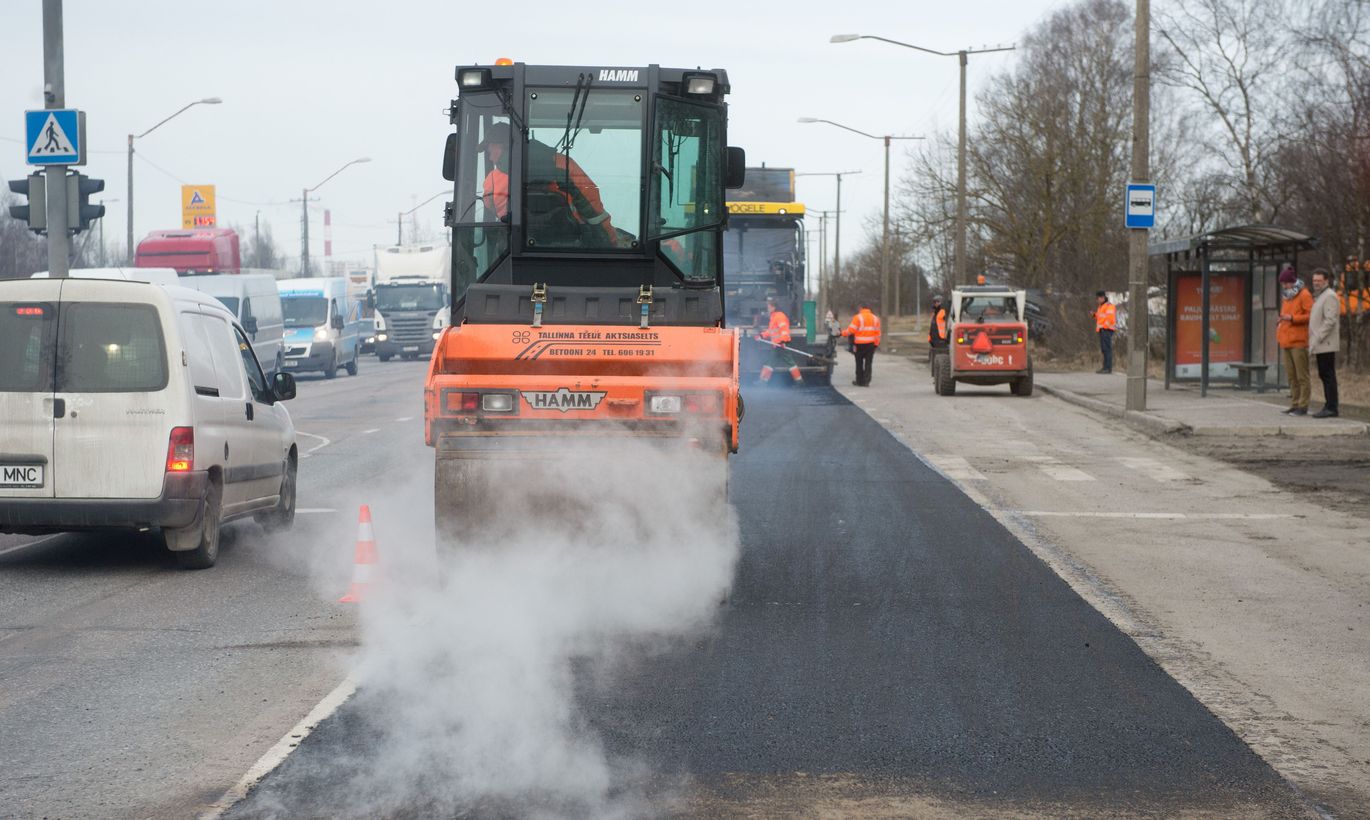 Continuing the trend set in 2014, road construction will basically buzz around the two major cities – on Tallinn Roundabout, Kurna crossing ought to be finalised by end of the year; also, Tartu bypass gets new looks.
According to Road Administration deputy director-general Kaupo Sirk, this year they are mainly tackling the main highways of the TEN network. The reason? EU funds make up a bigger percentage of investments this year.
«We need to focus on TEN highways as EU money cannot be used for other highways. Actually, for an onlooker the need is very great, but regrettably we cannot pay as much attention to other roads,» said he.
This year, Road Administration invests €184.6m, of which €80.2m comes from abroad. Last year, nine millions less were invested, but the foreign money was smaller as well – €60.9m.
A total of 1,811 kilometres are planned to be renovated this year, of which lion's share i.e. 1,105 kilometres will be maintenance of road pavement. Regarding gravel roads, 224 kilometres will undergo maintenance. 212 kilometres of paved roads will be restored. There will be 170 kilometres of construction, and 100 kilometres of gravel roads paved. 
«That (the 1,811 km – edit) is the minimal volume,» said Mr Sirk, adding that the administration will be able to bring projects forward thanks to lower procurement prices resulting in cheaper bitumen and intense competition; thus, more will be accomplished by end of year.
Last year, thanks to cheapening of the procurements, the administration saved ten million euros resulting in more work done and the rest used for renovations. Actually, the administration would need €200m yearly for the roads.
Several objects are still being built for the former 2007–2013 budget period investments. Thus, this year will see the Tallinn Roundabout's Kurna crossing completed, as well as Tartu Western-edge bypass 5th construction area and the Nehatu bridges on Pirita River. 
Meanwhile, Road Administration has already accepted works completed for the new budget framework money, such as 1st construction area of the Western Tartu bypass, and Pärnu-Tammiste and Tammispää-Vilusi sections.
This year, 28 bridges will be reconstructed (last year, 34). Among others, the Nehatu and Keila bridges are expected to be completed. Also, 49 areas hazardous for traffic will be overhauled.
In cooperation with builders, the administration is seeking to pay increasing attention to road users. Also, they expect the builders to see to quality and longevity of work.
«We want to do quality check during the construction process already,» said Road Administration director-general Aivo Adamson – a way to avoid disputes and force the builders to be better disciplined and diligent.
This summer, they will be testing a novel way of fast-paving the roads, so speed limit may be lifted to 70 km/h at once and the crushed stone should not come loose. 
«The idea is to lengthen lifetime of roads. So we'd not be talking about seven years, but of 12, 15 or 20 years,» added Mr Adamson.
Four lane roads and bridges
Along with the multilevel Kurna crossing, a 4.4 km section of Tallinn Roundabout (km 11.8–16.2) will be rebuilt into four lanes from the existing Jüri multilevel crossing to Kurna. The 11 km section between Väo and Jüri will probably see the major works during second half of the year, as construction of Põrguvälja crossing (bridges, onramps, roundabouts) gets underway.
Tartu Western bypass 5th area construction will continue, covering Tallinn-Tartu-Võru-Luhamaa Highway's 188.5–191.5 km section. The 2.1 km between Lemmatsi and Lennujaama Roads will be built into four lanes. Tõrvandi Crossing will be replaced by a multilevel combination of a railway and road viaduct. Lennuvälja crossing will get multiple levels and a tunnel for cyclists/pedestrians. Prescribed by the project, 2.3 kilometres of cyclist/pedestrian track will also be completed. Begun last year, the object is to be completed this fall.
Road users will need to consider major works on Tallinn-Paldiski Highway kilometres 24 to 46. Among others things, the existing bridge over Keila River will be demolished – to be replaced with two new bridges, construction whereof is already underway.