Foreign minister on foreign policy: a domain not totally foreign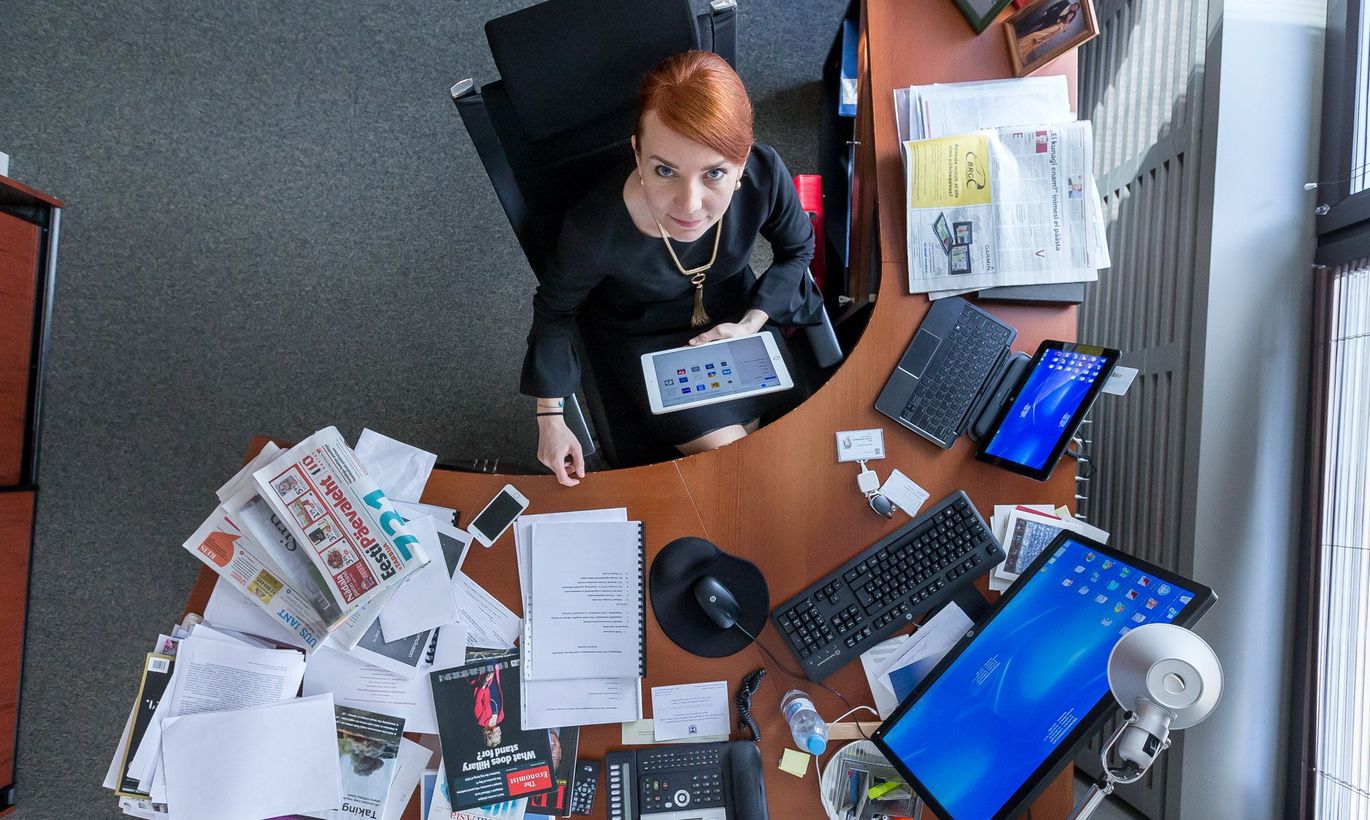 Minister of foreign affairs Keit Pentus-Rosimannus (39) does not think she's overly unnoticeable for the office or overshadowed by the President – foreign policy is teamwork, she suggests.
You did briefly function as foreign minister in the first government of Taavi Rõivas, but your former field as minister was actually environment. Was that a natural shift?
Well it did come during a time when I could not afford a long acclimatisation period. The acclimatisation was short. In the field of environment, there's quite a lot that reaches outside of Estonia. So it can't be said the new domain was totally unknown. Foreign policy is formed at governmental level. Well the acclimatisation was speedy and I had to get going immediately.
Unavoidably, you are also haunted by the Autorollo scandal with no end in sight. Was it prudent to assume the key ministerial position with a baggage like that, and does it affect the government to any degree?
It definitely does not affect the activity of the government. As for me, for two and a half years I have been saying what was now confirmed by the court. I don't know how you would feel in a situation where you discover that you have something grafted into you that you have not done.
Humanly, the period has been tough of course, but on the other hand I have become a lot stronger.
At the moment, it may be claimed that you are also a most criticised minister and in the comments of several opinion leaders one detects the stand that foreign policy is not guided by foreign minister but rather the President or somebody else. Who then guides Estonian foreign policy?
In Estonia, policy is shaped by government of the republic. Estonian state might as well have overcome the childhood paid where Prime Minister, President and foreign minister would somehow be competing in foreign policy or it was possible to say the foreign policy lines differed. Estonia ought not to have a problem like this – we have one unified foreign policy. All the abovementioned three play their vital role in representing this foreign policy, in representing Estonia.
Frankly, I like it a lot that we have a President who stands out in foreign policy. With the upcoming presidential elections, this should be an important criterion picking the candidates. In a small nation like this, the President has to be very active.
I may surely promise that during my foreign ministership, there will continually be a very close cooperation between the President, foreign minister and the government.
No danger that you will be overshadowed by the President?
A small nation should not afford such persona-based competition. We have a common thing to do and it needs to be done well.
You are being criticised for very round and content-void statements, and that you are not too good at presenting an argument.
Honestly, I have not personally noticed such criticism. Basically, criticism is always welcome and I think a person who can't stand criticism will not last long in politics. I wish the critics well.
Another issue related to you is the role of your husband Rain Rosimannus in Estonian politics. He lacks a related post, and yet is omnipresent.
My advice would invite Rain Rosimannus into the studio and do an interview with him personally. Even at these elections, Rain Rosimannus was the engine for preparing Reform Party elections programme and he is definitely among those who have contributed considerably to the content of our elections programme, and by this programme we did win the elections.
Which are the foreign policy topics that you personally have followed with interest – both now and also before you became foreign minister?
Definitely all that relates to security – both ours and that of the entire region. Also, this is definitely one of the topics that are a main focus for me. Talking about Estonian foreign policy on the broader sense, should I capture it in a sentence what the goal would be, then I'd say it is guaranteeing our security, guaranteeing the continuance of Estonia. To this end, daily all diplomats are applying their efforts.
Security policy is definitely one of the main topics, but, more specifically, in near-term it is ending the Russian aggression in Ukraine. Estonia has been one concrete and strong-voiced speaker for Ukraine both on EU level and more broadly as well. Personally, for me, I indeed take it as our moral obligation.
Recently, I met with the foreign minister of Georgia in view of the approaching Riga summit related to Eastern Partnership. In addition to the Russian aggression, there are of course the issues of what will be with these nations – Ukraine, Georgia, Moldova – which have personally been better doing their homework. And it's no secret that there is caution or scepticism in the EU when we are talking about future membership perspectives of these nations.
Also, I reminded my colleague from Georgia of how in the 1990ies there were lots of those who thought Estonia and the Baltics as such would not become EU or NATO members. Estonia did its homework and got in[to both]. And now we stand ready to support them in this.
Are there any nations or regions which have been of personal interest to you, and close to your heart?
I don't know you know. If asking the education minister should we pay more attention to higher education or some other fields of education, that would be quite a tricky question.
Outside the job as a minister – as a matter of personal interest.
Naturally everything that relates to the Ukrainian society, the Georgian society, the Eastern partners in the broader sense, is what with me also has been under very sharp scrutiny. But also a topic where Estonia may not remain an onlooker, what concerns the developments behind European Southern border. This also is a topic where we must offer our input.
Recently there was the anniversary of the genocide of Armenians. On that topic, Estonia's statements have been very soft. Is this our trend to indeed remain soft like that, so we sympathise with Armenians but will not condemn Turkey?
It is definitely important that the Turkish-Armenian relations would be good and that the painful topics tagged along from history would be clarified between them. We can definitely not be silent and indeed must not be silent about the injustice towards Armenians. Definitely, everything needs to be done in order for that to never be repeated.
Have there been any discussions for Estonia to use the word «genocide»?
Till today this is a topic which needs to be discussed and sensed with the participation of these two nations.
Let's talk about issues painful for Estonia. The Estonian ship guards captive in India were indeed promised to get their things back, but what other developments might we expect?
The things have not been restored to them yet, the decision was indeed made, but the bureaucratic dealings do take some more time. This week (today – edit) there is a new session that we helped along to happen. We are also seeking solutions together with the Brits – I have personally talked to the British foreign minister on the subject, several times.
We will keep putting the pressure on them and this we will continue till these men get back home. Their current lawyer will continue with the case – it would not have been expedient to start from scratch before the session.
Are changes to be expected regarding Eston Kohver, jailed in Moscow?
This is a story where all relevant agencies are applying efforts – definitely not the foreign ministry alone. Well we are under no illusions – what is happening is a farce. But naturally we are keeping the topic as up and current as possible on the international level, but we are doing everything for Eston Kohver to end up getting back home.
You wrote an opinion article in [the daily] Eesti Päevaleht about the immigrants from Libya and underlined that what needs to be dealt with are the root causes of the problem. What will be Estonia's input in this?
To think along and seek for solutions, and once the solutions are agreed then to do our part. Currently, the main focus is on finding the illegal human trafficking network, cutting it through and bringing it before court.
Estonia has already had a decent input in operations on the Mediterranean. We have participated with experts, speedboats and airplanes.
Related to the topic, lately, a somewhat welcome debate has again arisen in Estonia, concerning Estonia's migration policy. And here again it's worth thinking about what these causes are.
Estonia's image is a small immigration despising state.
Estonians are rather reserved and on their own. While on a vacation and overhearing Estonian spoken at next table one does not go sit over there but will lower one's voice.
We want to be by ourselves and keep it that way. Surely, the instincts of a small state and a small nation play a part here and I don't think this should in any way be ridiculed or put down. It is for a very short time that we have been able to build our culture and society.
Among other things, the society needs to be granted the time to travel around and feel the world and to think. Not too long ago, we ourselves used to travel to Finland and Germany with visas only.
I think openness cannot be forced o anyone, the outcome would be very bad. To become more open, time needs to be granted.
But the sharing of burdens within Europe?
This is not the only way to somehow force redistribution of refugees between countries. With any kind of problems, I still like to deal with the cause first and to get it solved. Passing the cause by will in no way improve the situation.
Estonia is a nation so small that indeed President, Prime Minister and foreign minister must all be involved in foreign policy.
The main goal of Estonia's foreign policy must be guaranteeing Estonia's security and continuance. 
Estonians are a by-themselves kind of people, and openness towards immigrants or refugees cannot be forced on anyone – for that, we need some more time. 
Education: piano at Tallinn Music School; in 1995 graduated with silver medal from Bakalaureuse Erakool (now Akadeemia Nord); from 2000 possessor of Bachelor's degree in public administration and EU relations from pedagogical university (Tallinn University); in 2000 begun Master's studies in political science at University of Tartu  
Reform Party member since 1998, currently its vice chairman
Riigikogu member 2007–2011; environment minister 2011–2014; foreign minister starting November 17th 2014
Married to entrepreneur Rain Rosimannus