Reinsalu resolved to ignore same sex law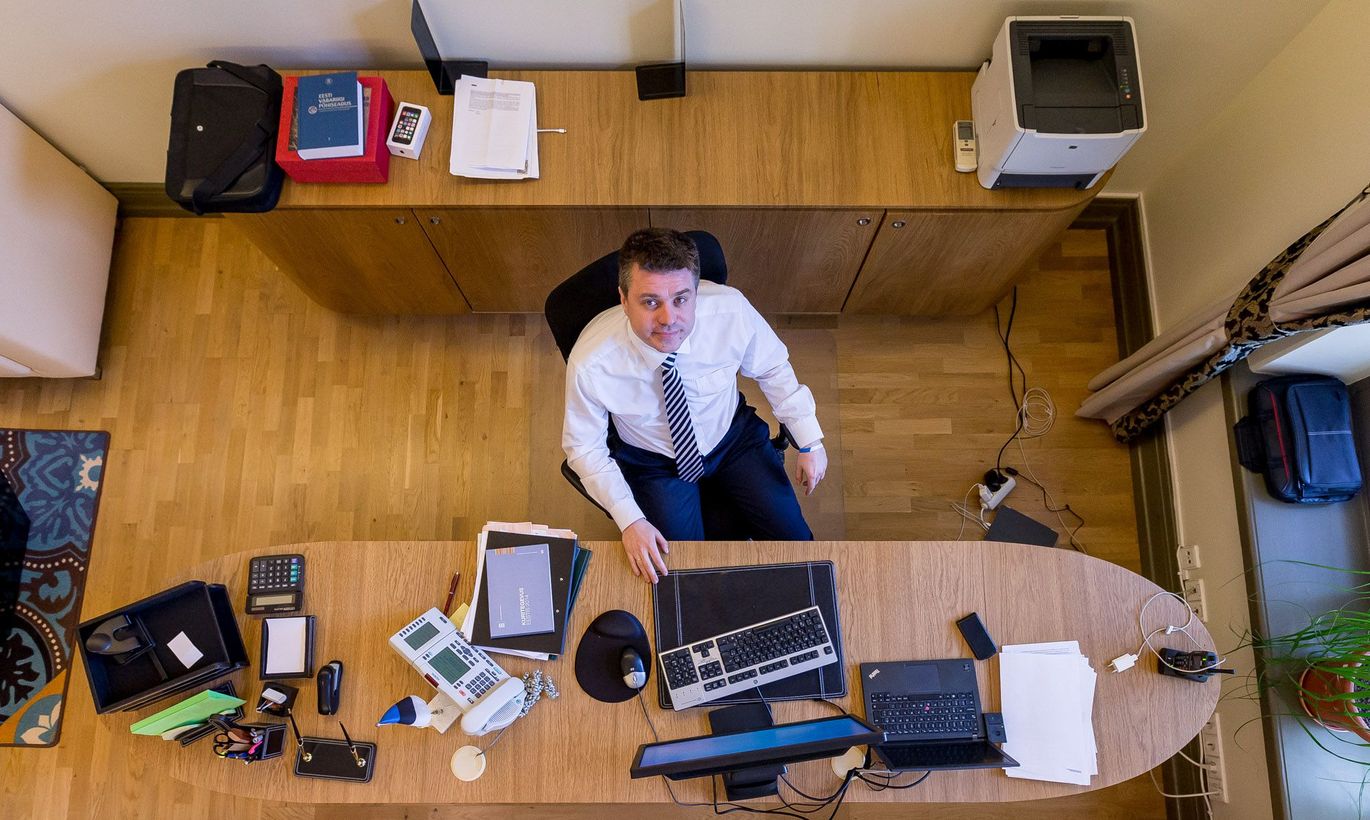 Justice minister Urmas Reinsalu is not intending to deal with gay law but promises to try cutting red tape and reform bottleneck prosecutor's office.
How come that IRL, having performed modestly at elections, exited the coalition talks in a position much stronger than the Soc Dems whose mandate was markedly better?
I'll not be comparing parties, but it is right: election results do not determine everything. Our initial starting point was whether to accept the negotiations at all. This was a very serious debate and challenge. It was not that we'd just up and go. In a way, the current parliamentary policy shaped up the way it did because IRL was kingmaker: would there be a government with Centre Party included or not included.
Obviously that's why you gained key positions in the government, I mean finance and justice ministers, in whose power it is to stop bills put these on hold, delay with coordination.
At times, the attitude has been spread to media that one minister's post is more important than another. That ministries are a kind of silo towers which a party will be filling with their programmes. I'm principally against such an attitude. In my opinion, a government ought to be a team which takes the principal political choices, and then these are executed. The running management of the ministries should rest on chancellors and rather the professional teams.
Regarding your personal issue, immediately after the elections the news was spread that party chairman Urmas Reinsalu assumes responsibility for poor election results and will not run for chairman in summer. And yet here you sit opposite to me as justice minister: giving up one, but having received another high post instead.
I don't think these are so explicitly linked one to another. I deemed it prudent for the general assembly of the party to elect a new leader. This is rather the usual in politics, but perhaps not so well-worn logic in Estonia. If a party's ambition greatly differs from actual election results, then a new leader must be handed an opportunity, and I intend to support that new leader just as Mart Laar supported me.
This will come as slight exaggeration, but the justice ministers before you have not done too well in politics. Your friend and comrade at the party Ken-Marti Vaher was forced to step down due to the indicators scandal. Rein Lang was told by his party to go run at the end of the list somewhere in Ida-Viru County and he opted out. Kristen Michal left office due to his party's financing scandal, his successor Hanno Pevkur was supposed to become prime minister as desired by then Prime Minister Andrus Ansip, but the party backroom opted for the more easily directable Taavi Rõivas and Mr Pevkur was sent to be interior minister. Your immediate forerunner on the job Andres Anvelt was highly visible the entire term in office, yet sent by his party into the parliament with no portfolio offered. Not an encouraging list... Why do you think you'll do better?
But how would you comfort me, having said that?
Right. I think these specific instances were not related to the domain of justice. I'd want to hope that the coalition treaty which we will endeavour to execute with this coalition and which concerns state reform, administrative reform, cutting the amount of governing in Estonia, cutting the overall bureaucracy and overregulation [will be carried out]. As we can see, these are issues rather central and not easy at all: many are the forces working against the execution of this political mandate. These are tasks that are impossible to carry out without the message of justice ministry, and I hope I will be able to offer a strong contribution here.
What is your stand regarding the sharp fuel excise rise?
I have not heard of signatures collected against the lowering of taxes. Clearly, politicians also like to lower taxes, not to raise them. But if it is desired in public financial policy to keep these issues in place and not let things run downhill, it is obvious that all parties had very expensive and important election promises which had to be covered somehow.
Naturally, I think finance minister will invite entrepreneurs to discuss the impact. This is prudent. Obviously, with fuel excise we will have to watch what is happening on neighbouring markets. So a situation would not arise where fuel is brought from other states and the expected tax result will underperform.
Is Urmas Reinsalu intending to listen to his advisers more than Prime Minister Taavi Rõivas?
I am not able to comment that analysis by Ruta Arumäe regarding how the Prime Minister listens to his advisers. As the domain of justice is one with a very strong input by professionals, I would like to not only listen to my political adviser, but actually to the broader professional body of the field. I hope they are ready to give me advice.
You have graduated from Law Faculty at University of Tartu, after which you did a stint at justice ministry. It was 1998 and you worked there as an ordinary specialist. As you left the specialist job back then, in your wildest dreams did you ever imagine one day returning to the house as minister?
It was far from a brief stint, and neither was I just some specialist. In the public law department, I was involved with preparation of bills. For most of my time at the university I was already working at the ministry. I was sharing the office and the same desk with law official Ülle Madise, who is now Chancellor of Justice. From my course, most of the boys went to be lawyers, and the girls to be prosecutors. I chose what I was interested in – dealing with the state and with public law.
Talking about the work ahead, the same sex law has been passed, but implementing provisions are missing. Figuratively speaking: should a gay couple split, they can't divide joint property as rules and regulations are lacking. It seems to me this is the ministry's job, but you have said this is rather the task for the parliament.
Actually, for political tactical reasons, the law was being sliced up in the previous Riigikogu membership already. Part of this law was extracted for political consideration, the last government deemed it not necessary to initiate it, it was done by members of parliament. While putting together the coalition, we did also discuss the things concerning which the parties have differing views. 
This was one such topic and it did touch more broadly the philosophical family law issues. If sufficient political will be present at the parliament, I guess members of the parliament will deal with this. As justice minister, I am not intending to execute any further legal furnishing of the same sex law.
The former minister started talking about fighting domestic violence. The issue is also written into coalition treaty. What does it contain?
Already, victims have been encouraged to be bolder to notify, and this has actually born fruit. Beholding the past years domestic violence criminal case numbers, convictions have skyrocketed. I am totally convinced this is not because in a couple of years people have become more violent; rather the opposite – victims have increased in awareness. Here, support by society is of great importance.
The other issue relates to protecting the rights of victims. In these past years, there has been a lot of philosophy generated around protecting the basic rights of the accused or the suspects; I have heard less about protecting the rights of the victims. The European Union has got a victim protection directive, which we are actually planning to adopt. Its idea is trying to take an individual approach to victims. So their rights would be better protected and that pre-trial procedure would take into account their more fragile role.
What then can be done there? It's a well-known fact that people are not receiving the damages that criminals have been ordered by court to pay. 
When talking about money to be received in case of crimes, then in criminal procedures civil claims should be possible as well. A serious problem both in the business environment and those seeking alimonies is the slowness of execution proceeding. We are boasting about our e-solutions, a state flexible, modern and prudent. But as I view the speed of processing patents, for instance, by deadlines we are rather at the bottom of the EU. A look at the overall figures of executing proceeding also shows we are the European bottom. This s something I will need to seriously discuss with those at helm of these domains.
With domestic violence, for an onlooker it seems an emergency – investigators unable to deal with hundreds of new cases. Physically, there are not enough people. Right now, criminal procedure revision is about to be launched, the proposals including various ways to cut bureaucracy. How to reduce the overload?
According to what I have been able to hear from the professionals, the overall understanding is that criminal procedure can be made faster and more effective. Talking about the end result, quality may not suffer. The deadlines must be maintained, the actual procedural logic of establishing the truth may not suffer. Regarding criminal procedure, people expect public authority to be fast, effective and flexible at that. 
It does make sense that, when talking about hearing statements from witnesses for instance, there is a more effective way. Not at every stage should a witness be summonsed; this could be done digitally.
One very sensitive topic is the principle of legality: will we say that everything needs to be dealt with, or is it possible to start listing things according to importance? A real question being – and this is a constitutional issue: should all criminal cases pass all three instances of court? Perhaps, with the weightier matters, it would make sense to immediately begin court deliberations at circuit court level. Again, a topic for very serious debate.
The creation of advocate generals is a success story, but next on the agenda is prosecutor's office reform and creating the post of consultant at prosecutor's office. This would allow prosecutors to pay more attention to real cases and minimise the situations where prosecutors tend to exceed reasonable procedure deadlines.
It's true that, due to limited resources, prosecutor's office is a bottleneck currently. This hampers the speed of criminal procedure. In my opinion, employing consultants is a rational solution to ease the bottleneck.
Which brings us back to where we started. On the one hand, we are talking about thinner state and fewer officials. On the other hand, to better serve the citizens, more need to be hired...
When talking about the state governing volume needing a cut, then the public governmental sector itself needs to be able to optimise these posts. These activities must become more efficient. This should be the very logic of penal power and criminal procedure.
Cutting governing volume; state reform.
More effective criminal procedure for enhanced security.
Cutting the bureaucratic environment.
------------------------------
Born on June 22nd 1975 in Tallinn
Graduated from Law Faculty at University of Tartu in 1997.
Founder of Res Publica, chairman of IRL
Defence minister 2012–2014
Riigikogu member since 2003