Big changes promised by Palo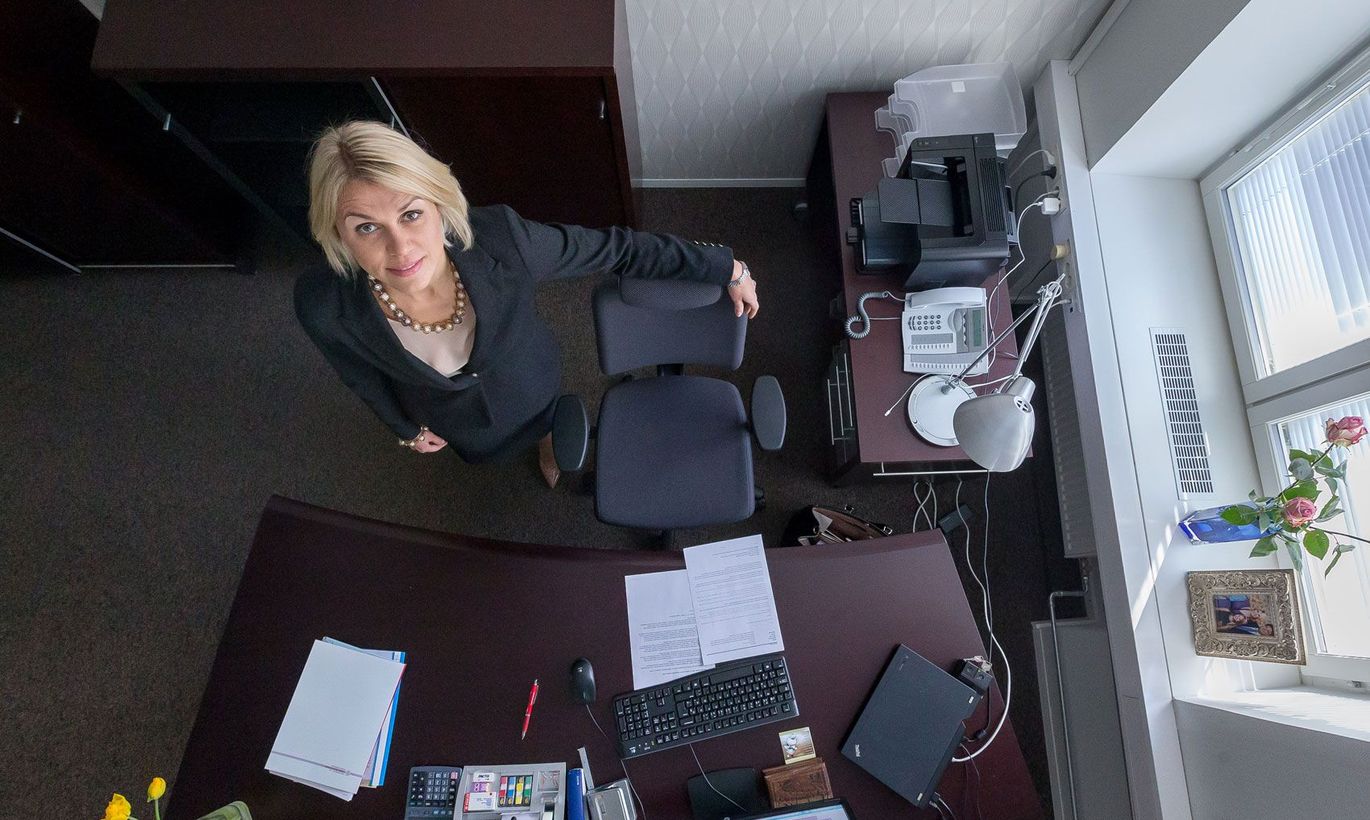 Already, the fresh entrepreneurship minister Urve Palo (Soc Dems) has encountered Enterprise Estonia (EAS) chief Hanno Tomberg and all recently confirmed EU new budget period support measures will be reviewed, at her request. «Thankfully, nothing is hewn is stone yet,» said Ms Palo, eager to impose many a major change upon her domain.
When, in his first government, Taavi Rõivas decided to split economy and communication ministry into two, it felt it was to pay increased attention to foreign trade. Now, however, «foreign trade» has been wiped off the portfolio. Why?
As Anne Sulling's portfolio was developed, it was shaped after Alexander Stubb's post in Finland, but as far as I know even they do not have a post like that any longer. Every season has its needs and, according to that, the solutions. I think that Anne Sulling did a good job, but I see my domain as much broader. Foreign trade will surely be a part of it, but, likewise, are tourism, housing and entrepreneurship in the wider sense. I did not want any of these parts to be specified in the name.
As Anne Sulling entered into her office, the irony abounded: what on earth will she be busying herself with. As the Japanese deal with milk producers became reality, they said she was a rare minister who accomplished something in the short period of time. Will you be continuing with these accomplishments of Ms Sulling, or how will you proceed with these things?
I think the statements that Anne Sulling was a rare minister who accomplished something are very unjust, as every minister would point out lots of definite things done during the year and the list would be rather long. One of my own great accomplishments was, for instance, the ferryboats contract which saves the state nearly €60m.
But when it comes to the foreign trade aspect, the work has always existed and will continue. Personally, I will be visiting Germany in May, with the President and entrepreneurs. For our entrepreneurs, the German market is definitely of great interest and geographically it is not that far away; the cultural space is similar.
At the beginning of autumn, however, there will be a visit to China organised by EAS. This is a market far away, yet huge and of inertest. There will be quite many such undertakings, visits, fairs. My year's calendar is pretty filled.
Meanwhile, I very much desire that I would have time left over to also support entrepreneurship here in Estonia, that I would not be away all the time. I will try to balance it out and the there for the entire portfolio.
As you said, the foreign schedule is intense; by the public, you have been criticized for your poor command of language. How do you comment?
For 15 years I worked at an international company, half of that as its head. Mainly, the work was in English. Also, as population minister I was having to communicate with foreign ambassadors, and as economy and infrastructure minister with diplomats – I could not have done all that without knowing the language. It is regrettable that, again, people have taken the path of dirty slander – the last time it was the TV tower binoculars saga (last summer, Eesti Päevaleht and Delfi wrote that, according to a person present at a cabinet meeting, Ms Palo said that the TV tower was for us of utmost importance also because, from the top of it, it was possible to see whether enemies were approaching Tallinn. – edit), so this time it is language skills.
What do you say: should a state favour exporting enterprises at all?
So and so. If we want our enterprises to grow and the salaries to rise, then export is important because Estonian domestic market is so small. But we should not be wearing blinders here and say that we only support exporting enterprises. Seeing that lots of enterprises are not exporting yet, but who says they could not be doing that tomorrow.
In Estonia, 60 percent of exporting enterprises are based on foreign capital. Meaning: often the decisions what to produce and export here are not made in Estonia. It is my heart's desire that we would not neglect the Estonian capital based enterprises that have potential to grow by would use a little push. Because, when an Estonian capital based company grows, this is a local brand and large money will be where the brands are.
For entrepreneurship minister, the first task should be for people's wellbeing to increase, for income to increase. Therefore I'm of the opinion that whatever the support we provide through EAS or Kredex, this must either serve the interest of increased productivity, or create jobs, and that all over Estonia.
The kinds of support like has been the custom for years here – money granted to build a village community house –, I would not like to see that. With well-paid jobs, the community house will come by itself. Should we begin with building community houses, as we regrettably have done in rural areas, we will see pretty community houses with the doors locked because they can't afford to heat them, because there no people near it any longer for they have moved to a larger city or abroad.
Talking about the coalition treaty, entrepreneurs aren't too happy with it. Lowering social tax by one percent is a very small victory, but fuel excise will be felt by all. How do you intend to start soothing the entrepreneurs?
True, one percent is a very small part in lowering the labour taxes. Meanwhile, the income tax free minimum will indeed also rise, providing added help, yet we cannot speak about significant lowering of social tax. But, for entrepreneurs, it is not tax policy alone that they are interested in. For entrepreneurs, the greatest concern is labour force shortage i.e. the lack of qualified labour force. Here, I envision close cooperation, with the labour minister first of all. Also, close cooperation is needed with the education minister.
From there, we will need to see how to support entrepreneurship on all of Estonia, i.e. not in Tallinn only. That would need we must have decent infrastructure, but also rental flats for instance. Plus other labour market measures.
In EAS, for instance, which for my fork is an important extension, close to €150m have been earmarked for rural life and rural entrepreneurship. Together with the public administration minister, I will definitely want to look into these plans. Also, I have already talked with the head of EAS and have asked him to review other plans of EAS. I know that EAS has desired, in support of enterprises, to be more focussed on innovation, design etc, which is very important.
In order to increase profits, large investments are needed in the very innovation and product development. We need to find a way for our companies to rise in the production value-chain – then salaries can increase and exports become possible. I have asked that we would add financial means there for supporting entrepreneurs al so with purchases of machines and equipment. At the moment, EAS has none of these. If we rearrange the measures a bit, the option will be created. I definitely want this machines-equipment support to be added because, once a product has been designed, developed or invented, it needs to be produced somehow; with handicraft, how do you boost exports.
So the fuel excise will simply have to be swallowed, hoping in the other measures?  
Well as entrepreneurship minister I'm not too happy about the fuel excise rise either and we will need to consider that once the fuel is dearer, at some point this will reach the end product price and the consumer. Social democrats have always been of the opinion that we would rather have to rise the direct taxes than the indirect ones, the latter already being among the highest in the EU; but, well, at coalition talks, compromises have to be made and excise rise is one such compromise.
The time is not the worst for excise rise as, at the moment, oil is relatively cheap on global market; however, we may not be short-sighted hoping this is the way it will always be. 
Your domain will also include tourism, which is not doing too well at the moment. The numbers of Russian tourists have dropped drastically, as have these of the Finns. Because of the alcohol excise rise, the trend may deepen. What can be done, here? Will it not be further damaged, as accommodation service VAT incentive is done away with?
The current situation is that, at the beginning of the year, the number of Russian tourists dropped by 45 percent – their purchasing power has shrunk. From Finland, the decline is small, but is may deepen because they are having a rather major «Spend in Finland» campaign underway, as the local Finnish economy is not having the best of times. At the moment, the overall figures have been upheld by increase of tourism from Latvia, Lithuania, and from other Scandinavian countries; domestic tourism has grown as well. So we definitely cannot afford stupid decisions and damage whatever we have got.
During coalition talks, we agreed that we would pour another million euros to support the «Puhka Eestis» (spend vacation in Estonia) campaign; but I quite agree, marketing alone will not help, competitive price will have to back it up.
Talking about the possible eradication of VAT exceptions, that would not mean 8 to 9 percent added to accommodation prices. This is so and so, currently an average room costs €32. From there, we are talking about a €3 rise to €35. For a one-off vacation, this is not the worst, but as you go with the family or a tourist comes from abroad comparing with Latvian-Lithuanian prices, the competiveness will be an issue. In the European Union, in only three countries the accommodation VAT rate and overall VAT rate are equal – in the UK, Denmark, and Slovenia. 
I personally am not in favour of doing away with the VAT exception, as I also said at the coalition talks. Currently, the wording goes «doing away with is being considered» so this is not definitive.
The way I see it, let's rather do everything in the name of drawing more tourists – then we will see tax revenue, and more than by axing the exception. For instance, we have agreed to create a contemporary conference and fair centre. If we would finally get that done, it would bring 20,000 extra tourists a year, 400 new jobs and €20m in added income i.e. the same amount that is now intended to earn by axing the VAT exception.
As infrastructure minister, I already began with that. We have had initial negotiations with the city of Tallinn, Port of Tallinn, and Hard Rock. We did reach quite far. Late in the autumn, additional questions arose, but we will take the bull by the horns again and will definitely continue with it. The state should be prepared to participate by investment support. Today, we envision this could first and foremost be a project to fix the City Hall (Linnahall), also tidying up the sea shore. Therefore, Port of Tallinn is willing to hop aboard as well. Ideally, it would be nice to have it ready by Estonian EU presidency in 2018 – but this is very optimistic.
This past year, entrepreneurs have also been greatly angered by the «boosting» of Tax Board activities; this, the entrepreneurs have taken as a sign of non-trust by the state. Did the Tax Board go overboard or no?
I would not like to pass judgement of the Tax Board activity as this isn't in my domain and I would not like to be unjust. The two major projects undertaken by the state, and which triggered anger, have still been a success.
The creation of employee register brought about a remarkable rise in employment in Estonia. On the other hand, it is also helpful for the companies who pay their honest taxes. For the honest-paying entrepreneur, it should be in his interests that all do that, as then the market and competition will be fair.
The other was declaring invoices exceeding €1,000, also yielding remarkable added revenue – meaning VAT fraud has gone down. Though initially it angered many entrepreneurs as they had to have an extra IT-solution created; once it started working, however, a routine sets in.
Importantly, the coalition treaty set justice minister in charge of cutting administrative load of entrepreneurs, so the amended and new legislation would not be too expensive on them.
The coalition treaty promises to introduce Entrepreneur Day. What on earth is that?
This is a very important promise. In my opinion, we are still somewhat stuck with this Soviet time thinking that an entrepreneur is this bad businessman. In reality, entrepreneur is the state's right hand, and his work must be more valued. At the end of the day, the entrepreneurs are our own people who take risks and create jobs. An entrepreneur may be family friendly, socially responsible – this also would be a desired direction, beneficial for both entrepreneur and the society.
But we begin by Entrepreneur Day. We are still thinking about how to bring it forth. One variant would be doing it in connection with entrepreneurship week which we will have anyhow, in October. On Friday, it could conclude with a festive Entrepreneur Day which might feature a gala where EAS hands out prizes etc. This is one of the ideas, perhaps there are others that are better. But we would definitely like to begin this year, no need to wait for long.
So this would be public holiday, and a day off? 
(Laughs.) The entrepreneurs will have a day off; but with entrepreneurs having a day off, the employees will not have to show up for work either.
You will also be dealing with housing fund. What is there in common with entrepreneurship and housing fund?
In Estonian GDP, the building sector is of vital importance; direct construction activity makes for about 11 percent of the GDP. On top of that, the building sector employs about 60,000 people. So it's obviously linked with entrepreneurship.
Homes concern everybody. In Estonia, the state has not envisioned having an active role thus far in guiding housing some way, or controlling it – except for Kredex support for renovations of older apartment houses. As a result of that, our housing fund is outdated. I deem it very important to increase the role of the state. Some steps have already been taken. For instance: by the end of last year, we developed a measure where we support local governments to demolish old apartment houses to make the cityscape nicer. We have a measure to support replacement of oil boilers in private houses.
I will want to seriously tackle the state supported rental spaces. Here, there are two directions – one is direct financing support in rural areas where contemporary rental space is essentially nonexistent and will never be built as market value is below building value. Private sector will not be doing it, but when talking to local government leaders or entrepreneurs in rural areas, they lack labour force and even if they find a worker, he has nowhere to live and he will not accept the job.
Let me underline: the state itself would not be building anywhere. This would come as desired by local governments, as development and business plan, and the apartment building will need to pay itself off afterwards. In towns especially, but also in the countryside, state support would come by way of Kredex loan surety. Because even in city space we are not seeing rental apartment houses as the banks are providing very short-term loans for the building of apartment buildings – ten years maximum – and therefore the only option is selling them; with rental, they pay off in 20 – 30 years. 
Born July 10th 1972, in Haapsalu
Master's degree in economy from University of Tartu
2014–2015 economy and infrastructure minister
2011–2014 Vice-chairman of Riigikogu economic affairs committee
2009–2011 Viimsi parish deputy elder
2007–2009 population minister
1997–2007 Saint-Gobain Isover AS, manager