Kremlin media hunting for openings in Estonia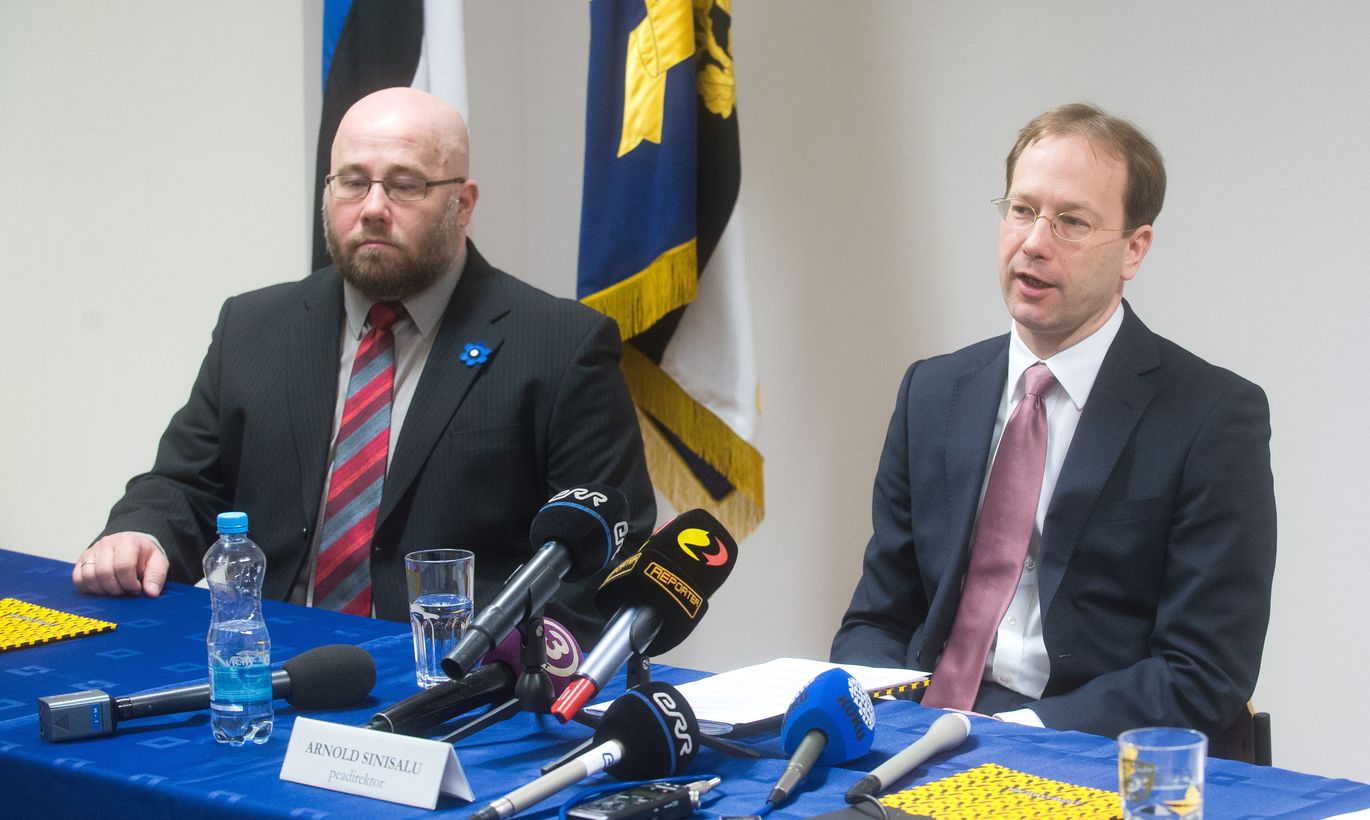 Though Russian propaganda channels are eating ever deeper into Estonia, lion's share of local Russian speakers still manage to separate hostile messages from the truth, claims Security Police.
Should somebody in the future try to assess Estonian security atmosphere in 2014 based on fresh Kapo annual review, a full picture would prove evasive. For instance, such key events as kidnapping of Eston Kohver and treason «confessed» by Uno Puusepp in a Russian TV show are only mentioned briefly. One may guess why: the situation is still highly complex.
As told the media yesterday by Security Police director-general Arnold Sinisalu, investigations are still underway regarding potential damage by Mr Puusepp, and regarding Eston Kohver they have nothing to add to what has been published by the press. «This time, we are curt in a sense,» admitted Mr Sinisalu, still proceeding to point out some key words: foreign extremists testing the waters in Estonia; continued corruption threat among our officialdom; and Russia's urgent attempts to organise Eastward integration in Estonia via new media.
Namely, as established by Security Police, the expansion of Russian media into the Baltics is largely being organised by one and the same coterie, media money moves along one chain, and the centre of it all is the Moscow-based national information agency Russia Today (Rossiya Segodnya).
While the latter's multi-language TV-channel RT broadcasts in Estonia for years already, a multimedia channel Sputnik was created to work next to it, last year. The aim of the latter is spreading media content via radio stations, websites and press centres. At the moment, with the help of Sputnik's Baltic manager Andrei Blagodyrenko, co-workers are being sought for the channel in Estonia; meanwhile, however, yet another media project has been initiated.
Since October, a Russian language news portal Baltnews is operating in all three Baltics, also financed by Russia Today. Currently, it is trying to unite critics of the Estonian state and translates domestic news into Russian in a tone that befits them; in the future, it should also be providing internet radio and internet TV.
Baltnews operations in Estonia are organised by Coordination Council of Russian Compatriots member Alexander Kornilov. The money, however, comes from a Holland-registered enterprise Media Capital Holding BV also controlled by individuals linked to Russia Today.
As Russian media shifts into top gear, in near future, Security Police sees the motive to be but one: creating an image of Estonia as a failed state with no perspective, and undermining EU and NATO unity.
Up to now, this has largely been done from Moscow and the work has proven complicated. For instance: on July 25th last year, falsified Ukrainian Third Channel press cards were presented to police in Tallinn Airport by Maksim Gritchenko and Vyatcheslav Amelyutin who in reality work at Russian defence ministry's TV channel Zvezda. The men's plan to cast the WW2 memorial event in Blue Hills, Ida-Virumaa in the interests of Kremlin flopped – the journalists' visas were cancelled and they were sent back to Moscow the next day.
No wonder, then, that the Kremlin is seeking and testing new methods regarding the Baltics. As an example of that, last March Estonian state found itself in a Russian media campaign as Russia Today played a «leaked» telephone recording between foreign minister Urmas Paet and EU foreign policy chief Catherine Ashton. Former Security Police employee Uno Puusepp's «sincere» confession to Russian TV channels is of the same genre.
At the end of October, Moscow based think-tank Political Analysis Centre of the state information agency TASS published an analysis presenting the Kremlin two main pieces of advice. Firstly, options should be increased for political propaganda abroad, and mutual links between publications ought to be strengthened.
Secondly, contacts abroad should be sought with opinion leaders, business figures, academicians and organisations with at least a bit of sympathy towards Russia – without regard for their political views and not excluding extremists.
Some have already been located. Since 2008, a media club Impressum created by Komsomolskaya Pravda journalists is regularly organising propaganda events in Estonia. Last year, Estonia entered European limelight having imposed prohibition on entry regarding an Italian journalist Giulietto Chiesa intended to speak at Impressum.
«We do not want that club and its guests to instigate feud. Essentially, this is what they do there, though in a manner very refined and covert. Basically, a crowd is being fine-tuned against Estonian state,» explained Mr Sinisalu.
Same were the intentions of the calls last year to create autonomy in Ida-Virumaa. «There are virtual projects, rather, at times uploaded someplace in Siberia. This is more like psychological aggravation, but some single Estonian inhabitants have also been involved,» said Mr Sinisalu.
Despite the years-long propaganda, most of our Russian speaking population is still well able to differentiate hostile propaganda from the real conditions in Estonia.
Europe also is unanimous, as confirmed by expulsion of Russian intelligence workers operating under diplomatic cover out of several European states, including Estonia.
«The international practice is that as the departure of such people is agreed, these things are not commented in further details. Yes, this has been implemented over the years, but how much and when is not talked about,» said Mr Sinisalu.