Pilots sue Avies to get paid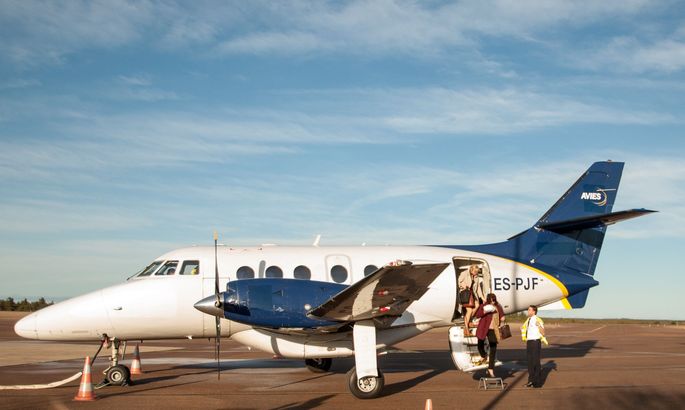 Two dozen pilots fired by the airline Avies at end of last year have had recourse to Tallinn court to demand payment by former employer of several months' back wages.
«If I don't get the money I'm in great difficulty, having failed to receive payment for three-four months totalling close to €8,000,» a Dutch pilot told Postimees, asking for anonymity.
For the Dutchman, things started to look bad as early as last fall when, picking up passengers in Kärdla he happened upon a delay allegedly due to Avies having failed to pay airport fees.
«For close to a year, I worked as co-pilot on the Kuressaare and Kärdla line. In the beginning all went well, but in October 2014 problems started with the payment of wages,» said the Dutchman. «When with other pilots we asked for the wages we had earned, initially the CEO Allan Soll never even replied. Afterwards, they began to promise the salary would come in December, then in January, then in February.»
«Avies, when will you start paying your pilots,» a pilot called Chris Den Hoed wrote over the social network Imgur. «We are waiting for months already... We worked hard to take your clients safely to their destinations.»
According to the Dutch pilot, 20 to 25 former Avies pilots jointly sued the company citing like problems, represented in Tallinn by Hansa Law Offices. By the time the article was published, it proved impossible to get comments from sworn advocate Siiri Malmberg representing the pilots.
Asked by Postimees, the Avies head Allan Soll put it plain: they owe the money to pilots having run into great difficulties after, without prior notice, their contracts were terminated in Sweden.  
«The campaign initiated by the pilots is to their own detriment as they were working as mediated by labour hire company – the usual practice in global aviation,» said Mr Soll.
«In Sweden, we have launched two court cases: one regarding the cancellation of a procurement for the next four years which we initially won; and the second one for the termination for our existing contract. The noisy campaign may harm our court battle.» Meanwhile, the Avies chief acknowledges the pilot's right to sue.
In a couple of months, the Avies staff shrunk from a hundred to 10–15 employees, and their turnover from €12–15m a year to two-three million. The company is cutting their fleet from 13 planes to six.
«At the moment, we are trying to stabilise our operations which is not easy as no-one is happy about contracts cancelled. We are hoping to get back on our feet in a couple of months,» said Mr Soll.
Tallinn Airport wished not to comment on claims that Avies has delayed payment of airport fees. «The airport is not commenting on its clients, especially when they have hit problems,» said the airport's marketing director Erik Sakkov. «For us, it is basically more expedient to swallow the problems and, if needed, to also turn the other cheek.»
From the beginning of this March, Swedish Transport Administration in one day terminated three service contracts with Avies and will not be entering new ones with the Estonian airline.  
The administration announced of having terminated contracts with Avies on Pajala-Luleå, Sveg-Arlanda and Torsby/Hagfors-Arlanda lines. Also, contracts will not be entered with Avies regarding two procurements that Avies recently won: Östersund-Umeå and Sveg-Arlanda lines from October 25th this year till October 2019.
According to the Swedish administration, Avies has been accused in flights cancelled, being late, and unjustified irregularities. Also, Avies has been involved in four serious incidents in the Pajala, Sveg, Torsby and Arlanda airports.
«The Transport Administration has the important task of ensuring that inhabitants and enterprises of Sweden have basic options for transport. In our estimation, Avies is not sufficiently up to the task to create these options; to the contrary, it has demonstrated serious deficiencies in its work,» the agency's planning director Stefan Engdahl said in March.
Aviation Administration checking
«Therefore, we need to cancel these contracts to ensure quality traffic on these lines.» The new contracts were awarded by the Swedish administration to a Danish company FlexFlight. To service the lines that were terminated, direct contracts were to be entered as fast as possible.
In Estonia, Avies services flights between Tallinn and Kärdla and Kuressaare. Even in Estonian Civil Aviation Administration, Avies is under heightened scrutiny, said the agency's personnel chief Riina Muld. «Since October 2013 till today, the entire executive management has been changed; procedures have been enhanced, and the Aviation Administration has applied heightened control regarding the aircraft,» Ms Muld explained in March.
AS Avies belongs to Avies Holding, held in equal parts by the companies Baltum Consult (owned by daughters of Allan Soll) and Tristen Trade (owner: Priit Piilmann).
Till October 2013, Oliver Kruuda was also among owners through his holding company GKG Investeeringute AS. Thereafter, Mr Kruuda's holding went via SEB nominee account to Hjalmar Konno's company Kinga Varad. GKG Investeeringute AS is currently under liquidation. Last September, Mr Konno's holding was transferred to Mr Piilmann.
Kaido Kaasik, Saare County governor
Avies does keep the Saaremaa-mainland flights going, but at times the quality varies. Right now, we have no complaints. But for several occasions it has happened that, after a lengthy period of stability, suddenly for nearly a month, say, things get messed up and the flights begin to be late. In aviation, weather and technical problems are part and parcel; therefore, we have limited ourselves with issuing them fines. Even so, for the islanders, what matters most is stable flight connection, not the fines. 
Priit Piilmann, Avies co-shareholder
Over the years, I have placed spare money earned in my entrepreneurship into Avies as loans, and I am not hoping to get anything back from there short-term. Up to now, the company has not paid me loan interests either. The company is in a difficult situation, but I do hope that the CEO is focussed on his main task and will pull it back from the difficulties. As a shareholder, I do not deem it possible to intervene in executive management, but neither can I place more of my money into Avies.