Berlusconi buys Estonian sauna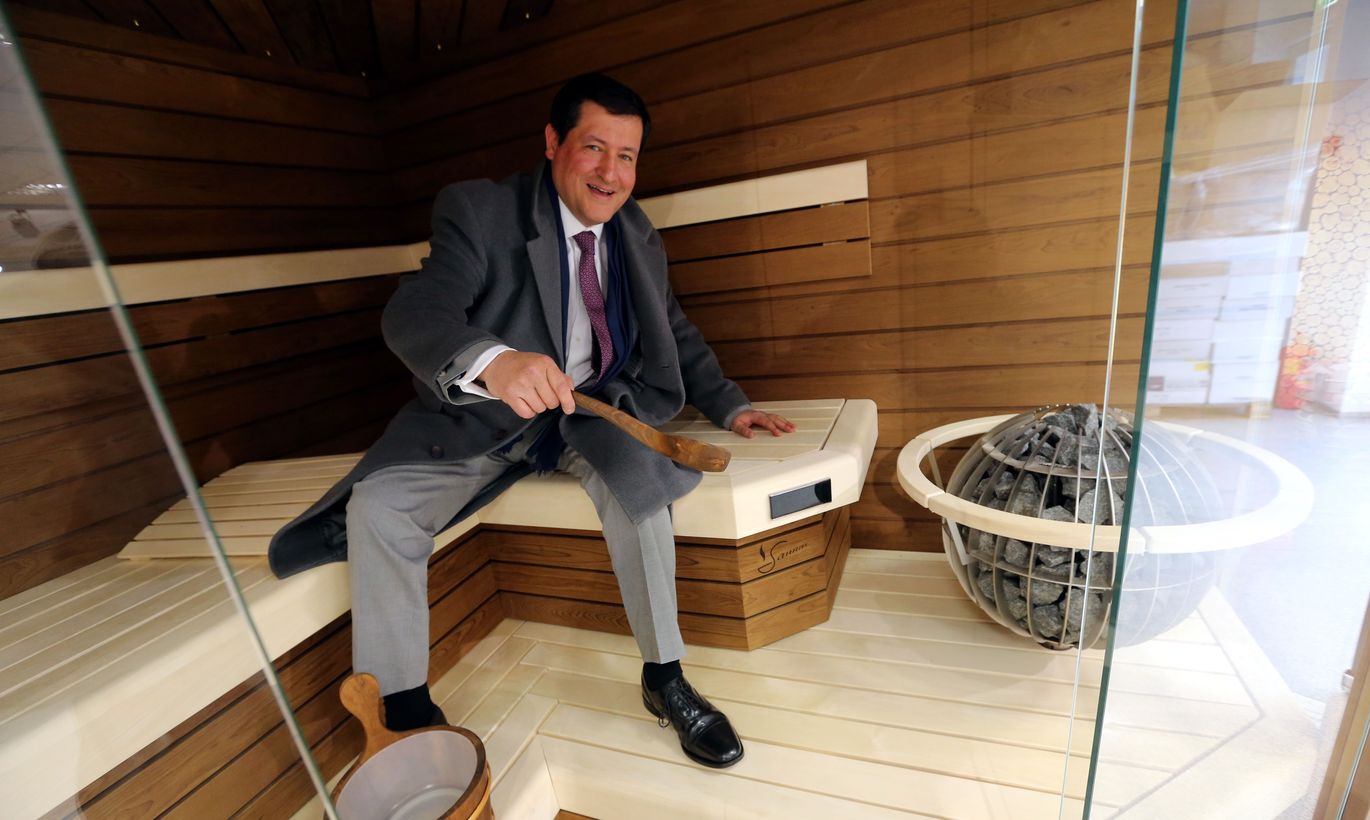 Ha Serv, a timber industry firm in Reola, near Tartu, is busy producing planed material, thermo treated wood and finished saunas. Lion's share of that is sold abroad. Among others, a sauna Made in Reola is enjoyed by former Italian prime minister Silvio Berlusconi.
«While some small share of the others goods gets sold in Estonia, this is not the case with ready-made saunas –none has found a local owner,» said Henton Rafael Figueroa Aste, in charge of exports at the company.
Mr Figueroa, an inhabitant of Estonia for some twenty years, was nominated Chilean honorary consul in Estonia in 2008. Among other things, he teaches economy in several gymnasiums in Tallinn.
As underlined by the energetic honorary consul, they did try to sell the saunas in Estonia and do have a sample up at Sauna Wold in Järve Centre, but nobody will by it. He thinks the reason is Estonians prefer to build their own saunas.
«I went to visit this Estonian once and he begun to ask me about saunas. At one point, he said you know your advice is excellent. I'll build it myself,» recalls Mr Figueroa.
He goes on to admit this seems only natural as Estonia has more sauna building experience than lots of other countries targeted by their company. 
The saunas go to five star hotels and people like the abovementioned Silvio Berlusconi. The greatest percentage is sold into Finland and Sweden, but Italians, French and Spaniards are interested as well. Some saunas have ended up in Iran and Tunisia.
Ha Serv entered sauna-building due to its niche characteristics. The competition is lower and the added value greater. Also, investments are more pocket friendly – yearly, two-three million euros are invested in the company. Even this year, sauna production gets expanded by €2m.
The beginnings were tough. Ha Serv went by the assumption that golf clubs, hotels and fitness studios needed saunas for customer wellness.
Mr Figueroa kicked off by sales into Italy. «Every day I called 10 to 15 companies by phone. Simply: «Hello, we are an Estonian company, we have wellness products, are you interested?» And this went on for six months,» he says.
Ten out of a hundred said they were interested, but only one ended up ordering. But the groundwork had to be done as Ha Serv started from scratch.
With the initial saunas sold, the company begun frequenting wellness fairs to stand next to pool and steam bath builders. Till today, the firm goes to one or two fairs a year, always showing something new – mainly in design and materials.
The latest novelty is thermo radiata pine, without branch burls and very pretty. «This is new, a rarity, not as the usual aspen or alder planks,» said Mr Figueroa.
Meanwhile: aspen plank may be brushed for an ancient look. Ceilings or walls can come with some glass. An ordinary heater may get an internal steam generator to alter humidity balance in sauna.
«Now, people approach us to ask if we can build them a new model. But this is ten years later. At the beginning, nobody comes like that,» said Mr Figueroa.
In 2012, Ha Serv profits were a million euros, and twice that a year later. In 2015, sales were up 40 percent, with like growth observed by Mr Figueroa this year as well. But even today, for every ten offers they get two orders – the other eight order their saunas elsewhere.
In a year, they produce about a thousand saunas. The models are four, but they are yet to build two identical saunas – the desires of customers vary. According to Mr Figueroa, the variety is an advantage: should someone want a standard sauna, the Chinese will provide that.
Another edge: Ha Serv is a bit cheaper and faster – a sauna is ready in three weeks. The speed, however, is vital, as a sauna is an impulsive buy – a CEO browses the catalogue and says he wants this very sauna.
«The moment I am in love I want it at once. I don't want to wait,» he explained. Thus, the shorter supply time is a strong point.
For a customer, a sauna may set him back some €10,000 to €15,000. For such folks, the cost plays no major role – what counts is that he sauna is beautiful and durable. The company could just as well double the price and nothing would happen. «But should a mistake be made, it's bad,» said Mr Figueroa.
For instance: it does occasionally happen that a nail is shot from the front and it is visible. As a rule, the customers then demand that all the planks be replaced, which Ha Serv also proceeds to do. «If people pay above the average, they want something valuable,» said Mr Figueroa. Ten years ago, this did happen often. Now, it is much rarer as the training has improved.
Meanwhile, engineers in Tartu are about thrice cheaper than those in Italy or Germany. «Which will not mean that they are worse,» underlined Mr Figueroa.
Still, even Ha Serv loses staff into the Nordics. A few months ago, a couple of carpenters came and announced they were off for Norway – to cut shrub at speedways at night. The wages are €3,000 which is not too much considering the cost of living over there.
«But if they go there, live and come back with €3,000, it's a good pay. We cannot pay them €3,000 a month, definitely not,» admitted Mr Figueroa.
But Ha Serv does raise the pay as they are able, and tries to keep the working conditions nice.
Staff at end of 2013: 173