E-mail conversation with man promising to alter exam results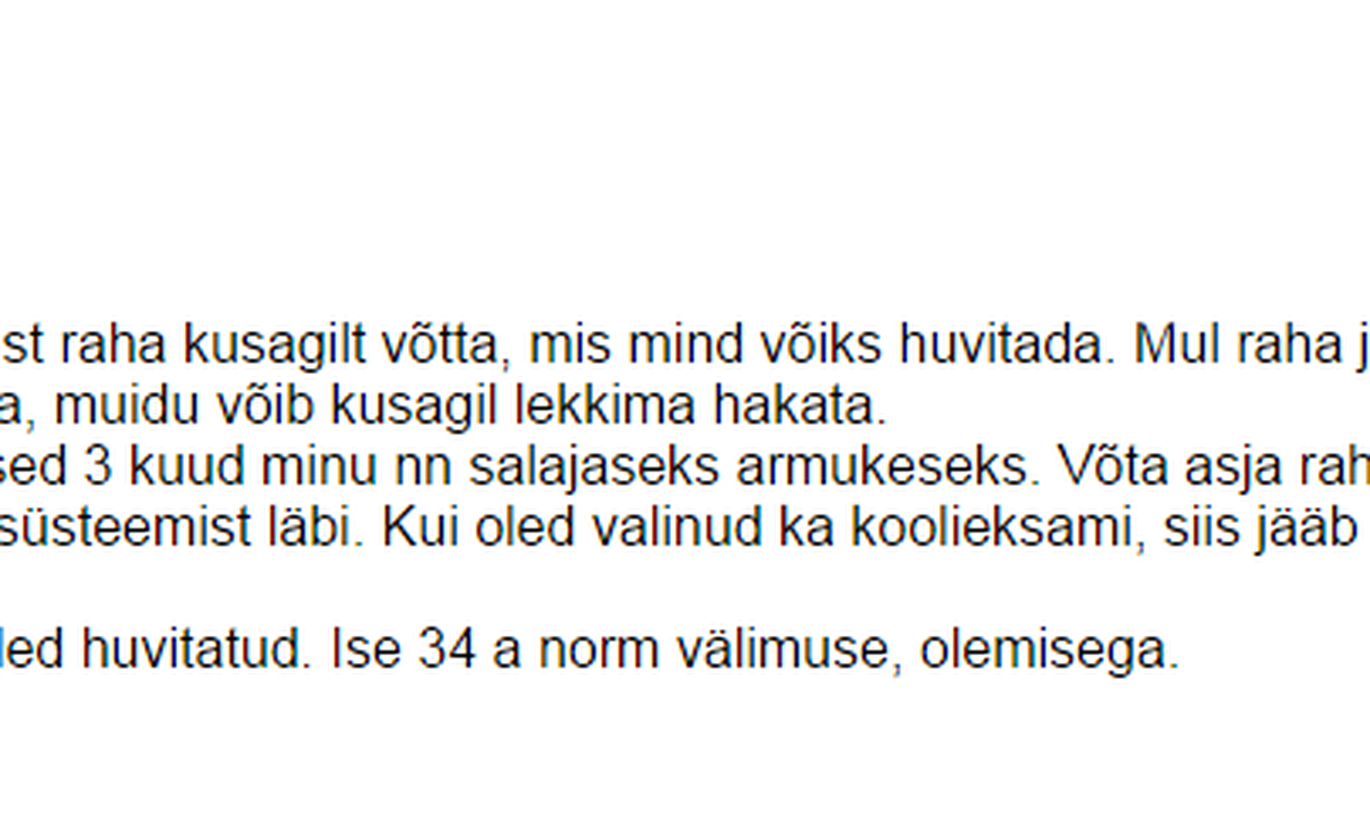 Underneath, find full conversation between journalist Helen Mihelson (for the experiment, Heleri) and the man posing as Margus Tamm promising to falsify exam results and demanding payment by three-month sexual relationship.
Margus Tamm <tamm.margus@yahoo.com>
The deal is this. I work with these IT-systems where your exam data passes thru. The data will simply be altered so no-one will understand.
Heleri <helluke7@gmail.com>
I'd agree to your deal. You say the payment is as agreed, how much have they paid usually? And how will the payment be done? Will it be after I receive the results or how will I know I can be sure.
I don't believe you will have such money available as would be of interest to me. I have money enough. Also, things can't be overblown as they may leak.
I offer that for the next three months you will be my so-called secret mistress. Take it easy. All state exams pass thru our system. If you have also chosen the school exam, the result will be up to you.
Well let me know if you are interested. Myself 34 of age normal looking, normal being.
Heleri <helluke7@gmail.com>
How can I be sure I will not get caught with this? You got a picture of yourself?
You'll get picture if needed, send yours first. What school you go to, where live? Let's agree a date, place and time. 
If your actual knowledge in a certain subject, but the exam is 100, all would like to find out how your genius has been awakened. Better to alter 47 points into 74 or something. Then, if somebody will be searching, it looks like a corrector typo and all is okay. But actually they only look if you so request, no-one else is interested in this. The results come out just some days before the graduation, all are in a hurry, no-one bothers to dig into it if you personally will not want to contest or something.
Heleri <helluke7@gmail.com>
I live in Tallinn and go to a city centre school. I really do doubt all this a little... can I be sure you really can alter these results and you will really do it... But the first time I will definitely want to meet in some public place just in case :). Then we can see ... This week okay?
Don't worry, send the picture and let's agree. We can meet in Tartu, in a motel near education and research ministry (a little hint) on Fridays and/or Saturdays, evening, night, or as fits you. We may go eat etc, I cover all costs.
Heleri <helluke7@gmail.com>
Have the picture now, but I'm actually coming to Tartu this weekend. Could we meet tomorrow? Let's do like the first time we rather meet daytime in a cafe. I may be dumb in math but meeting a strange person first time in some by-yourself place I would not like to :) Like I've been to Mint Lounge which is rather normal ... ay at 2 to 5 somewhere tomorrow? But do send the picture so I will recognise you also.
I had other plans made to go to the country. But if You are interested, let's agree next Friday or Saturday, for instance. Then I can plan. Let me know.
Heleri <helluke7@gmail.com>
My own trip got postpones also. So I'll say in advance I'll be in Tartu next Saturday and have plenty of free time. Perhaps we can think of something then :)
Heleri <helluke7@gmail.com>
Hi, so I know now I'll be in Tartu in Saturday afternoon. When can you meet? Three-four okay?
See you on Saturday then. They say winter is back for the weekend, so be ready. 
Send you phone number so I can call if needed on Saturday.
Heleri <helluke7@gmail.com>
My number is 59 035 622. See u tomorrow!
Heleri <helluke7@gmail.com>
So where were you? I waited for an hour ...
See, better luck the second time. When you are fed up clubbing, come continue at my place. 2 kilometres from Atlantis [a night club – edit]. Well let me know, call or write. The offer is valid till 3 at night i.e. I'm up late anyhow on Saturday.
Heleri <helluke7@gmail.com>
We never went to clubbing this Saturday. But about the following, I'm still interested but I still fear a little if you'll not fool me you know. Perhaps, next time, you will show me how you do it? Actually, I'm in Tartu again for the weekend, basically.
Let's then agree some number of encounters like 10. Friday would be the first. Come to Tartu in the evening. 
Heleri <helluke7@gmail.com>
What time and place we meet on Friday?
Think like 8 pm, not before. I'll call and specify. 
Heleri <helluke7@gmail.com>
I'll reach Tartu 6 to 7 tonight. Call at 8 or before that.
Heleri <helluke7@gmail.com>
And just in case; as you told me the last time you can show me how exactly you do what you promised, then today I want to see it. Perhaps you can take a computer along or something...