Edgar Savisaar's health fails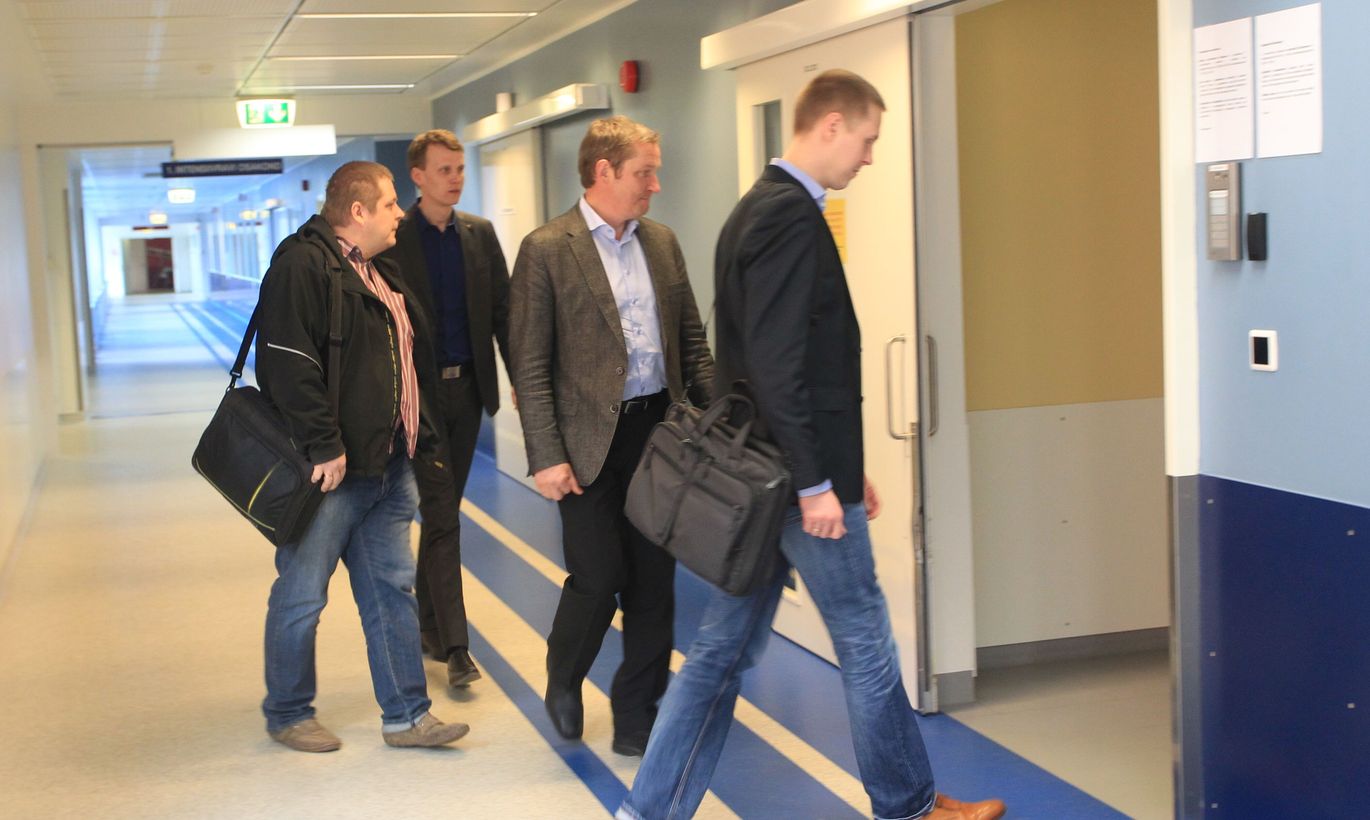 Taken to Tartu University Hospital intensive care unit as suspected in pneumonia on Wednesday, Mayor of Tallinn and Centre Party chairman Edgar Savisaar remained in critical condition last night following surgery.
Edgar Savisaar started feeling bad last week-end, having returned from a meeting of European and Asian mayors and governors Thailand. Only last Wednesday did he have recourse to a doctor. 
On Tuesday, coughing hard, Mr Savisaar went to pay respects to the late comedian Eino Baskin and drove home to Hundisilma in the evening. On Wednesday morning, he conceded to go see a doctor and be taken by car to Jõgeva, to his personal physician Peep Põdder. From there, an ambulance drove him to 3rd degree intensive care unit at Tartu University Hospital.
Yesterday afternoon, Centre Party announced that their chairman was in a critical condition due to severe infectious disease. Last night, Mr Savisaar's son Erki Savisaar, the party secretary-general Priit Toobal, vice chairman Kadri Simson, press representative Taavi Pukk, and PR-person and Mr Savisaar's former adviser Raimond Kaljulaid were in Tartu to see Mr Savisaar and get an update on his health.
To the knowledge of Postimees, The Mayor of Tallinn has been taken into artificial coma i.e. aided breathing which may be related to breathing difficulty due to lung disease. For an organism in a very severe state, aided breathing helps save the energy resources thereof during treatment. The condition of Mr Savisaar is complicated by additional diseases: in 2003, he suffered a major stroke; on top of that, he has high blood pressure and diabetes.
It may take months, not weeks, for Mr Savisaar to recover.
As a reason why Centre chairman's health failed, his comrades cite the tiresome elections campaign followed by a long trip to Bangkok, Thailand. «There, it was Seal 18–19 degrees Celsius in air conditioned facilities, and 40 degrees outside – such fluctuation of temperature was hard even on those younger and healthier,» said a Centre Party source. Add to that the long flight – even earlier, Mr Savisaar has needed medical care while in the air.
While Mr Savisaar's overall weakening has not gone unnoticed by his closest companions in the party, but the public appearances do tell a story as well.
Why did Mr Savisaar let him be driven to Jõgeva to see a doctor close to him, not attending some hospital in Tallinn? This may be explained to his overall resentment of doctors. Those closest to him admitted, regretfully, that Mr Savisaar has always tried to avoid doctors and must have hoped to limit himself with the visit to Jõgeva this time around.
His closest comrades were sorry to tell Mr Savisaar knows not how to rest, take time out. Even when feeling so bad as to be confined to his country home, over the phone he has attempted to actively manage the city and the party. In the fall, when Kadri Simson stood ready to assume the prime ministerial candidate role for the elections – obviously also desiring to bear part of the elections load – Mr Savisaar decisively rejected the offer.
The time had to come when the organism of the man, turning 65 in a month, had to give in to the enormous pressure, said former and current politicians-in-arms. Rather insecure on the inside, with a huge ego and driven to achieve, soon in politics for 30 years, the man does not bear loneliness and rejection, said cofighters. As admitted by several at Centre: despite the crowds around him, Mr Savisaar has caused his own loneliness, only trusting some select few. Always around him is Moonika Batrakova; at the Hundisilma country home, Siret Kotka helps to administrate and manage. Whether Mr Savisaar would listen to those as related to his health, cofighters were not sure.
Still, it must have dawned on Mr Savisaar that former intensity was giving way, he was less active during the elections campaign. Only during the final week he started to show up more, participating in radio and TV debates.
During the ETV debate on elections eve, Mr Savisaar did rather well but did tire towards the end and failed to recall the name of the German Chancellor. When at Kadriorg to see the President after the elections, unlike chairmen of other parties Mr Savisaar had his secretary-general with him, having to remind him at the interview of things said moments ago.
Whenever at public events, one gets the impression that Mr Savisaar is under some strong medicines. Rather often, Mr Savisaar has still sat at city government meetings, but the last time he showed up at the post-event press conference was at the end of November. There, he presented his fairy tale book – published by now – called «Christmas Miracle» (Jõuluime). As for city council meetings, usually attended by mayors, Mr Savisaar has only attended one this year. But the meetings happen every second week. Even his short distance in the Old Town is now done by car, and steep stairs are avoided.
Should it take months for Mr Savisaar to recover, things get difficult for Centre Party and Tallinn alike. Though recently rather often managed by distance by Savisaar, none take vital decisions without him.  
During the chairman's illness, Centre will have to be managed by deputies Kadri Simson and Enn Eesmaa. Pursuant to party statutes, chairman should have appointed one to be his substitute. According to Mr Eesmaa, Mr Savisaar appointed no substitute so the two must lead the party jointly.
Things may get complicated if Mr Savisaar needs to be kept in artificial coma till the end of March as Riigikogu convenes for opening session. If by then the man who pocketed record-breaking 25,000 plus votes has been physically unable to announce whether he will become member of parliament or continue as mayor, he will be the former and Tallinn must elect itself a new mayor. 
During Mr Savisaar's illness, the role of mayor is for his deputy Kalle Klandorf to carry.