EKRE – from club status to parliament rank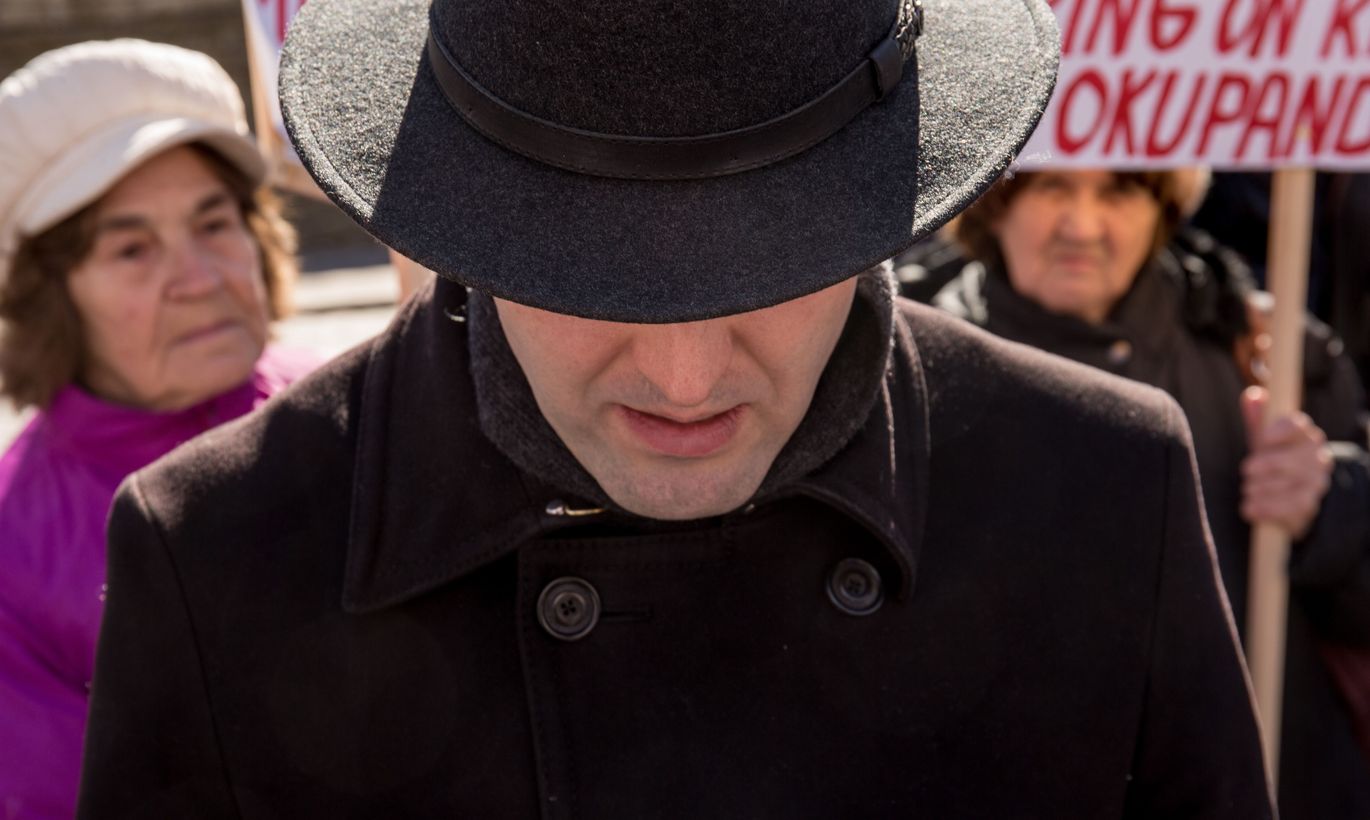 Conservative People's Party of Estonia (EKRE), rising to Riigikogu like rocket, makes many an eyebrow rise and competitors sweat. Not a flash on the screen, however – for 15 long years, the nationalist cell has been flying under the radar, its roots in times before Bronze Night. 
In no other case would these two gentlemen have met, in the middle of 2011, at Suure-Lähtru manor of West Estonia. One cosy and at home, the other burdened as if. The latter – a widely unknown Margo Miljand, had just been confirmed temporary chief of People's Union (Rahvaliit) but his party of 78,200 members was unstoppably sliding towards the deep. Months before, at Riigikogu elections of February 2011, Rahvaliit had performed a mighty flop. With the Villu Reiljan spirit still hovering over the party, none would dare take the helm.
«Can Rahvaliit be saved?» Mr Miljand now asked the host not from his party. «Yes, but you must change the name and alter the programme,» assured the other. An experienced diplomat, he was in no hurry to brave the bullets, but he knew someone who would.
For that someone, a situation more favourable was hard to imagine.
Son to ambassador Mart Helme, Martin Helme had been waiting for his chance. As a student of history in University of Tartu, in 1999 he had founded a club of conservatives and defined the foundations of Estonian version thereof. By 2011, he was a leader of Estonian Patriotic Movement (Eesti Rahvuslik Liikumine, ERL).
Four years earlier, the movement had zealously fought for the removal of Bronze Soldier from Tõnismäe. Over time, political credit was accumulated. At EU elections in 2009, Mr Helme single-handedly pocketed 9,832 votes – more than the entire Rahvaliit put together. No wonted that, by now, ERL was striving to become a party.
An active member from these times recalls: three variants were on the table – to form a brand new party, take over some party, or join a party (like IRL) and form a group in it to take it over.
The thousand members needed to establish a party were not found. The next attempt – to merge with the Christian Democrats on verge of bankruptcy – failed. When Mr Miljand arrived at Suure-Lähtru manor to seek a new future for Rahvaliit, an opportunity opened not to be dismissed.  
The ERL/Rahvaliit deal was a bold one. Historically so, some think an impossibility a year before or after. ERL promised it would help redo Rahvaliit programme and elect new leaders. Mr Miljand would continue as chairman one more year till Mart Helme is made known in the party and set up as candidate for chairman next congress. Conservativeness and rural interests were to be continued, in the programme; however, the Helme duo required a name change for the party.
From there onwards, the descriptions vary.
Back then, Mr Miljand assured the media that ERL members would join Rahvaliit and jointly they would assume a new name. Now, many see it differently. «Figuratively speaking, this was no merger, just a blunt takeover,» an EKRE member from back then recalls. From ERL, Martin Helme and 20 to 30 people joined the old Rahvaliit and proceeded to take the reins in the party of 8,200.
What happened after that does a better job at characterising EKRE than any elections programme. In the fall of 2011, Martin Helme with the new EKRE core proceeded to travel Rahvaliit's dying county centres. The people were told that the new EKRE way was right. The old Rahvaliit programme was added an international dimension, citizenship was set into focus, and other topics dear to ERL.
Asking how many EKRE election programme points could have Martin Helme written behind them, the correct answer is more than a half.
Soon, the abrasive tone characteristic of nationalist movements reached the EKRE rhetoric. Mai Treial, exiting the party a day after merger with 131 members, frankly told the media: «The new party seems to be small and angry – not my political line.»
Martin Helme recalls that a tougher rhetoric was a deliberate choice as a party let outside the parliament cannot afford soft slogans. «We do not fear trouble. For us, the result matters more; some slight fighting along the way is part of the process,» says a smiling Mr Helme to underline a difference between EKRE and the others.  
With boldness of principles, EKRE does stand out. Right after being founded, the party announced that if in power it would not keep Estonia's obligations in the European Stability Mechanism scheme. At initial phase, they condemned the gay partnership bill and border treaty with Russia, standing against formation of United States of Europe.
For the first three months, EKRE's support was zero, than it begun to gradually rise. Voters hail from every segment – united by a liking towards hard words and concrete solutions.
After Martin Helme's Tallinn TV live «If black, turn back (Kui on must, näita ust» triggered a country wide scandal, a Postimees poll showed 70 percent of near 12,000 respondents respected Mr Helme's stands.
EKRE being accused in extremism or fascism, for Martin Helme, is an insult. He says there's no evidence of them supporting fascism and the extremism accusations are just that the new political rhetoric is unfamiliar as yet. «The mainstream has become so orthodox, so narrow, that whatever is not immaculately, diligently, fervently more-catholic-than-pope mainstream is immediately labelled extremism,» parries Mr Helme.
For many, EKRE crosses the lines. Political expert Ahto Lobjakas thinks that in any Western European nation a politician saying stuff like Martin Helme would be a political corpse and his party isolated.
What's the essence of EKRE?
Tallinn University political scientist Tõnis Saarts says one would be deceived to think that, in 2012, EKRE maintained the fullness of Rahvaliit world view. The difference is in focus and in the style. Though by statutes, the agrarian policy centred Rahvaliit was national conservative as well, and eurosceptical at times, they never tackled the minority issue. 
«They never questioned he equality of all our citizens and whether that should hang on nationality, race or sexual orientation,» said Mr Saarts – things that characterise the Western far right.
Still, on European political scale, Mr Saarts doesn't think EKRE an extremist party – as rivals like to label it. At Riigikogu elections, it just snatched the other right-wing voted by seizing a niche – being the only party that clearly stood intolerant towards sexual minorities.
Mr Saarts predicts EKRE's near term rise or fall to hang on two issues. Firstly, the party needs to sense the role change of being in parliament, and that the clear-cut rhetoric will no longer suffice to convince electorate. Secondly: at next local elections they must necessarily cross the threshold and in major cities make it to councils: whoever fails at that will also drop out of the parliament – says prior experience.
Mr Saarts does not believe that EKRE would tend to radicalise. «Considering the rather Nordic political culture in Estonia, I do not think that with EKRE we would be seeing a very radical right wing party. We do not have large immigration minorities; being anti-EU is not what would address Estonian voters. In all likelihood, EKRE will shape into a somewhat louder but, for Europe, still much softer party with slight extreme right tendencies.»