Estonian berry wines beginning to break bureaucracy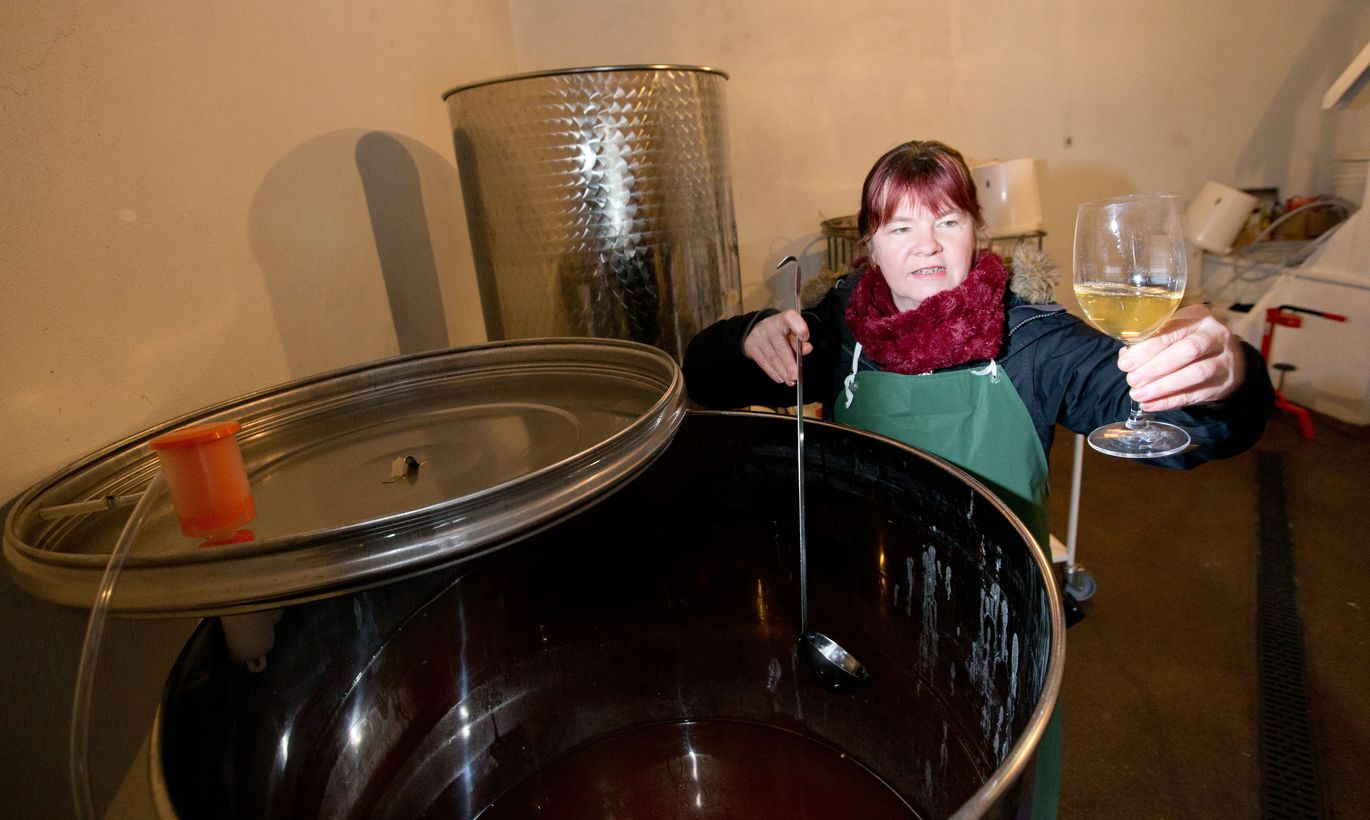 Winemaking has always been going on in Estonian homes. By now, the gauntlet to sell it has been run by three – one bottling wine from grapes and the others from fruit.
Amid the woods of Otepää, local grapes are turned into wine by Jaak Eensalu. Räpina Centre of Creative Industry (Räpina Loomemaja) acquired licence to produce fruit wine and beer. And, at the beginning of the year, sales licence was also handed to Tiina Kuuler – a winemaking trainer for years, an author of a handbook and one to keep a wine accessories shop.
According to Tax and Custom Board, Estonia already has eight licensed small beer breweries and with two the board is in active contact. Ms Kuuler said the decision to invest in brewing comes easier and beer is produced faster and is consumed in larger quantities that wine.
«Beer is made in some two months; one bottles it and sells it. Wine, on the average, takes a year before you can start selling it,» described Ms Kuuler. Also, for home-brewing, the malt, the yeast and the hops are mostly bought from elsewhere like Germany say, but a local winemaker depends of how the local harvest comes in.
But still, why do so few winemakers undertake to get the selling licence though many homes have wine in the making?
«It's because we got these glorious undying EU requirements, to follow which loads of money has to be poured in. Therefore, one has to have some other job in the meantime to have an income; but when you are a salaried worker, where do you take the time to build an excise warehouse and go after all these papers,» explained Ms Kuuler.
Having left her paid work as journalist eight long years ago, and after passing through business training at Töötukassa (Estonian Unemployment Insurance Fund) and finding an investor, establishing a company importing and selling wine accessories, she was able to gradually set money aside and deal with issues. To launch wine production, Ms Kuuler first needed a suitable farm, as in the country homes she had production could not be set up easily.
Then, in Lahemaa, Valgejõe, Ms Kuuler found an ideal farm with space enough to also grow berries. She was ready to roll. Last midsummer, she began to rebuild an old forest district garage into production facilities – water had to be installed, drainage built, concrete walls pained. 
On August 28th, she filed the documents to Tax and Custom Board. After two weeks of silence, the officials expressed desire to come see the facilities.  As a month passed, they made their first arrival.
This time, the production vats offered did not fit and she was told to get new ones. After a month, she had the new vessel which needed to be calibrated. By end of October, at long last she received the calibration papers which she again had to present to the board.
A pause followed as, upon asking of the documents should be scanned and emailed or brought on paper, it took the board two weeks to answer.
Many more weeks went to get signatures to the papers needed to acquire excise warehouse number, as the board said the signatory was not in the house. Thus, just to get the excise warehouse papers, it too from end of August to mid-December.
But they at least allowed her to start producing the wine in the fall as the season was on and the berries will not wait for papers to ripen. To furnish the production facility proved more complicated as expected as well, Ms Kooler having little money and needing ideas to economise the funds.
A major challenge was mounting the right measuring devices to the stainless vats. There are the ready-made vats available, but in Western Europe the prices start at €2,800, and from €6,000 in Estonia.
Finally, she was directed to this «guy called Ants in Kopli» who had worked in food production for years and knew how to weld the needed measuring system to the vat. On top of that, Ms Kuuler learned that even the rulers needed verification – re-verification every five years. That, said Ants, was no cheap thing too.  
«For a small player who only wants to make a couple of hundred litres a year, makes no sense to go through all that. This is true brain gymnastics. Now, I'm the one and only who is able to explain: set this thing to your vat, then there's no need to buy the expensive one,» confided Ms Kuuler.
To get the papers and meet the requirements, Mr Kuuler reckons she spent €10,000 minimum; but one must add the cost of furnishings and accessories like bottles and corks.
To order the latter, however, minimum volumes have been set, and the price is up to the very volumes. «This is what makes the small business wine cost more. I can't purchase bottles and corks in the hundreds of thousands, and by that these become more expensive for me. Never will Estonians make wines to compete by price with the €4-5 mass wines,» she said.
With taxes, Ms Kuuler's wines will come at cost price of €5-6, but this does not include working time, electricity, not the acquisition cost of production devices.
«If somebody home-makes currant wine in a small vat, this may truly come at under an euro per litre without bottle and packaging, but he will not pay any tax on it and may put it in a washed bottle,» she noted.
At a recent wine exhibition, quite a few deemed Ms Kuuler's €10 for berry wine too expensive. Even so, at that price she says she won't be even making a profit yet. Ms Kuuler's wines will go on sale at the Veinivilla store; negotiations are underway with various restaurants, eco-store, and manors at Lahemaa.
Also, Ms Kuuler hopes to develop her Valgejõe farm into a wine farm to receive tourists and locals, show them the production, let them taste the wine and sell them some. While Finland and Latvia abound with farms like that, Estonia does not.
At the moment, Mr Kuuler has four dry or medium dry wines in her assortment – two vintages of apple-chaenomeles, mirabelle plum, rhubarb and chokeberry wines. She intends to raise the options to ten and to offer berry wines white, red and pink, as well as dry, medium dry and sweet.