Battle front Ukrainian country living: no money, no power, no state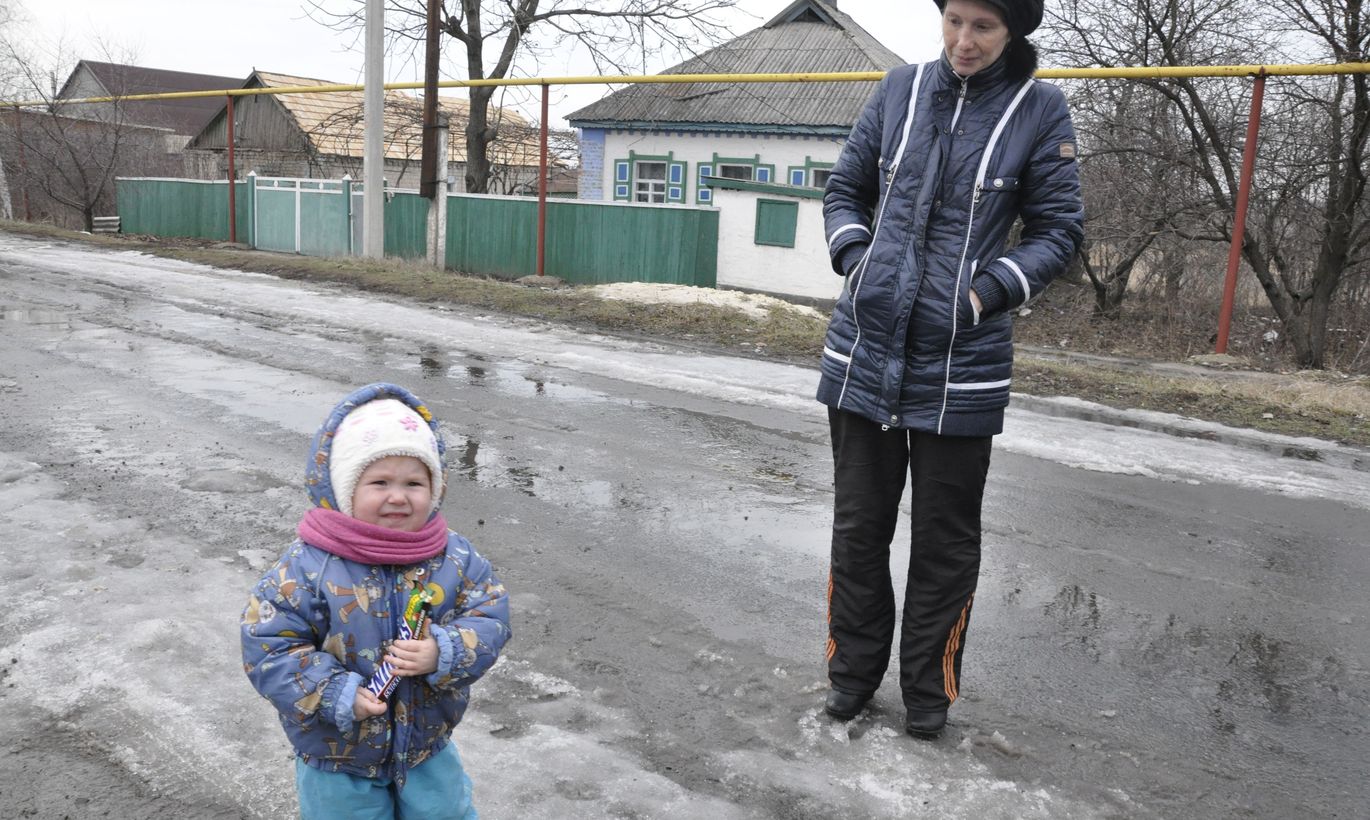 It just so happened I'd forgotten about the bar of Snickers in my overcoat pocket, purchased half way from Kiev to the front. I gave it to Sofia. Grasping it in her gloves, she observed the thing with suspicion. And burst out laughing, happily. They wholehearted way kids do when no older that two years and half.
«Her first laugh, today,» observed Sofia's granny from behind my shoulder. It was getting dark outside. The granny's voice was somewhat teary while trying to put on a brave smile.
I did get the candies for the bombings and boredom in basements, actually. I figured it'd be fun to lift somebody's spirits by pulling out chocolates like a rabbit from a hat.
The reality being: as the bombs are raining down nearby, chocolate's the last thing on your mind!  
So, better it went to Sofia.
Up to this very day, Sofia and her parents dwell in a settlement called Pervomaiskoye. A couple of kilometres from here lies the battlefront with Ukrainian forces and volunteers fighting Donbas separatists and the Russian army behind these. From Pervomaiskoye, it's barely 15 kilometres to Donetsk.
The settlement keeps getting its share of separatist mines and rockets. Ruins abound. The bombs are actually aimed at Ukrainian forces stationed at the Donetsk Airport – Pesky Village – Donetsk roundabout line. Luckily, casualties among villagers are rare.
To honestly describe the situation of the villagers is: this is a catastrophe, magnified by a total lack of Ukrainian state power. The result being: though Pervomaiskoye and its surroundings are under Ukrainian army and volunteer control since summer, they still find themselves in hostile environment.
The locals, mainly ladies, got quickly angry – some outright enraged – as I asked about what Ukrainian powers were trying to do to alleviate their plight. It felt like kicking a hornet nest.
The last transfer of money made it to the village in last July. These past six months, none has received salaries, pensions, or any support. No transfers of money by the state to local citizens; post office and bank branch are closed. The management of local administration fled a while ago, not a single state representative is to be found on location.
Villager: «For five long months the bombing is going on with no end in sight. We've run out of everything, of money, patience ... We have been driven to not feeling like humans any more. For the state powers, we are nobody!»
Sofia mother Yana (26), a shop assistant in Donetsk before the war, said their family is helped by Ukrainian volunteers who, from time to time, are bringing them and other families with small children foodstuff and medicines. «We only have money left for bread now,» said Yana. «We are only alive thanks to the garden, somehow between the bombings we were able to harvest the crop.»
In the local school, all windows have been blown out by bombings. The last time the kids went to school was in October. Twice, mines have fallen on the kindergarten; the last time a mine dropped through the ceiling. Naturally, no-one takes their kids there any longer.
Villager: «I have a feeling this will never ever end. Look how long it went on in Chechnya, now it's our turn to be living like this.» Having spoken out, she wept.
Another villager: «All the while we just keep praying: in the morning we arise and we pray, at noon we pray, in the evening before going to bed we pray …» Having spoken, she wept.
Third villager: «They say we had a bad life before. Turns out, we had a good life … .»
There's been no medical care for months. I asked what they'd do should Sofia fall ill. Yana the mother wept. The granny said all they can do is pray.
«The child is afraid of these bombs exploding already. Last night as they fell close by, she dropped out of bed for fear,» said Yana, having regained her composure.
Ten days ago, the village lost electricity as a separatist bomb hit a substation. As I left the area five days later, the power was not back yet. There simply was no one in the village able to fix it, but the power company from the «big country» refused to send a brigade to a place of such danger … In the village, all houses are heated by gas boilers, but it takes electricity for the boiler to work. Luckily for the people, thus far the Ukrainian winter is relatively clement.
By some miracle, the Pervomaiskoye village store is still working and functioning. This is only thanks to a brave driver who, risking his life, fetches the goods every other day. The risk being: there's this three-four kilometre highway section linking the village with «big country», on terrain totally open. Any machine going along the highway is under constant separatist sniper and machine gunner fire.  
(Arriving into the section of the battle-line with Ukrainian volunteers, to write about the situation, as we entered the dangerous section all jesting in the truck was cut as by a knife, the leader stating: «Okay guys, it's down to the subway now! Get ready!», whereat all my four companions commenced to cross themselves with an eagerness pointing to grave inescapable calamity.)
In the settlement once home for 2,000 inhabitants, about a quarter of that are still vegetating. 
Not that the 500 were unwilling to temporarily flee the war. They just haven't got the money to go – and no-one to go to. The state is yet to ask how they are doing over there, bombs and all.
Some did travel to the townlets nearby from the bombs, but are beginning to trickle back. Not that it has gotten safe at home – they just run out of money. Rents for apartments in the front rear skyrocketing, a refugee will not find work. So they will live in the rented flat till granny's burial money is spent. Thankfully, they say dying is quite expensive in Ukraine ...
But then, living in the towns close by is far from serene. Within the Grad-rocket complex range 30 to 40 kilometres, all towns are potential separatist targets.  
To intimidate locals, separatists also utilise psychological attacks. A week ago, they shot at the town of Kurahovo, 25 kilometres from Donetsk, with empty Grad-rocket shells. To let them know: should we want to attack, the Ukrainian defence forces will be unable to protect you anyhow.
The very next day, real rockets fell on the town. The attack claimed the lives of six locals, including a girl of 11. The wounded numbered close to 20.
To top it all, such near-front Ukrainian controlled places as Pervomaiskoye dwell under total Russian and separatist TV coverage. Not a single Ukrainian information channel, TV included, reaches the region. But then, everybody is kindly welcome to view two official Russian state channels and two more «Novorossiya» ones airing a message of hatred and contempt towards Ukraine.
Villager: «How do we know who is right? None make it easier for us, none is of any help. Mercenaries, all of them!»
Another villager kept calling Ukrainian troops «death squads» just like they say over the Russian news.
None named Ukrainian soldiers or troops «our soldiers» or «our troops».
Viktor, a Ukrainian volunteer soldier that I came with, could take it no longer and started to argue back, telling them how a year ago on Maidan, Kiev, at the command of then powers, militia special forces beat and killed people. «Right, and now you are here doing the same to us!» a villager retorted.
No longer was I amazed at Ukrainian servicemen telling me about the abundance of traitors among the locals. Among other functions, locals works as fire advisers for separatists, revealing to them the positions of Ukrainian troops and volunteers, and letting the enemy know how far off target their mine and rocket fire has been.
In Pervomaiskoye, the antipathy of villagers and Ukrainian troops was mutual.
Meanwhile, the mighty TV-tower in Donetsk cannot be demolished by the Ukrainian army as standing right smack middle of living quarters. As assured me by Ukrainian servicemen, they are forbidden to shoot living quarters from heavy weaponry.
Except for the one, villagers are kept anonymous in this story though many told me their names. They asked for their names and pictures not to be published «people just disappear over here…».
«Why? Or who is behind that?»
«We don't know. They just disappear.»
«When of when will all this come to an end? Why won't anybody do anything?» bemoaned Sofia's mother, about to take her inside. Thus far, she had quite contained herself, but now the emotions were laid bare.
Viktor attempted to explain that first we drove the scum out of Kiev, and now from the rest of our land including here.
«Do you think we could have normal people in power?» a question was immediately flung from a villager. 
That, for lots and lots of Ukrainians, is an issue most pressing. Right after the main one: when will the war be over?