Likable, as a lady not liked by all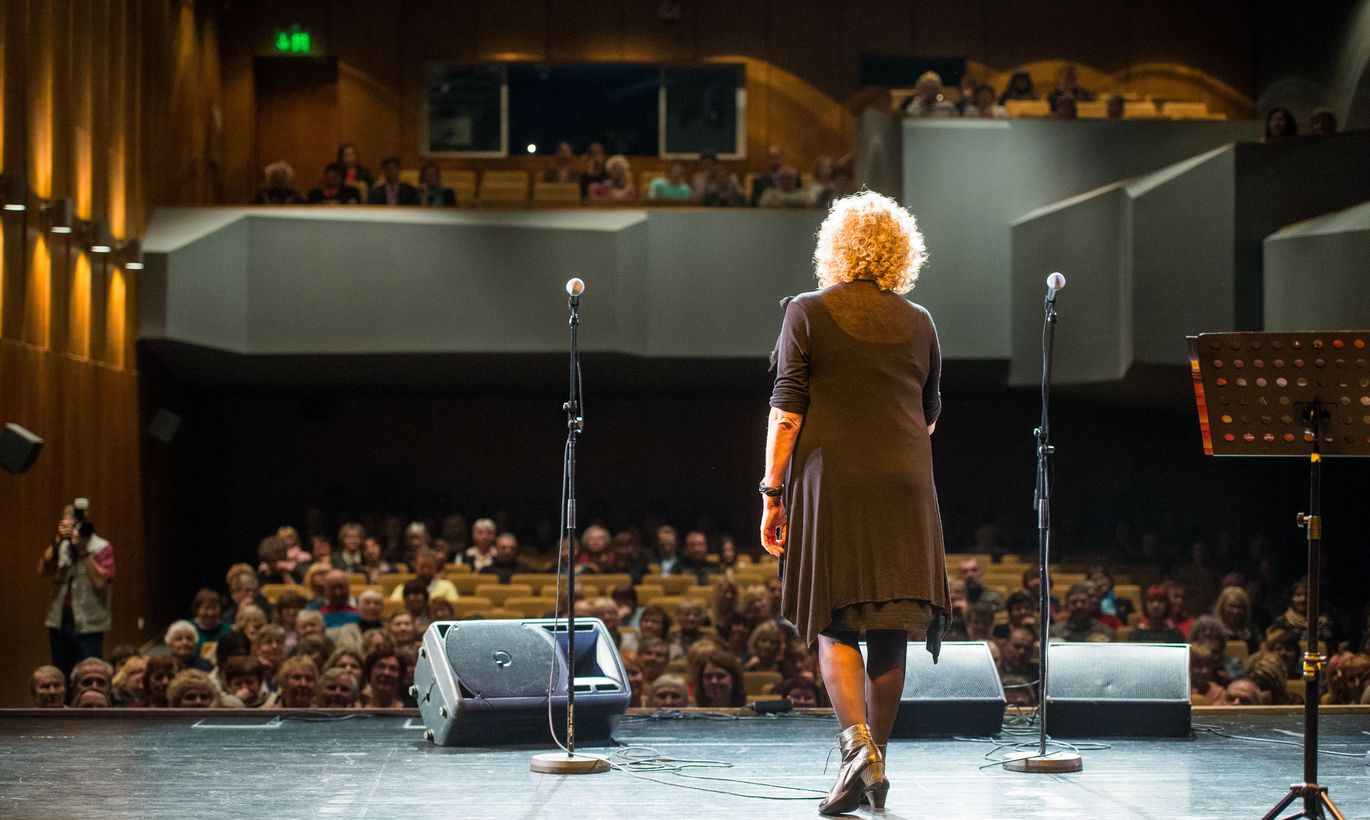 Fulfilling a long-cherished dream, on April 1st last year, Maire Aunaste had a go at a monologue type play «Jaded but made-up» at Võru Kannel community house stage – to have a good laugh at her very self, mostly.
Last Friday, in a role totally unforeseen, there she stood again. As IRL No 1 at Võru, Valga and Põlva Counties, without the slightest desire to laugh at herself, those present, the South-Estonians nor the elections campaign at times bordering with the absurd. 
Since the new year kicked in, this is where Ms Aunaste has basically been living, in South-East Estonia. All he February nights have been scheduled for meetings with people, village parties and touring around. Except for the Anniversary of the Republic.
«I like Ms Aunaste, if for the very fact that she's not liked by everybody,» announced a beaming young pensioner Evi, after a 1.5 hour free concert brought before Võru folks by the band Soov. She's dead right – Ms Aunaste running in these parts as No 1 was contentions in the very party, to say nothing of competitors. Up to now, Priit Sibul used to be IRL's South Estonian star, now pushed to 2nd place trailing the beloved/hated Ms Aunaste.
For many in the party, the No 1 has spelled trouble as they fear Ms Aunaste will take it all. For, in Võrumaa at least, people have always opted for the outsiders (Ivari Padar being a rare exception), the ones well-known and driving in to win their favour.
In Põlva County, a voter wrote the TV-persona off rather blunt: «You belong to a wrong party.» In Põlvamaa, the hearts are ever captivated by Centre Party.
Soov, the band featuring Peeter Kaljuste, Merle Lilje and Toivo, are hot over here. Mr Asmer, calling himself a senior politician and Ms Aunaste a junior, obviously enjoys being onstage and feel free – his electorate safely away in Ida-Viru County this time.
A couple of days before, the aspiring young politician Ms Aunaste had dropped in at Tilsi nursing home near Võru. Meeting a bunch of ladies in the hall, she started off: «You are too young, what are you doing here?» The ladies were busy rehearsing a new song, Asmer-Lilje's mega hit «Soov». Ms Aunaste joined in the singing and, consequently, could not escape a jam session of sorts on the platform at Kannel, said Friday.
Ms Aunaste is one to create an atmosphere where no-one feels like a nobody. In the streets of Võru and the cafe Muffin, she had discovered perspective models to perform at the platform, showing off clothes from local stores. Fixed up by stylists and hairdressers from Tallinn, lots of locals make debut as stars. Ms Aunaste is captivating.
During her road-show «Saame tuttavaks!» [Let's Get Acquainted!], in Tsooru Ms Aunaste bumped into this old lady who was weeping. The last time she wept was when her last cow was led away. For 40 long years, the lady toiled as hell at the collective farm, and is now living on €300 as pension from the state. She weeps when hearing of somebody boasting a theatre ticket or going to the movies. In moments like these, Ms Aunaste feels embarrassed. After working for ages like this, to get this tiny pension. This is like spitting in somebody's face, she says, And vows to change the situation.
«Aunaste is simple. She speaks plain and comes into politics straight from life,» is what the locals say, munching at the cookies post-concert. «She can speak without mincing words and admits when there's something she cannot do. We are fed up by now knowing anything about things at Võru, say! Everything is so closed up! Would anybody say what's cooking, what's planned in town. That's what we except of the folks at Riigikogu too.»
Ms Aunaste promises to spend a third of her working time at Riigikogu in her electoral district. While at the Laheda library, a long time employee there said a member of parliament has not shown up for the past 20 years. This isn't right, thinks Ms Aunaste. From Tallinn, it was the singer Vello Orumets that last visited Laheda. In 1988.
«The correction of the mistakes in our lives, the creation of new laws, begins in the village, begins with all of us,» says Ms Aunaste. The speech rolls like listening to an US Senator. All are reverently listening. She promises to keep security at top of the agenda; the next is more money for people to keep; and from then on the Riigikogu decisions regarding a livelihood-fund for single parents.
Not all rush to blindly trust the newcomer, though. «Well one must think it over. It ain't so that just the well-known faces strike the eye in the list. But we are all for new faces in Toompea. Enough of the old ones – give us fresh air! FED UP with Reform Party! And why do we need so many of them up there anyway?» ponder the locals. Ms Aunaste promises that IRL has a sure intention to cut the parliament down to 71.
In run-up to elections, Postimees will be visiting the events and meetings, over Estonia, of all parties likely to clear the Riigikogu threshold.
No 1 list at Võru, Valga, Põlva Counties
Reform Party – Hanno Pevkur
IRL – Maire Aunaste
Centre Party – Heimar Lenk
Soc Dems – Ivari Padar
Free Party – Kaul Nurm
EKRE – Uno Kaskpeit