Hollywood agent «disappointed» in Estonian Golden Globe miss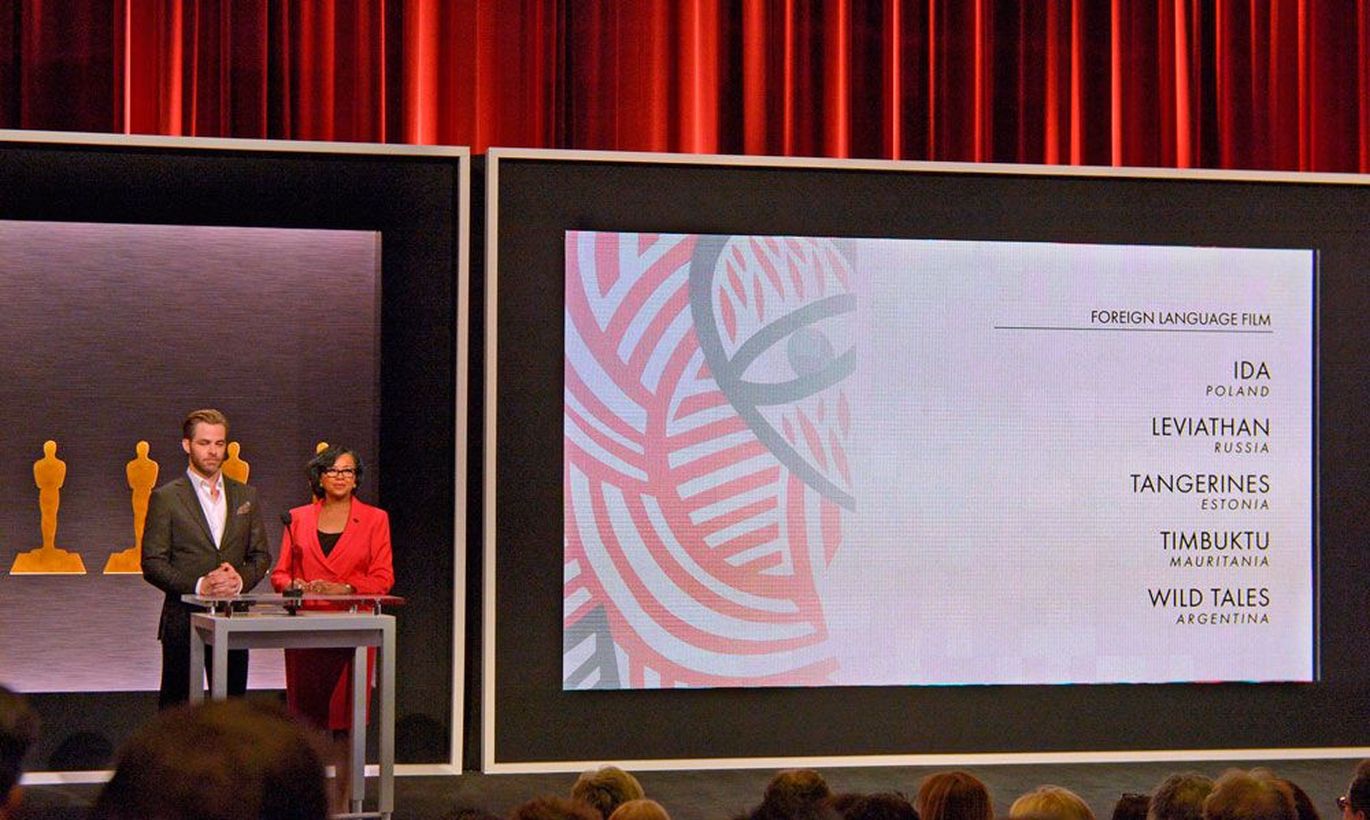 Producer Ivo Felt says Tatiana Detlofson did half the job for success of «Tangerines» in America.
Who is Tatiana Detlofson? A best appreciated independent publicist in Hollywood aspiring to help non-English films to Oscar or Golden Globe nomination – minimum.
In this, Ms Detlofson has succeeded almost every year, such as with the Belgian «The Broken Circle Breakdown» and «Bullhead», or the Norwegians' «Kon-Tiki».
How? She refuses to tell her tricks, but Mr Felt is not one to keep quiet. Like: as our guys got ready to head back home from their initial tour, a successful one, they symbolically gave Tatiana some tangerines. Inspired by that, she up and organised a little bag of tangerines for every Hollywood Foreign Press Association journalist heading for their winter holiday.
Tatiana, would you have been very disappointed if «Tangerines» hadn't made it to top five?
Yes, very much so. I wasn't nervous really until the moment I sat down at the movie academy hall. Then, I got uptight thinking that if we'll not be on that screen, that'd be a huge disappointment for Zaza and Ivo. And to all of Estonia.
Estonia was announced third; I do not remember who came after that for by then I was already screaming yesss … Now, having calmed down a bit, I'm full of joy. I'm glad for how the entire team worked. That we did it. That Ivo, Zaza and Lembit have been with the campaign, supporting it every way. People have invested tonnes of energy. We were worth it.
It was fifty-fifty, wasn't it?
Yes, about. Perhaps even more complicated than to win the Golden Globe. The Academy is even a bit more art-oriented than the foreign journalists at Hollywood. There are directors, actors, members of other guilds among those who decide. I do not know who were the 40 academicians who picked the nominees this time, but earlier it has been people like Tommy Lee Jones, Ryan Gosling… – it has afterwards leaked out through the grapevine.
How big, after all, was the «Tangerines» chance to win the Golden Globe?
Great. And I was very disappointed it didn't get it. I know that about 70 votes – I believe that was the amount of voters – was quite evenly spread between several movies. I know many voted for the «Tangerines» and I have a feeling it may have been a matter of a few votes.
All kinds of factors come into play. Like the territorial principle. Sergei  Rakhlin, for instance (the non-English movies committee chairman at the foreign press association – T.T), said he liked «Tangerines» a lot but I still suspect he voted for «Leviathan». He is influential, people consult with him when the movies are being voted for.
Still, perhaps a weightier aspect for «Leviathan» win is that it is represented by Sony, its head Michael Barker. He has a tremendous influence at Hollywood and everybody wants to be his friend. I do not exclude that he did some phone-calls, and that does help ...
Is it really like you pick up a phone, call some folks and ...
A lot in this game – and it is a game – hangs on personal relations. So also in my work. To get the people into the movie theatre, sometimes one has to toil a lot, be on the phone for hours. Many do know me already; they know I will not advise them to go see a bad movie. This is all part of it.
In a word, if everybody would have voted according to their heart, we'd stood a greater chance still. So I think there's a bit of politics in play here as well. I do like «Leviathan» a lot but it was not a movie to touch one so deeply. And I can tell you, a lot less people went to see «Leviathan» than «Tangerines».
Perhaps what worked was the anti-Putinist undercurrent in that movie?   
Here in Hollywood, people aren't overly interested in that. Maybe, what helped was that Andrei Zvjagintsev, whom I highly appreciate – especially his first movie «The Return» – , has very unjustly never gotten a Golden Globe before. Perhaps this was a bit for his entire work, this has always to be considered as well.
But the flop of «Ida»? Was that to be foreseen?
No. Though, I will have to admit, of all the five nominees, the very «Ida» was the weakest for me. It has been interestingly filmed, beautiful shots, but the story did nothing to me. Maybe because I'm an old Eastern-European (Tatiana is born in the former Czechoslovakia – T.T).
The more wondersome «Ida's» success in USA, but also in the theatres of Western-Europe – in US alone, it has amassed hundreds of thousands of viewers. More than in Poland, by the way.
Right. This indeed is weird. I, for one, fail to understand this. I think even the distributor of «Ida» does not know what the phenomenon is. And we aren't even talking about big advertisement money here.
I think people are even tired of that a bit. Like the whole of the WW2. I'd suggest all who ever watch movies like that came out to see it. The artistic community. Word of mouth advertisement worked. Lots of awards, maximum stars, and good reviewer.
«Tangerines» is a good movie but not as good as «Two Days, One Night» and «Mommy» and others that dropped out. Both at Golden Globe and Oscar. How do you explain that?
I do not think that «Two Days, One Night», for instance, is as good as «Tangerines». In it, Lembit Ulfsak is amazing. The people here are loving him. People have come up to me and said he's the best actor they've ever seen at all.
It's a pity you have not seen the reactions here. We had a session at the directors guild cinema, 600 seats, 400 were full, and «Tangerines» got lasting ovations. And it was members of guilds, members of lots of actors' guilds, and the people just went crazy, I'm telling you. They said this is the best non-English movie this year.
Then there's this influential critic here, Stephen Farber (head of Los Angeles movie critics association – T.T), he has his weekly series «Reel Talk» in Regent Theatre for which he picks the movies he considers best, commenting on these and talking to authors. Very popular. By the way, this year «Tangerines» was the first foreign movie that he picked out.
What, would you say, was the campaign budget for «Two Days, One Night»?
A million (dollars). Plus the popular Marion Cottilard in main role. And the result? Nothing!
Still, it is a bit unbelievable what is happening with «Tangerines» right now. What's the phenomenon?
It's just a wonderful movie film. Many are comparing it to «No Man's Land», you remember the Bosnian movie that once even got an Oscar. «Tangerines» is into the meaninglessness of war. It crosses borders, no matter what war we are talking about or where. Also, it fits in the current political context. A great script, great roles, everybody is talking about them. And the beautiful landscapes... Many are also asking about the music. Bottom line, however: the movie is emotional.
A movie has to touch the heart first, then the mind?
How much depends on the campaign?
First there has to be a good movie, see. From then on, there's the task to get the people to see it. How – that is the question.
And here's where the telephone comes into play?
Yes, in many ways that as well. The journalists need to be chatted up, make them write about it.
What is your personal secret?
You think I'd reveal it to you? In many ways, what helps is my personal relationships with the Academy members over these past 15 years. And they all do the voting. I know their taste, who to invite to which movie, which button to press. Then there's the journalists, the bloggers, Hollywood Reporter, Variety. The movies are many, and one must consider that all agents are doing their job. It helped a lot to have Zaza and Ivo here for a long time, they just talked and talked and talked.
But what does it mean, actually: to campaign?
First you have to organise the sessions, when, where. The Academy only has one official session for a movie; I you want more, you have to organise the extra. I can say that up to now, «Tangerines» has about 15 sessions together with two at Palm Springs festival. Some sessions we got for free thanks to my connections, but for most we have to pay.
Then, the ads in movie industry publications: Hollywood Reporter, Variety, deadline.com… It all costs, and not little.
How large are the sums invested into campaigns?
$50,000–100,000 on average with such movies which are mainly supported by national film institutes and the countries that set them up. (For «Tangerines», this has been about €60,000 with travel costs – T.T.) And I mainly work with such.
The costs of somebody's campaigns can be read from the advertisements, the size of them. Mainly the campaign money goes into the advertisements. «Ida» and «Leviathan», which have more means, have had many full page ads, we mainly had the one thirds.
Can a good movie be nominated without a campaign also?
I know of no movies that would have won without a campaign. But there have been nominations for very small money, like the Cambodian movie «The Missing Picture» or the Canadian «War Witch», these are some examples of the couple of past years. But these combinations are more complex already, I would not be discussing that here.
This year, you did two campaigns at the same time, in addition to «Tangerines»  it was also the Israeli «Gett: the Trial of Viviane Amsalem», while both were Golden Globe nominees.  
Well actually it was six all in all, like the Norwegian «1001 Grams», and a Czech film, a South Korean one, a Chilean one.  
Do you accept all you are offered?
Not at all. I choose the movies on the basis of whether they touch me, whether they have potential to make it someplace. When I first saw «Tangerines», I immediately saw it had it, as also evidenced by the reaction of the audience. I watched it three times and shed a tear every time. Ivo did have other variants than me, I have heard of about ten offers, but he chose me, because of the recommendations I guess.
Ivo was very active, you know. He cared. And what counts above all is passion. First the good movie, then the passion, and then finally the budget.
I always say: the campaign is not fist and foremost in the award statue, but to get your country on the map. When, years ago, I did the campaign for a Bulgarian movie, it came very close to being nominated. Before that, nobody was watching Bulgarian movies over here: c'mon, a Bulgarian movie? Where is this Bulgaria? Now, everybody is keeping an eye on Bulgarian movies. And that's the way it is with Estonia and «Tangerines». From now on, they'll know.
And, to get down to earth: it helps building the career. For the actors, the directors… To be a Golden Globe nominee is a great thing. To say nothing about Oscar. Contracts may open up. For instance, a local agency has already expressed interest towards Zaza, to start representing him, but for that he will have to learn to speak better English (Laughs.)
They were amazed that Zaza wrote a good script like that in just two weeks. Here, a good script is in high value. It is much easier to find a director than a good scriptwriter.
But that's a problem in Europe as well.
How often was the question posed during the campaign: whose movie is it, Estonian or Georgian?
One time. The Academy inquired how much in the movie was Estonian and how much Georgian. We handed them the entire documentation. It was thoroughly investigated, and it was also my job to prove it. This is actually the way every movie is weighed. But is may also be that the competitors just file complaints and then one needs to act. (Laughs.) I don't know. 
For me, the greatest pity is that to this very day «Tangerines» has no American distributor and it has not made it to the movie theatres. The Miramax chief Harvey Weinstein liked it, as well as the Sony boss Michael Barker, talking about the biggies, but… both admitted they have no idea how to market it. In their opinion, this is a war movie. And it is difficult with these. We have not dealt with the smaller ones yet. Maybe now, after the Oscar nomination, things start to happen?
We need to talk this over, but first I need to go get some sleep. Probably, Ivo and Zaza must come over again, we need to do sessions. Well the Academy will send the disc, at its own expense, to over 6,000 members of it, but … We'll see!