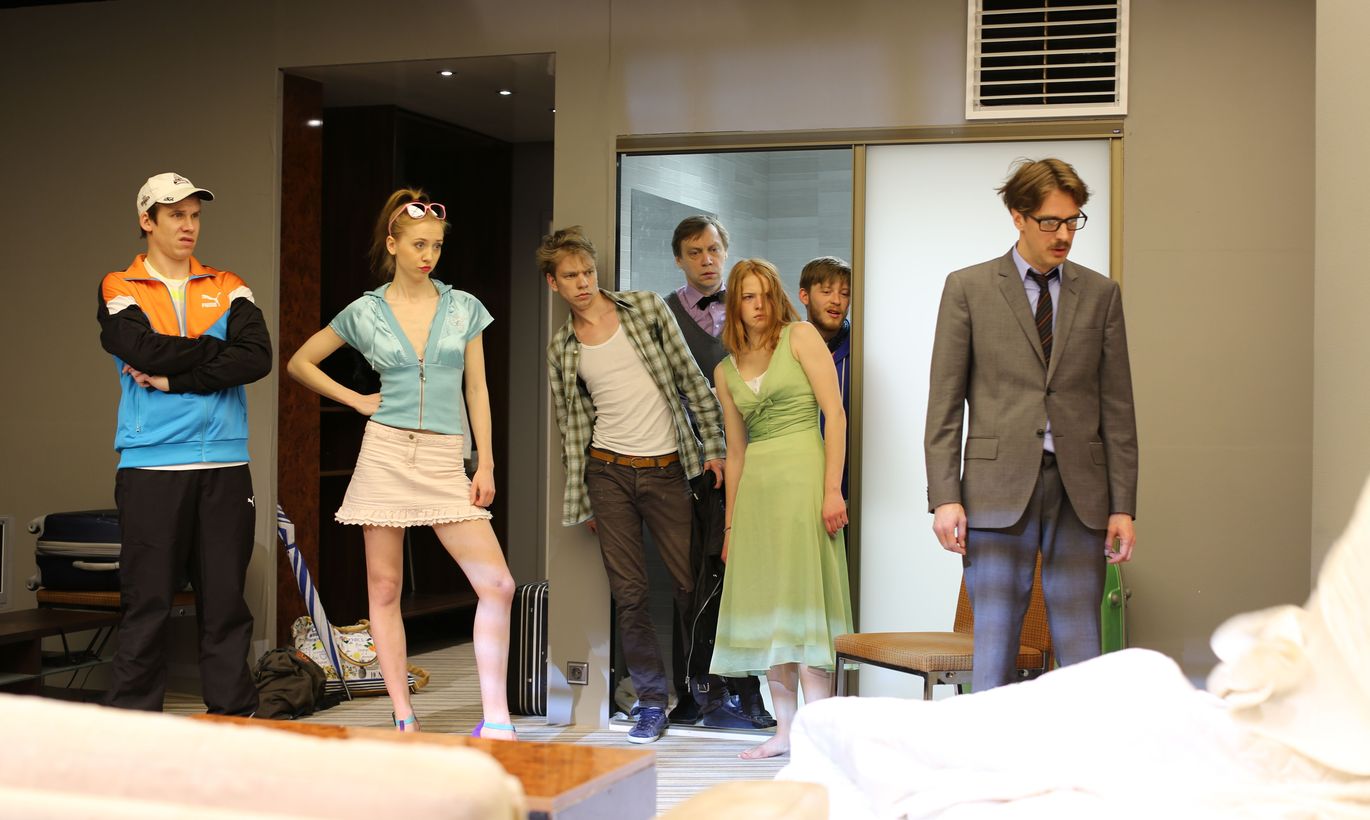 For the first time ever, an Estonian theatre production has made it to main programme at Festival d'Avignon – «My Wife Got Angry» by Tiit Ojasoo and Ene-Liis Semper. 
The Avignon festival will happen July 3rd to 26th. The dates when the NO99 show is on are not disclosed as yet, but it will probably be five shows total in the first half of the festival. The troupes performing next to NO99 at this 69th run of the festival aren't known either. All in all, the main programme will include about 40 productions.
According to NO99 website, «My Wife Got Angry» is a comedy on loneliness. Analysing the production, culture critic Marek Tamm said it gets going slow but once full speed is carried to a brisk end, till the final key sentence sounding from the platform: «It's all a mistake.»
In its absurdity, the intrigue of the story is very simple: a man deprived of travel photos during a family quarrel wants to restore these with help by strangers – recreating the events. Sure: during the hopeless endeavour, the real goal emerges – shooting the photo that doesn't exist.
«... Underneath the outer fun, the show is immediately pregnant with hidden angst never to disappear till the end, and occasionally flaring up. The entire action happens in a tiny hotel room which serves well to maintain the oppressing atmosphere, as in its turn underlined by the music of nightmarish proportions due to being overplayed (Toto Cutogno and other such artists),» Mr Tamm wrote in the Postimees of May 20th 2014.
According to Mr Tamm, the production offered opportunity to shine to two actors Juhan Ulfsak and Eva Klemets, both brightly seizing the opportunity. By that, Mr Tamm was reminded of the one-time famed duets by Marcello Mastroianni and Sophia Loren.
As for the rest of the cast, the show premiering in 2014 featured Rasmus Kaljujärv, Rea Lest, Jörgen Liik, Gert Raudsep, Simeoni Sundja and Linda Vaher, «a kind of a cross section of today's society to episodically support the two main actors, some of the episodes outright brilliant,» he continued.
As pointed out by Mr Tamm, the tension is created by the triangle of life, memory and photo. The spectator is forced to think about complex matters: whose life are we living, actually – our own or that of somebody else; what do we actually remember – life itself, or snapshots of it; do we cast our lives as a photo – living according to pictures taken by others?
Tiit Ojasoo and Ene-Liis Semper, what does the inclusion of «My Wife Got Angry» in the d'Avignon main programme mean to you personally?
Tiit Ojasoo: I first went to the d'Avignon festival as a student, studying to be actor. Travelling through the hotness of summertime Europe, by bus, eating the canned food from home, to actually participate was just a dream. Now ... feels very good of course.
In May, Ene-Liis' and mine new production, premiering at Thalia theatre, Hamburg, is on at Wiener Festwochen; in July, d'Avignon with NO99 – not bad! Meanwhile, after we were at Odeon, Paris in 2011, d'Avignon somehow feels like a logical sequel and even here we'd do well to remember what my first teacher Aare Laanemets used to say: this too will pass.
What matters more to me is the Estonian story: when on our way to d'Avignon, in 1996, Ingo Normet equipped every one of us students with a letter in French à la «these are poor Eastern-Europeans, let them into the theatre if there's space left!». With a slip like that, we went door to door and saw something of the off-programme, never let into the main one of course.
Now, in the main programme ourselves, this is kind of an Estonian brains export success story. At home, at Sakala St Tallinn, the floor is about to drop off underneath the hall and it is a luxury to buy toilette paper... but Estonian thought is on the move, spreading its creative-white wings and beating its fine paths.  
But what will it mean to the NO99 theatre, considering the troupe for this production consists of young actors, last year graduates of theatre school?
Tiit Ojasoo: We never opened the champagnes, just thinking about technical details. We rejoiced. We worried.
The change of generations was to be expected and, now it's here. Slowly and surely the people are replaced and as the years go by we'll see what it was like. I'm sure the best times are ahead of us, but why keep commenting a snail speeding over a highway bridge? 
There's this theatre joke I recall from the school days, one we never really got back then: there are no big no small roles, just poor actors. For NO99, this is very much to the point somehow. We're an ensemble theatre, and an ensemble is just as good as yesterday's show; no records.
Why was it the very «My Wife Got Angry» that was picked out, what do you think and what did they say in explanation?
Ene-Liis Semper: as the big festivals do their choosing early ahead, «My Wife Got Angry With Me and Deleted All the Pictures From Our Holidays» (in France, we play it under the correct, long title) was our freshest show while they had to decide and it feel logical for them to have chosen it. 
Meanwhile, the show deals with holiday pictures as an equivalent of personal memory, and the increasing role of any photographic recording as equivalent of absolute truth in people's lives today, and this will potentially touch people outside of Estonia. Relations between people; the question what we will leave behind; to try to capture a moment or to live in it; what does it take to put a picture together; etc – these are just some of the topics dealt with.
Dramaturgically, «My Wife...» is like the moment when a photo is first getting developed in the solution, on the white paper.
By its initial situation, the production is tragic; by activities, it's funny. Balancing the two is the core of theatrical situations. There's some esprit at some peak moments as well and they say the French like that.
Technically, during the show, the actors stage and shoot over fifty photos which the audience will promptly be able to see. From camera to the large screen, the pictures go the modern web way so every show has a built in risk: will the wireless work ...
If you will alter anything in the show, then what and why?
Ene-Liis Semper: indeed we are currently in d'Avignon to see the theatres in order to find the hall best suited to us as originally intended. What they are offering is decent so hopefully we will not need to have technical alterations. We'll act in Estonian, with French subtitles. To do it with the translation, the subtitle guy will need to be sharp and the actors must practice it, get used to it. In December, we did play in France once, having two shows of the same play in Nantes – the reception was very warm. The French public is sensitive and reacts in a lively way. By d'Avignon, we'll be seasoned.
Held in July, in Avignon, Southern France. This year, the dates are 3rd to 26th of July. 
This is Europe's largest and oldest theatre festival, created by the French actor and director Jean Vilar back in 1947.
The festival's main programme will consist of up to 40 productions. Notable French theatres will be on display, while players from smaller countries are always introduced as well.
Every year, Festival d'Avignon is visited by 500 journalists-critics who write about 2,000 articles covering the festival.
Managed by Oliver Py, the festival also features an off-programme where every troupe may buy itself a place i.e. rent a stage.
Madli Pesti, theatre researcher and critic
D'Avignon comparable to Golden Globe
Festival d'Avignon is of such high reputation that this can indeed be compared to the movie world top events, and NO99 to be elected into main programme is comparable to the Estonian-Georgian film «Tangerines» doing well at Gold Globe and Oscars event.
That NO99 was chosen is a sign of their hard work towards conquering the Western-European world of the theatre. As we remember, the French public got a taste NO99 at a guest show at the Odeon Theatre, Paris.
Definitely, performing at d'Avignon is the next and greater step in drawing attention and recognition. For Estonian culture, the greatest gain surely is that d'Avignon is yearly visited by 500 journalists-critics who end up writing some 2,000 articles to cover what they've seen. Obviously, the NO99 message will now be spreading to some countries which have never ever heard of Estonian theatre before.