A man legally nonexistent for years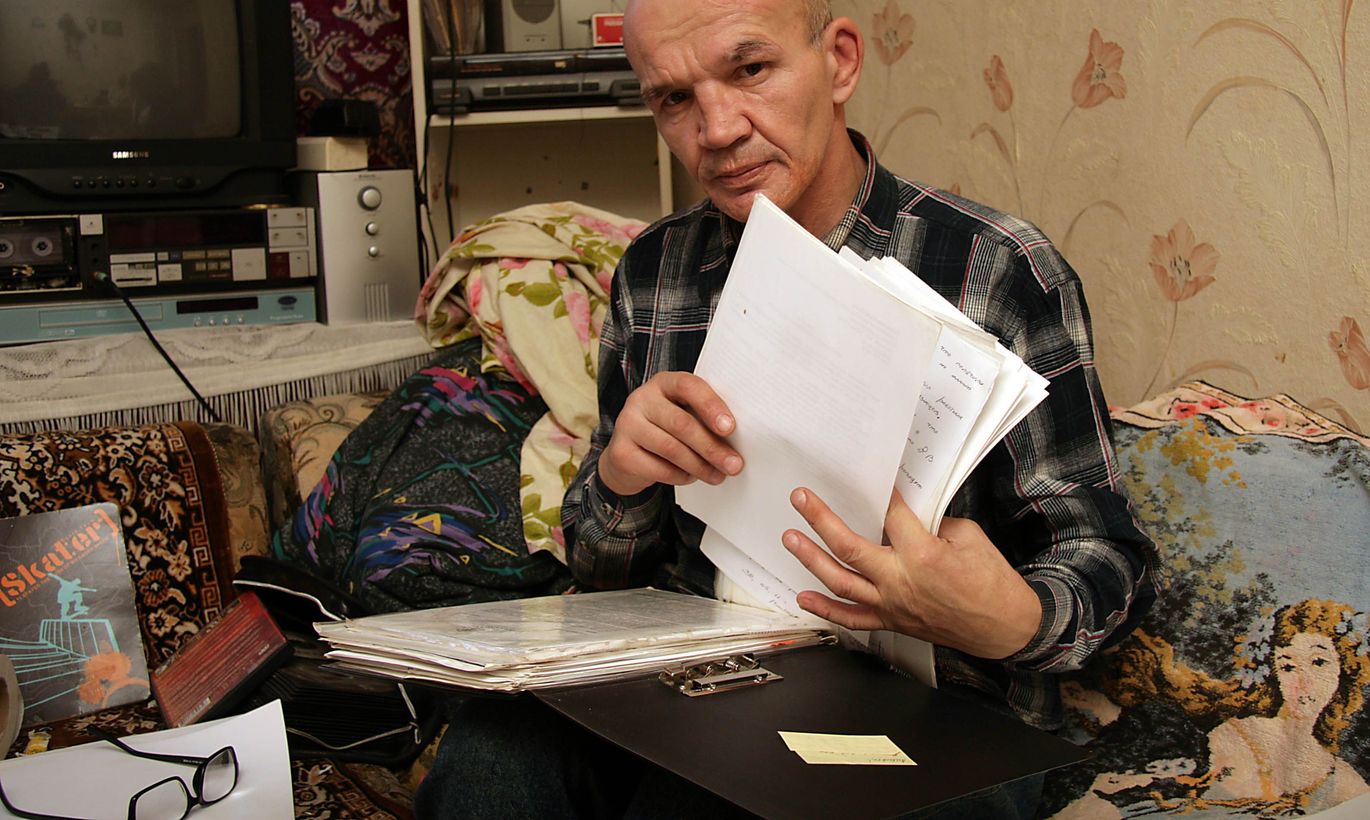 Born in Estonia, a man is in his eighth year of life without any documents, residence permit or outlook to get legalised.
The first time the newspaper Den Za Dnyom came in contact with the Aleksandr Volontsevitš case was three years ago. Back then, he had no valid documents and he was at the expulsion centre waiting what comes next. Having passed through various instances of court, Mr Volontsevitš was finally set at liberty. Realising he could not be expelled, the man hoped to get legalised.
That was the end of the connection. Recently, however, Mr Volontsevitš again called the editorial board and said he was still living with no documents and, to top it all, he was just stripped of his money at the police – as he put it.
Mr Volontsevitš was born in 1959, in the Estonia to where his parents had come to work after WW2. How he has lived the lion's share of his life, Aleksandr would rather not tell. Asked why, since 2006, he only has a temporary residence permit, the answer is also evasive: «I was not too much into the issue, there were all sorts of waiting lines, but I did have the ID-card with a temporary residence permit.»
The validity of Mr Volontsevitš' ID-card and with it the validity of the residence permit expired in 2006; however, by that time he'd also been in prison for three and a half years.
«To begin with, I did time at Tallinn prison. There, a lady was very actively involved with dealing with me, a social worker, I do not remember her name but she was a very caring and polite person. She helped me fill all the forms and questionnaires and send these to Citizenship and Migration Board. But whatever they answered to that, I don't really know: all was in Estonian. She said she did not understand nothing of it – not even why the delay. Then, however, I was transferred to the Ida-Viru County prison where I did the final year, and there no-one no longer dealt with my documents,» says Mr Volontsevitš.
We went to great lengths to find out how exactly he happened to be at the expulsion centre after prison, and at long last heard the confession: «They wore me out, you know. Finally, out of spite, I blurted I had the Russian citizenship. Then all were satisfied and I serenely did my jail time till the end.» However, once out of prison, Mr Volontsevitš faced the consequences of his remark.
«Upon exit from prison, I was handed the orders to also exit Estonia in 60 days, to travel to ... Russia. I had said, hadn't I, that I had the Russian citizenship. What was I to do now? I decided to take a trip to Narva, where Russia has its main consulate, and talk to the staff there,» says Mr Volontsevitš.
According to Mr Volontsevitš, the consul quickly found out he did not possess Russian citizenship. «But I was not given a certificate. Why, you ask? But because for the certificate I would have had to pay 360 kroons, but of course I did not have the money. I did not manage to find the money, the date to exit Estonia came and went, and I was arrested.»
The next 239 days were spent by Mr Volontsevitš at the Harku expulsion centre. «I wrote applications. There were several court cases to decide what to do with me. But they did nothing. There was nowhere to expel me to, I have never had the grey passport, and I have no citizenship whatsoever. Herewith, possibly, the law was also breached and I was also not granted residence permit. So I sat there until the last judge told the interior ministry people why they were keeping me locked up that long as a criminal while I had committed no crime this time.»
The judge made an impact. Probably, the Office of the Chancellor of Justice also played a role, seriously criticising the expulsion centre – among other things, for keeping people for long periods of time without basis. 
Anyway, Mr Volontsevitš was set at liberty. Without documents, but with a bill to pay. «I was issued an invoice for the expenses incurred by me while kept at the expulsion centre: I had been fed, clothed, provided a place to sleep. So I owed them 50,000 kroons. But there was no more talk about that,» relates Mr Volontsevitš.
For some time, he constantly went to be registered at the police. Then, the requirements started to become ever harsher. But he keeps frequenting the police anyway, each time hauling along a fresh supply of applications, complaints and requests.
«But then, in August, the inspector whom I see said please write an application quickly, pay the state fee – almost €64 – as there is hope to get residence permit. I ran to my acquaintances, got the money, assumed debts ... and was again denied.  No I'm trying to somehow settle accounts with my creditors, but that's no easy feat as officially I cannot get a job,» says Mr Volontsevitš.
Legally, there is no Mr Volontsevitš for eight long years. In reality, he lives at his Mother's, in Jõhvi. Not long ago, his sister died. The Mother is sick, so she needs care.
The police's version of what happened, however, is rather different from that of Mr Volontsevitš.
Police and Border Guard Board migration office head Maige Lepp explains that, in its work, the police is going by the valid laws which currently will just not allow a residence permit to be issued to Aleksandr Volontsevitš.
As assured by Ms Lepp, Mr Volontsevitš indeed used to have a temporary residence permit which run out on September 13th 2006. The man was denied permanent residence permit due to multiple punishments by courts.
«Long-term residence permit is a status granting foreigners extra rights. When granting such status, breaches of the law and punishments are considered, as well as their nature and severity. When we are having to do with a person who is not law-abiding, who does not adhere to Estonian law, and has committed multiple offences, the Police and Border Guard Board refuses to issue a long-term residence permit,» says the representative of the police.
Having served his punishment, in 2008 Mr Volontsevitš filed an application for a temporary residence permit. While checking the data, the staff at then Citizenship and Migration Board discovered that the man had been receiving remigration support which is paid to people who have assumed written obligation to leave the Republic of Estonia and are citizens of Russia.
A condition to be granted residence permit is the repayment of said support to the state, via Integration and Migration Foundation our People. Regarding that, the board issued to Mr Volontsevitš a letter of explanation saying the debt may be paid by instalments, based on a payment schedule.
Mr Volontsevitš was also asked to confirm that he had Russian citizenship. However, the man never answered the question wherefore the application was discarded.
Says Ms Lepp: «The last time Mr Volontsevitš filed an application to obtain temporary residence permit was in August 2014. On that occasion, it was again not accepted as Mr Volontsevitš never presented documents regarding the repayment of the remigration support. Also, there's still basis to assume he is a citizen of the Russian Federation.»
Ms Lepp explains Mr Volontsevitš was placed at the expulsion centre by administrative court decision. He was held for six months and 24 days. «The reason was he wasn't cooperating with Police and Border Guard Board regarding formalising documents for departure.»
«Due to a lack of a valid travel document, it was impossible to make better progress with his expulsion,» adds Ms Lepp. «Being let out of the centre, Mr Volontsevitš was issued requirement to cover costs related to maintaining him as, pursuant to Aliens Act, an alien is to cover the hosts of his expulsion from Estonia including costs of compulsory execution of obligation to leave, and the costs incurred while at custodial centre and detention at police. Regarding him, the final supervision arrangements employed were really lenient, actually.»
Truth be told, the law says Mr Volontsevitš should be expelled from Estonia. However, without a passport – which he should personally secure from the Russian embassy – Estonia cannot expel him.
«Unwillingness by a person to obey order to leave Estonia cannot be counted an objective reason to disobey the order. If a person unlawfully refuses to have recourse to Russian embassy to be issued a travel document forms no legal basis to stay in Estonia nor an obligation to Police and Border Guard Board to legalise him,» the police rep sums it up.
Mr Volontsevitš himself says he has no Russian citizenship. Of course, he has the option to stay on in Estonia and obtain Estonian documents when he repays the money or proves he has no Russian citizenship. After the talk with editors at the newspaper, Mr Volontsevitš promised to have recourse to the consulate to secure such certificate.