«Nigerian scam» strikes car biz in Estonia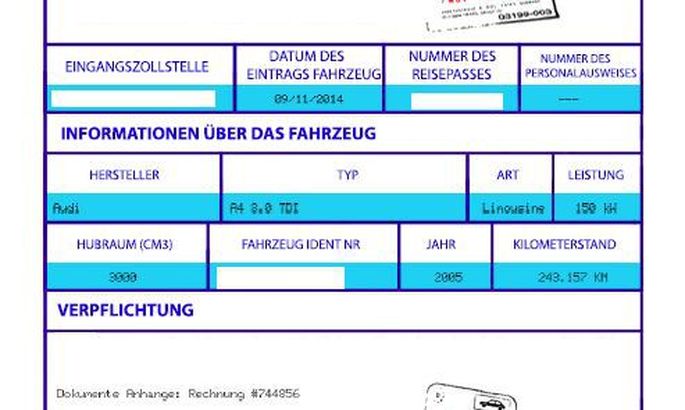 Estonia has contracted a modern version of Nigerian scam – a middle aged man paid €2,000 for a car that to this day fails to materialise.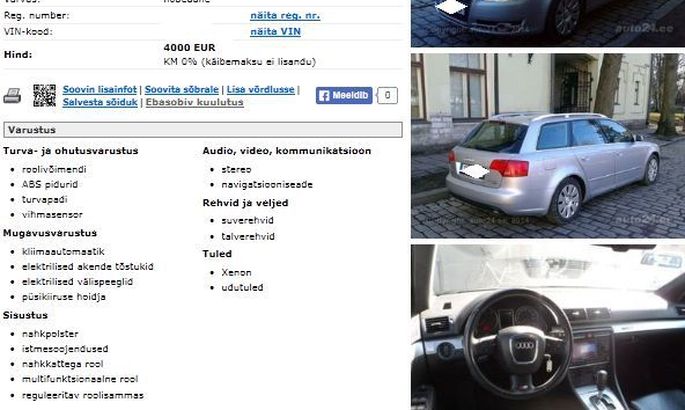 «I'm not the trusting kind, actually,» says Mati, the victim who thought to buy himself a used car at the beginning of winter. Now, a month and a half later, he still hasn't got the vehicle and will probably have to wave good-bye to the advance payment.
On November 1st, Mati found the fitting wheels in Internet car portal auto24.ee. A silver coloured Audi A4 Avant. Made in 2005, with 243,000 kilometres under her belt. Priced at €4,000.
Other Audis like that were dearer by about €2,000. «There's the bait, probably,» says Mati with the hindsight intelligence – a price gap gaping so wide ought to have made him cautious.
To the sales ad, an Estonian mobile number was attached, to which Mati vainly called many a time. Finally, an SMS came back from the number: «If you called regarding the car on sale, please leave a message.» During the conversation that followed, Mati was asked to email at a Gmail address, triggering a swift reply.
«I'm having a busy time at work, I don't speak Estonian so I'm mailing a translated text. In English, if it suits you,» recalls Mati, thinking back to the email content.
Turned out, the man selling the Audi was a Dutch businessman who claimed to have spent some time in Estonia in his work but had by then already returned home. «However, he was willing to send me the car back, from Holland. For that, there was this car sales company in the town of Tilburg, and they would fix the thing,» Mati continues.
Soon, Mati got an email from the Tilburg firm saying they were ready to send the Audi on a trailer into Estonia. The company desired advance payment of 50 percent. «The amount would lie on the company account as deposit till I have gotten acquainted with the vehicle. For that, they promised me seven days in Estonia,» says Mati. «If I'm not satisfied with the car, it would be transported back to Holland at the expense of seller and I'd get the advance payment back to the penny.»
The e-mail even featured the tracking number, allowing monitoring the movement of the consignment. «Well I did enter the number in their website over the Internet and it said the car was not in their warehouse yet but the order had been entered,» recalls Mati.
That dispelled all doubts. The advance payment invoice sent to him indeed carried the requisite information of a bank in Ireland, and the name of an unknown person, but Mati assumed a Dutch company doing international car business could surely have a bank account also in Ireland. «I transferred the €2,000 and waited,» he says.
A week later, on a Sunday night, Mati got a letter from the Tilburg car company that the Audi he desired was stuck in German customs. The explanation went: an amended law in Germany required hundred percent advance payment on cars transited through the country and Mati had to pay the remaining €2,000.
«Then, it dawned on me – this may be scam,» says Mati. To check the gut feeling, he inquired at the German embassy about the laws and was told a hundred percent advance payment was only required with cars coming from outside the EU.
«After that, we send some letters back and forth, and now there is silence for a month already,» says Mati.
He fears he just lost the €2,000 but wants the others to know: «People, watch out! The crooks are getting ever cleverer. This is far more advanced than some letters from Nigeria.»
The cheat's initial letter to victim
First let me apologise for the late answer, but I was having a very busy time at work. I do not speak Estonian and I hope you understand that's the reason I'm sending a translated email. If you speak English, please answer in that language.
Thanks for showing an interest towards my car Audi A4 3.0 TDI, 150 kW (243,000 km), of 2005. The car only costs €4,000. It is in excellent condition and there are no technical or mechanical problems. There is no engine trouble and the car has no scratches, dents or other hidden issues. 
The cart is registered in Estonia with a local number plate and all relevant taxes are paid. I purchased the vehicle in Estonia when working here as maritime engineer. Now, my project on the job is completed and I moved back to Holland. Having not had the time to sell this car before I left Estonia, I'm doing it now.
If you are interested in purchasing the vehicle, we will do a transaction secure and smooth for both of us. Let me know if you are still interested in buying the car, so I can send you additional information.