Vaida bridge to be torn down?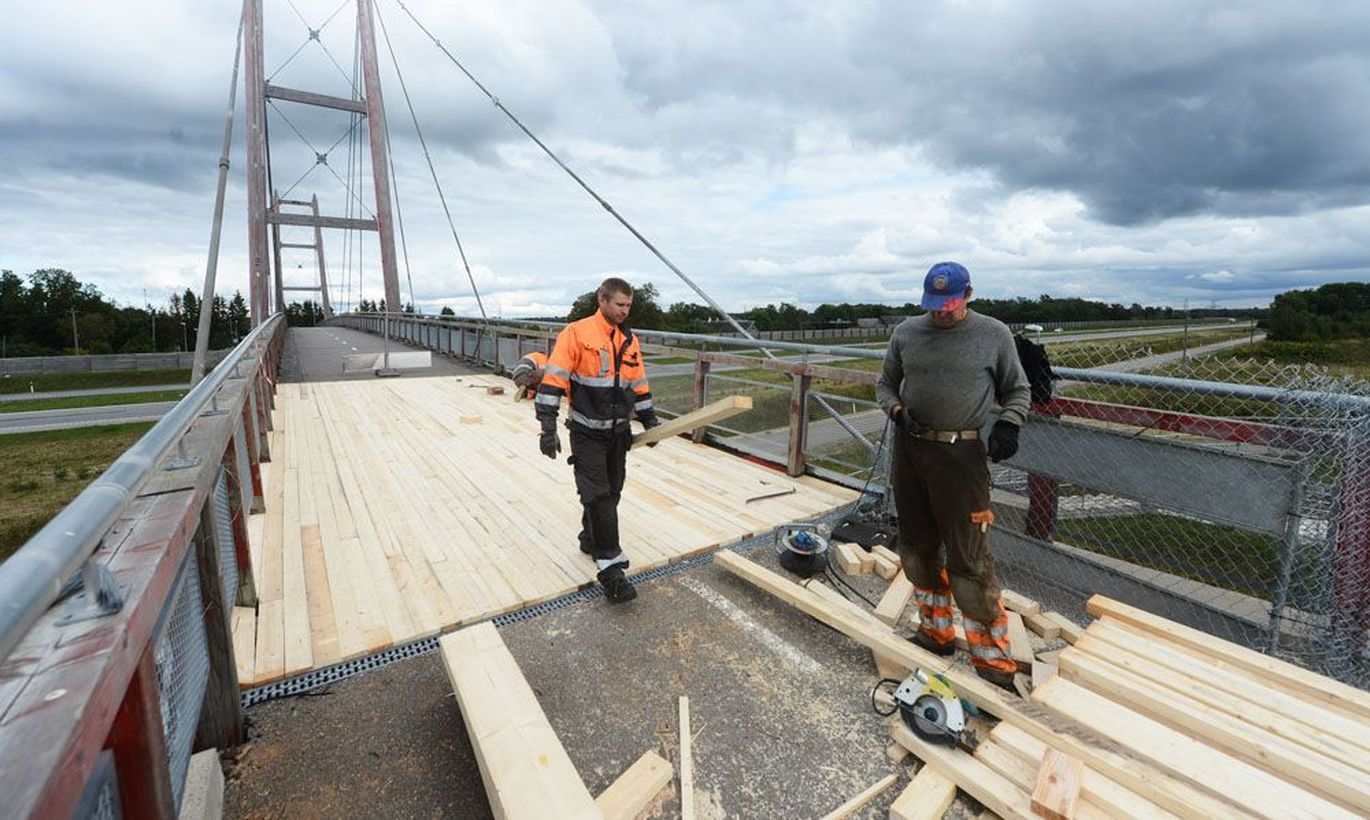 Road Administration says they have €0.5m out of 2015 budget to reconstruct Vaida viaduct in Harju County. However, building a new bridge may prove cheaper than reconstructing a viaduct built mere six years ago.
Up to now, Vaida bridge emergency repairs have swallowed over €30,000, and a similar sum will go towards expert assessment and new project design. But for the reconstruction of the entire bridge, a whopping €500,000 has been allotted out of Road Administration budget for 2015. For the sake of comparison: about 11.5 million Estonian kroons were spent to build the bridge.
The expert assessment and new project procurement was won by OÜ Järelpinge Inseneribüroo which needs to publish results by April.
Road Administration chief PR specialist Allan Kasesalu said that once the expert assessment is completed and basis laid for designing, a cost-benefit analysis may be done on whether to build a brand new viaduct or reconstruct the existing one. 
«This deeply formal, but we are obligated to analyse this variant,» he did specify regarding the new-bridge-plan.
«Probably, the contractual price of the works will be lower than the sum prescribed in the budget [as €500,000],» suggested Mr Kasesalu.
Even so, it will probably still be in the hundreds of euros, leading to a question: who will assume responsibility if, by expert assessment, building or project flaws are discovered.
Road Administration finds itself in a tight spot. «The object is officially accepted, approved. If we (Road Administration – edit) should want to accuse anybody, immediately the question would come up, why the object was approved,» said Mr Kasesalu.
«That a bridge was approved which soon started to deteriorate is regrettable, but by now Road Administration is an organisation totally different from back then, and we have definitely learned from mistakes,» said economy ministry public relations chief Rasmus Ruuda.
Riho Sõrmus, at helm of Road Administration since 1994 to the beginning of 2009, said there is no way he could comment on the bridge now when so much time has gone by. «Everything needs maintenance,» he said, adding only that in 2008 the bridge was approved by relevant committee.
Warranty period for the viaduct expired last fall. At prior inspections of the bridge (2009–2013), said Road Administration, it was impossible to discover the problems as the structures were under the asphalt. 
The bridge was designed by AS Resand and built by AS Talter, now Lemminkäinen Eesti AS. Supervision of construction was performed by Ramboll Eesti AS. The bridge structures were produced by Peeter Puit OÜ.
The innovative bridge was awarded «Estonia's best wooden structure 2008» special prize for best use of laminated timber. Peeter Puit OÜ board member Peeter Peedomaa has voiced the opinion that this is a building or design flaw, due to which the bridge has started to rot.
«The bridge is not built according to design. We know not why it was done differently, but we had another solution,» Resand chief Andres Neeme has said earlier. According to Mr Neeme, the bridge does indeed visually look the way they designed it, but the details of the bridge have not been built according to the design.
«We are sorry that the bridge is linked to our name, but these things (details – edit) which are problematic there now are not built after our design,» he added.
Load bearing beams rotting
Lemminkäinen Eesti CEO Sven Pertens has said building experts assessment is needed to find out the reason the Vaida pedestrian bridge is damaged, and till the results emerge the speculations are futile.
Road Administration deputy director-general for maintenance Toomas Tootsi said that owner supervision was overseeing the entire activity by contracting entity and contractor. As the design was complicated, he said, Road Administration would have been unable to agree anything separately with builder, without informing the designer.
Ramboll Eesti head Peeter Škepast has affirmed that as far as the supervision engineer knows, no changes of principle i.e. as related to structures were applied during construction. «All the minor changes pointed out by parties were coordinated between designer, builder and contracting entity,» he said.
According to Mr Škepast, the Vaida bridge story is a pity, but he cannot blame anybody. «Let's hope expert assessment will bring clarity about the possible causes to the incident and helps prevent them in the future. We are willing to help the expert assessment in every way,» he said.
On August 5th this year, Road Administration discovered that part of the pavement on Vaida pedestrian bridge, built in 2008, has caved in. Namely, the bridge's loadbearing beams has started to rot.