Ministry mulls making mandatory school longer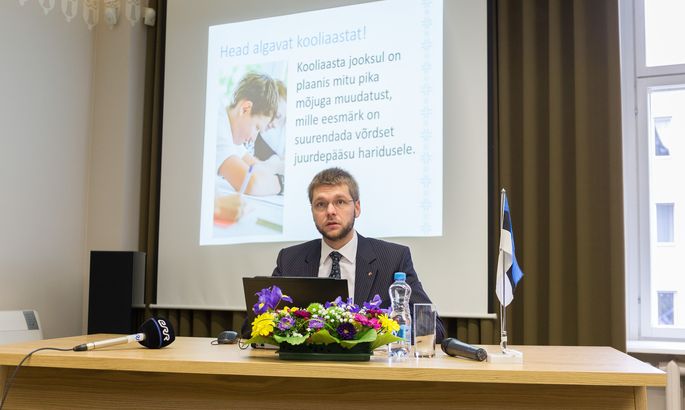 Currently, only basic education is compulsory. Even so, as a pupil turns 17 and has yet to graduate from basic school, the institution is under no obligation to keep him.
Last year our 25 to 64 year olds included 29.6 percent without professional education i.e. over 200,000 people all in all. Also a problem was the large amount of drop-puts in vocational schools where an average of 20 percent quits half way. 
The soc dem education minister Jevgeni Ossinovski is of the opinion the problem would be alleviated by extending compulsory school attendance. An option would be to add one year – till a person becomes an adult.  Thereby, a student under 18 who has graduated from basic school must enter a vocational school or a gymnasium.
As claimed by Mr Ossinovski, that would not lead to the creation of additional student places as educational institutions currently have more places than students.
Local governments would be responsible for students to have a place in basic schools, but after graduating from basic school the plan is to make the government assume a greater responsibility for the student to continue.
The ministry's plan envisions that a vital role be played by Foundation Innove led Pathfinder (Rajaleidja) Centres which kicked into gear in counties this September, offering career and study counselling services.
«These centres might be coordinators of post basic school compulsory attendance,» explained Mr Ossinovski.
«If a student will not manage in a vocational school or gymnasium and the school wants to expel them, they will notify a Pathfinder Centre first. The centre will assume the youth with study problems – offers him career and study counselling and finding a place where the young person might continue studies,» explained Mr Ossinovski.
Essentially, the Pathfinder Centre would be responsible for the student acquiring an education corresponding to his interests.
If a student has chosen a specialty which still doesn't suit him or has overestimated his abilities, the option to change place of study should be guaranteed.
As assured by Mr Ossinovski, information on whether a student is doing his duty and attending school will be obtained by comparing population register and education information system (EHIS) data. «If a youth is not in the education system, a Pathfinder Centre in cooperation with local government should seek and find him,» explained Mr Ossinovski.
The minister admitted there are currently just 3 percent not continuing studies after basic school. Even so, said he, the amendment would also concern those who quit vocational studies.
Also, he thinks there would be a shift of thought in vocational schools and gymnasiums where it is currently emphasised that a student is there at his own free will.
«The high drop-out percentage at vocational schools is partly due to the schools attitude of 'we offer classes and let the youth see to it if they show up or not'. Often this isn't working and the young people are left aside.»
Also, studies ought to be made more interesting and practical – introducing more apprenticeship i.e. half of the study programme will be passed at a workplace.
A representative of headmasters association, Tartu Jaan Poska Gymnasium headmaster Helmer Jõgi confirmed it is important that the topic has again been raised. «Schools are struggling with low motivation in students,» admitted Mr Jõgi, adding that for many students the study programme is just too much.
«Maybe we have too much we want to offer the students, and so a protective wall comes up. We are too much results-orientated. The kids may indeed have good results, but they are not happy in school,» said Mr Jõgi.
According to former education minister Jaak Aaviksoo (IRL), lengthening compulsory attendance will not help. «The problem is that the studies are done in a boring and unpractical manner. The young people feel they could get it much faster when working,» said Mr Aaviksoo.
According to Estonian School Councils' Union, raising compulsory school attendance till 18 years of age is necessary as this will motivate students to acquire upper secondary or vocational education.
Mr Ossinovski admitted the law amendment will surely not be reached during this government, but the aim is to note the reaction of the society in months ahead.