Tallinn narrowly escapes darkness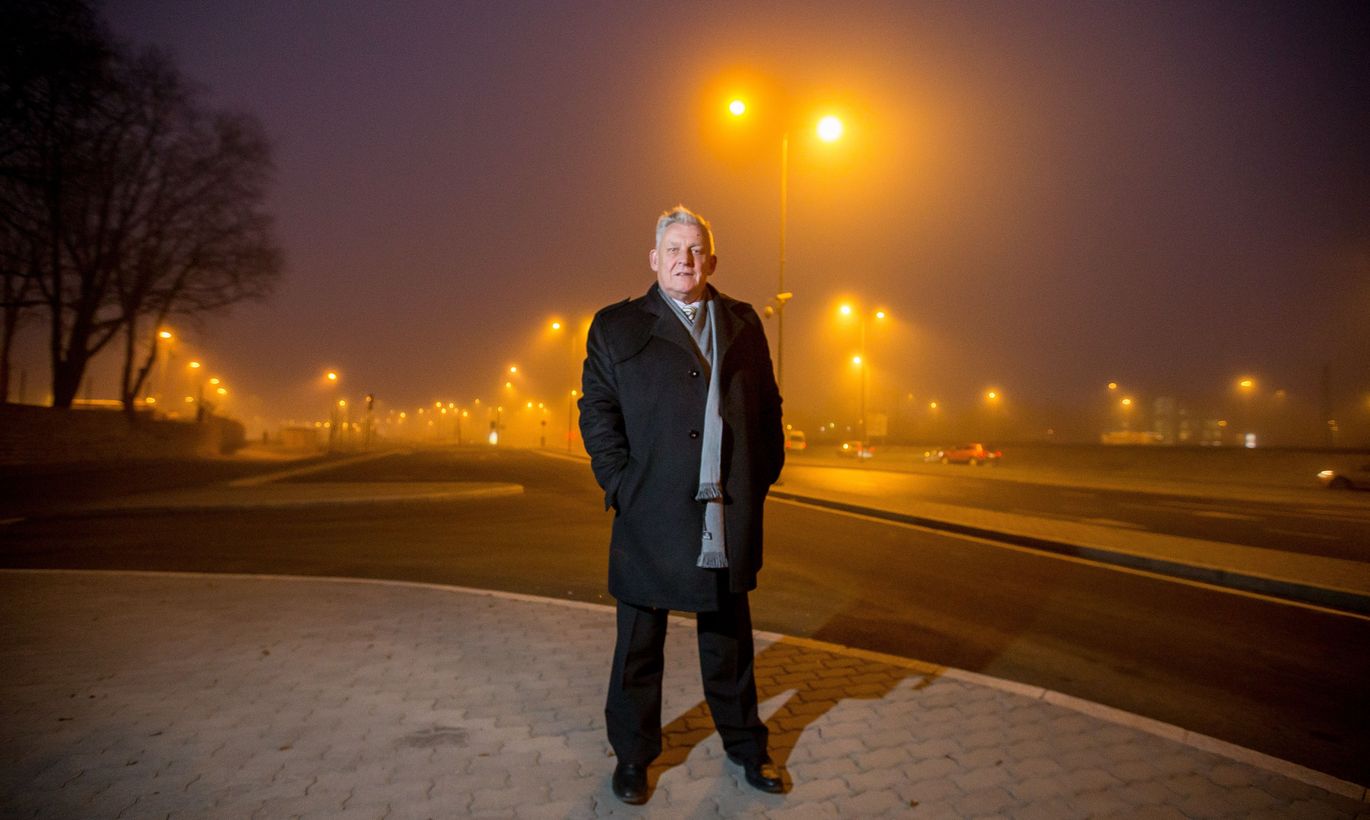 Due to conflict with utilities department entrepreneur Heino Harak in charge of Tallinn city lights nearly cancelled contract. A blackout threatened the streets of Estonia's capital. 
Looking back, Heino Harak (73) – owner of AS KH Energia-Konsult – cannot but smile, but the man's mood is sour. 
Over these past 15 years, Mr Harak's KH Energia-Konsult has been responsible for switching Tallinn street lights on and off, and having brigades in readiness to go fix problems. The business has been lucrative: if Äripäev analysis be believed, it is income from the city coffers that this year lifted Mr Harak to 102nd place in Estonian rich list with €24.1m.
Competency lead to increasing self-confidence. Thus, in 2012 Mr Harak went as far as predicting in media that there'd be no-one to contest him at 2014 Tallinn city lights procurement. The reverse proved true. In September, Tallinn utilities department signed a contract with Elektrilevi and Empower, winners of public procurement. This coming February, these ought to assume responsibility for Tallinn streets enlightened.
Now, Mr Harak is claiming that the utilities department has started to squeeze and tease KH Energia-Konsult in its last months on duty, favouring the newcomer. «When we compete at a procurement, we need to be equal. Why is the city now favouring the other party, why is it preparing everything for it?» asked Mr Harak.
It all started on March 6th as utilities department issued public procurement to find a company to maintain Tallinn street lighting to start working on July 1st. As was soon found out, the city's first miss was too short of a notice. In April, newcomers kept contesting procurement conditions, accusing the city in favouring the current company in charge.
The committee did declare several requirements unsubstantiated. For instance, they pointed out, the city cannot demand that the new ones already possess the street lighting key component – a control system. To find the devices, the committee lengthened the procurement deadline by six months so that now the new company will enter into office in the darkest of times – February 1st 2015.
Compared to the current price, KH Energia-Konsult lowered its procurement price by 30 percent. While the procurement proved tough, joint offer by Elektrilevi and Empower emerged as cheaper. To maintain Tallinn's 55,514 luminaires, 35,023 masts and 654 switches, the latter asked €8.8m by 2020. At one time, Empower was KH Energia-Konsult's subcontractor maintaining Tallinn's lights, and a large share of the city's street lamps currently shine on Elektrilevi masts.
From there, things turned strange. As the new providers lacked the control system for the work, utility department guys approached Mr Harak with a proposal: KH Energia-Konsult might grant its system to the city, or sell it. The businessman declined, as the same system is used to control lighting on North-Estonian highways. Furthermore, KH Energia-Konsult intends to take the controllers down and use them elsewhere in Estonia or abroad.
Thereafter, utility department got to applying force, according to Mr Harak. For instance: without permit by KH Energia-Konsult, a utility department expert entered into guarded electrical cabinets and started to send the company flash claims to obtain info regarding the street lighting network, threatening €639 contractual fines should answers tarry. In total, the claims ballooned to almost €10,000.
The whole thing smelled like the utility department was in quite a hurry and needing to help Elektrilevi get going. That, for Mr Harak, was strange as the technical issues were to be clear to participants before entering the competition.
To the backdrop of declarative demands by utility department, it turned out that Tallinn was breaching the contract. Namely, the city had unpaid bills towards KH Energia-Konsult and as the street lighting maintenance costs for four upcoming months were fixing to be €3m, they begun to fear the city might not pay.
«We talked this over with a lawyer and I told the city that if no solution is reached, starting December 1st we cancel the contract,» related Mr Harak. In other words, come December Tallinn would have been without lighting as Elektrilevi is not ready yet to assume the duty.
Faced with the facts, utility department immediately withdrew the fine threats and promised to pay the bill as well. Talking things over, utility department head Ain Valdmann, his deputy Tarmo Sulg and expert Rein Pilt agreed to a large part of plan by Mr Harak how to arrange the shift. On the face of it, the tensions were cooled. Still, Mr Harak would ask: will the successor be ready by February?
According to utility department deputy head Tarmo Sulg, he sees no conflict. «To my knowledge, there are no problems up at the moment. To my knowledge, out cooperation works,» he said.
As assured by Mr Sulg, they have regular meetings with Elektrilevi representatives and the utility department's sole requirement is that the new maintainer be ready to assume the entire system by the beginning of February. The installation of new controllers to do that ought to start in December. Wherever Elektrilevi will set up the new control centre, is none of city government's business.
According to Mr Sulg, the new maintenance service is of better quality as compared to the current one provided by KH Energia-Konsult. As it stands, a brigade goes out to service the street lighting only when something gets broken or falls apart; in the future, the network will have to be monitored and fixed preventively. The new control system must secure a real-time overview of the technical conditions of lights and be watchable also at city government.
According to Elektrilevi board member Jaanus Tiisvend, they have no ignorance or panic regarding how the work will be done. «We have got the control system and its installation will begin so as to assume the service starting February 1st. By then, we will need to be in all readiness to fix faults and receive calls by townsfolk.»
KH Energia-Konsult: €5.65m a year (incl. network costs)
Elektrilevi and Empower: €1.76m a year from 2015 to 2020 (without network costs; starting next year these are paid by the city)
The capital has got 55,514 luminaires, 35,023 masts and 654 switches.
control centre on Tallinn territory
five cage lifts with 12 metre lifting height capacity
vehicles for maintenance teams