A tie smelling like bouquet of bitter losses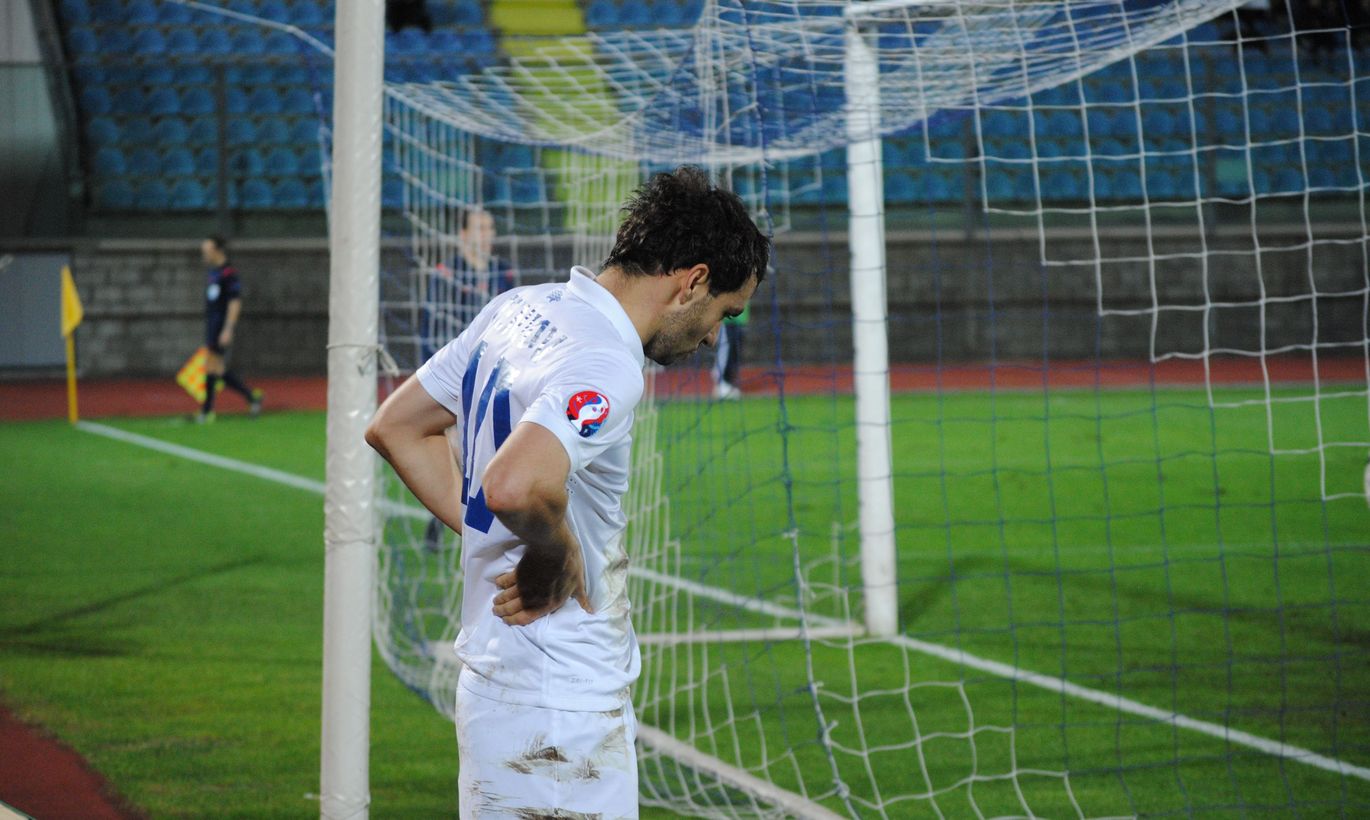 For Estonian football, Saturday night was a nightmare of historic calibre. In an UEFA 2016 qualifier, we failed to beat host San Marino – the red lantern in FIFA. With 0:0 a sad reality, the game was depressing to watch and a bystander will ever be wondering how they ever planned to score. Thus, for the third time in their history, team San Marino could rejoice for keeping their goal clean.
As afterwards admitted by coach Magnus Pehrsson, the attack plan rehearsed for a week failed to hit home with the players and he will have to work harder to get across to the players. On top of that, the footballers were obviously uptight and not ready for the game. As exemplified by Aleksander Dmitrijev earning a yellow hard at 12 seconds into the game, in mid-field. In a worse scenario, Estonians may have been cut to minority from the start.
Throughout these qualifiers, attack has been toothless. The defence has been tight for all the four games and only twice the ball has landed in Estonian goal; even so, over the 360 minutes played we have scored just once and that was due to Slovenians with one guy off the field.
Playing chaotic and all tied in knots, the team was badly missing a leader. After the game against England and captain Ragnar Klavan ousted by red, one may have been relieved to think the game he was going to miss was against mere San Marino... In reality, Mr Klavan was vastly lacking with no-one able to assume his role.
Also, the team missed Mr Klavan's confidence, playing on shaky legs and waving hands all nervous. Increasingly, the talk is about no-one to be underestimated and surprises possible by all. Tellingly, Greece was on Friday beaten by Faroe Islands and Moldova by Liechtenstein. However, these midgets have played well before and thus the occasional success is not so surprising any more. With San Maroni, this is the very underdog with just two earlier World Cup qualifier ties to show, with Turkey (0:0, in 1993) and Latvia (1:1, in 2001). Now, Estonia is the historic first to grant San Marino a point in UEFA qualifiers.
The last time San Marino managed to avoid a defeat was in 2004 when beating Liechtenstein 1:0, in a friendly. After that, 61 games were lost in a row.
The game managed to stir emotions in international media. For instance: sports reporter Barney Ronay from the British Guardian asked after the game, in Twitter, where one could see a summary of the San Marino – Estonia game. To which the English football legend Gary Lineker replied: «Relax, after 61 defeats they'll make a movie.»
The qualifier pain is not a first for Estonians: in 2011, Faroe Islands whipped us 2:0 at home. Even so, the tie was worse – playing against a team on a losing streak for a decade.
Lots of Estonia fans were grouchy after it was all over and were thinking about switching to basketball. Sure, the mood was gloomy after the Faroe disaster of 2011 as well. Back then, however, the team drew its conclusions, had three wins in a string and did reach the very UEFA play-off.
E-group: San Marino – Estonia 0:0, England – Slovenia 3:1 (59. pen Rooney, 66., 72. Welbeck – 58. Own goal Henderson), Switzerland – Lithuania 4:0 (66. Drmic, 68. Schär, 80., 90. Shaqiri).
The situation: 1st England 12 points, 2nd Switzerland 6, 3rd Slovenia 6, 4th Lithuania 6, 5th Estonia 4, 6th San Marino 1.
Next round (March 27th 2015): England – Lithuania, Slovenia – San Marino, Switzerland – Estonia.
6 Mihkel Aksalu (goalkeeper) – the only guy playing above average. Stood firm and had work to do. Possibly, saved Estonia from defeat as once the ball was basically on the goal line. 
2 Ingemar Teever – collectively, all on field were worse than very bad. Passes were lousy, all were insecure and at a loss. Mr Antonov and Mr Lindpere – entering in 2nd half – seemed at least to try, but to the collective misery nothing was helping. Easy it would be to blame Mr Zenjov missing some good chances, but the others were jelly footed too.