Baltic presidents receive Golden Victoria award in Berlin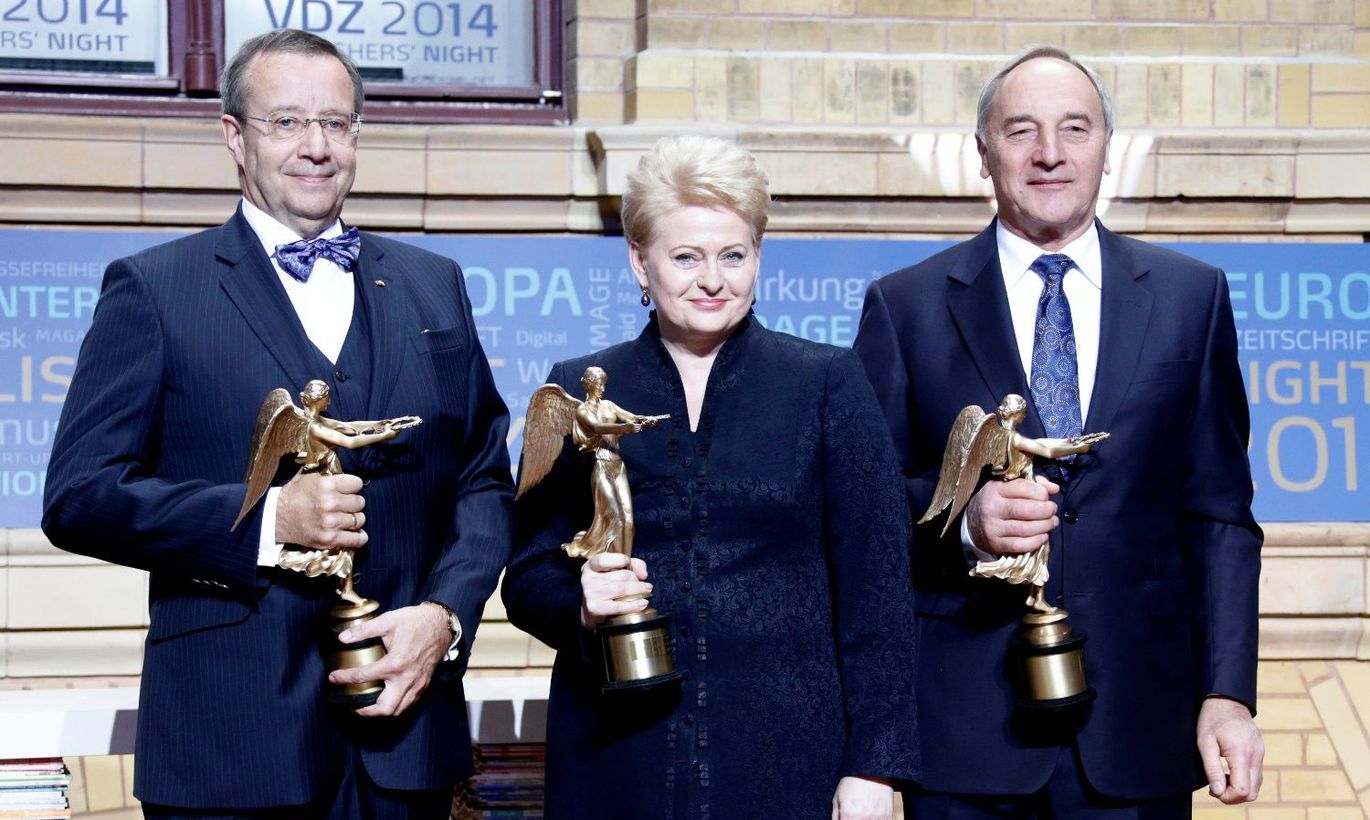 The German magazine publishers' association VDZ on Thursday, on the eve of the 25th anniversary of the fall of the Berlin Wall, presented its Golden Victoria European of the Year award to Estonia, Latvia and Lithuania.
The award was given to the Baltic states in recognition of restoration of independence, promoting of European values, integration into Europe and successful reforms, the president's office said. Presidents Toomas Hendrik Ilves of Estonia, Andris Berzins of Latvia and Dalia Grybauskaite of Lithuania received the award on behalf of their countries. German President Joachim Gauck who held an official dinner in honor of his Baltic colleagues called the three heads of state ambassadors of the European idea.
«Looking at what the world is like 25 years after the Berlin Wall fell, we recognize that we chose the right path at the right time, but we have also had luck,» Ilves said at the award presentation gala Publishers' Night 2014. «Along with the other two Baltic countries as well as Poland and several other states we proved that history or geography are not fate, and that in spite of brutal totalitarianism that lasted for half a century it is possible to develop into a democratic state which is based on the principles of a law-governed state and respecting human rights,» Ilves added. He characterized Estonia as a liberal democratic state that has free and fair elections, an independent court system, free media, the freest internet in Europe, free markets and an open economy.
«I am thankful to all our people who knew where we wanted to go and were ready to work a lot to get there. This award is an homage to them all,» the Estonian head of state stressed. Ilves also thanked all the friends in Europe and elsewhere in the democratic world who were willing to support the Baltic states with their political and economic reforms, and who as a final result accepted us back into Europe where we have belonged and where we were torn out of against our wishes.
Previous recipients of the award include German President Joachim Gauck, former Polish Prime Minister Donald Tusk, former U.S. Secretary of State Henry Kissinger and former German Foreign Minister Hans-Dietrich Genscher.