«Red Spider Terminal» looming for Tallinn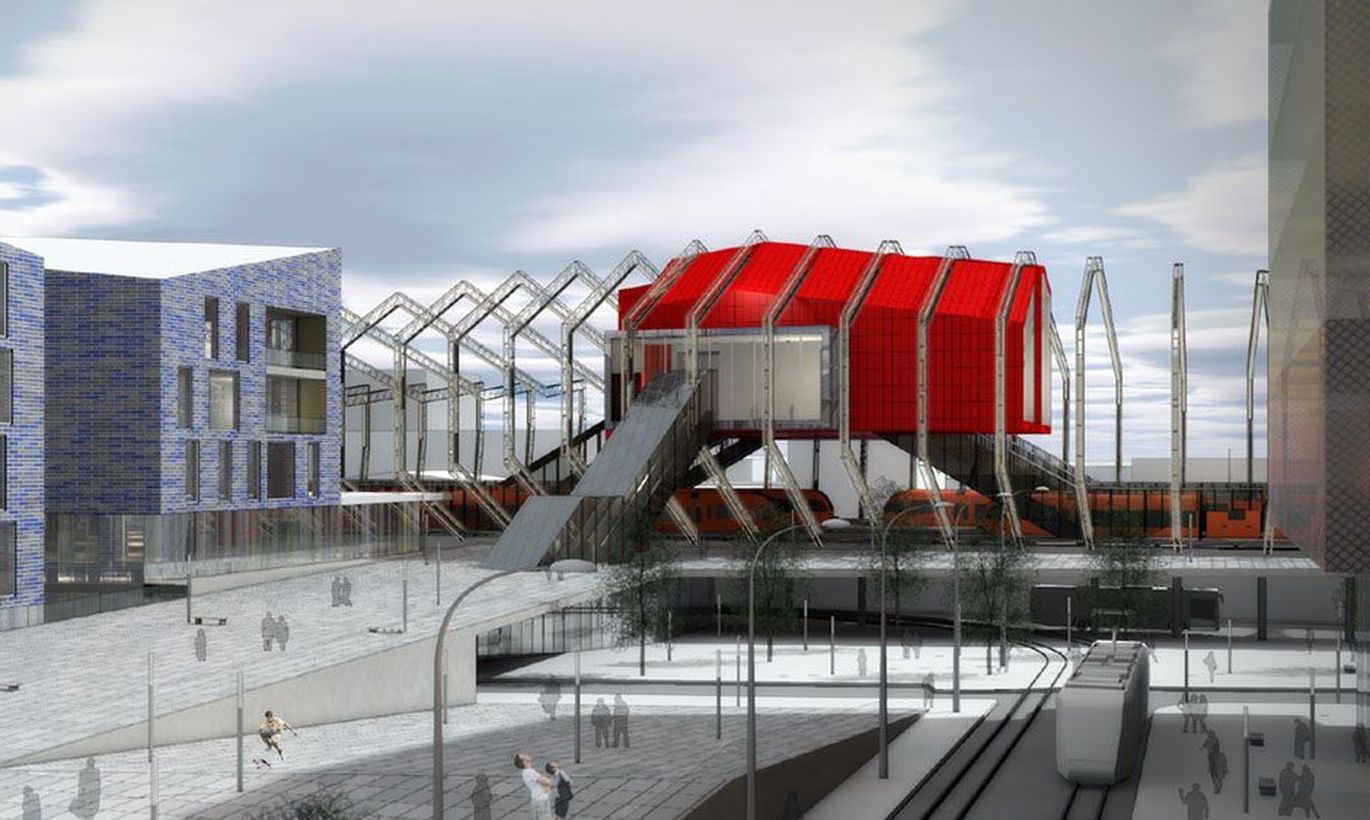 As one, conceptual design «Tagasi» (Back Again) was declared by jury as winner of Tallinn Ülemiste Joint Terminal contest as authored by architect bureau 3+1 Arhitektid OÜ composed of Gert Guriev, Markus Kaasik, Riin Kersalu, Kerstin Kivila, Taavi Lõoke, Mihkel Meriste, Andres Ojari, Siim Tiisvelt and Ilmar Valdur.
Tallinn deputy mayor and head of the jury Taavi Aas was ever so pleased with results as, in his opinion, the winning plan best answers the goals set as having a state-of-the-art terminal with high-quality pedestrian-friendly city space and an attractive terminal-building – a worthy gate to welcome those coming into Tallinn and convenient to all users.
«The task was the more complicates as the terminal needs to combine public transport of various types – buses, trains, trams – into a well-working environment,» said Mr Aas, adding it was a remarkable thing the winning piece also proved to be the most frugal.
The jury deemed it important that the terminal building be visible for those coming both from Peterburi Road and Suur-Sõjamäe Street, and praised the striking form lifted above the railway. «The win was mostly due to the strong architectural concept: the red «spider-house» above railway is a captivating landmark, providing a fun experience in departure lounges: the railroad track headed into the distance, with trains coming in under the building,» explained the chief city architect Endrik Mänd. «Lifting the building above the railway was, according to experts, the simplest technical solution – one which will compensate the costs of taking people to the third floor level,» added Mr Mänd.
Second prize went to conceptual design «Puhkus» (Rest) by Maarja Kask and Ralf Lõoke of Salto AB OÜ. The third, named «Aurumassin» (Steam Engine), is authored by Peeter Pere, Eva Kedelauk, Janek Maat, Anna-Liisa Unt and Robert Kähr of Peeter Pere Arhitektid OÜ.
The terminal site sits at the Ülemiste railway station, between Peterburi Road and the railway tracks. The competition was aimed to get the best solution for terminal building and the surrounding public space. 15 works were filed, 14 of which met the conditions. The winning works will be used to prepare detailed plans and designing Tallinn Joint Terminal and Rail Baltic passenger terminal building complete with a city park. With support of EU finances, preparations for the construction of Rail Baltic will probably resume in 2017–2018.