Resignation of Ligi rescues government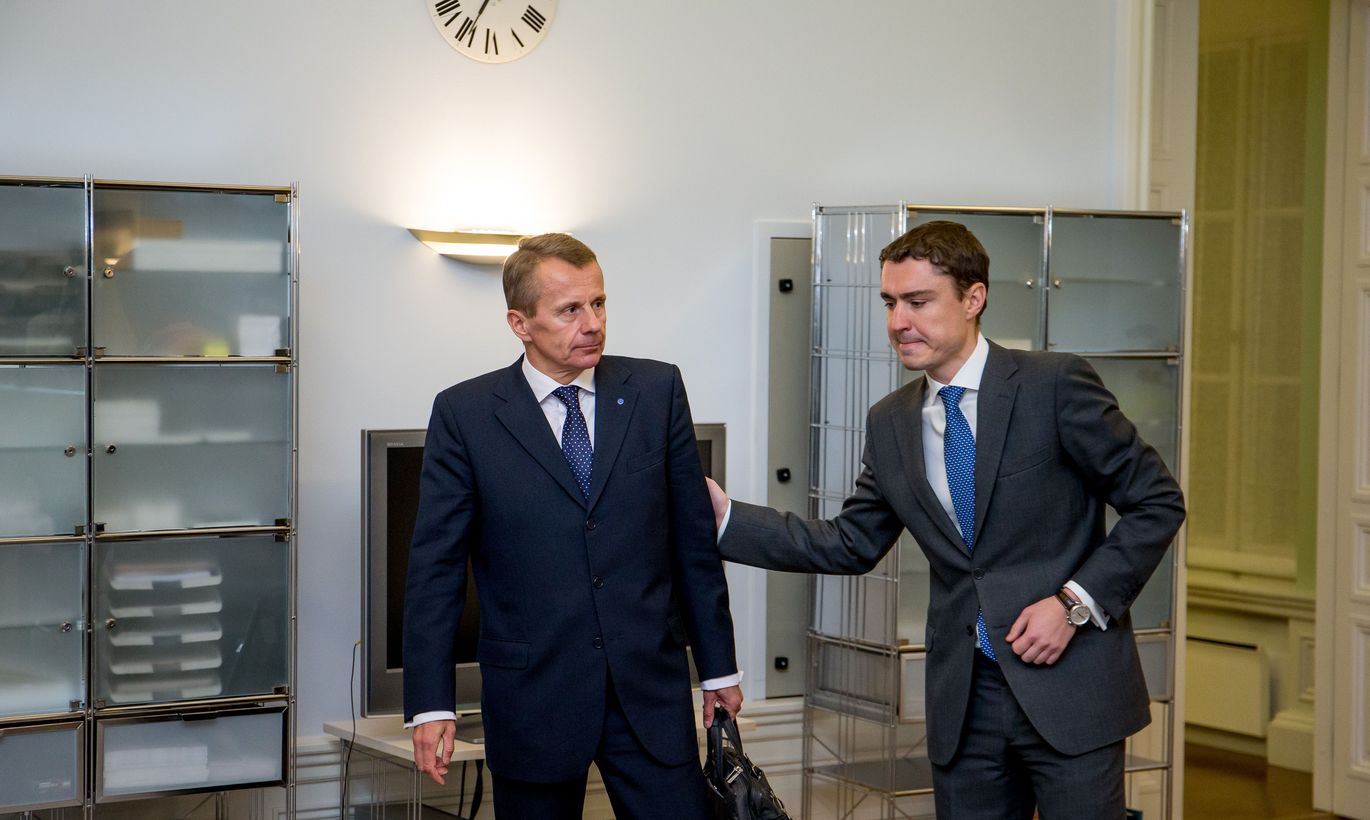 By stepping down, finance minister Jürgen Ligi put an end to three-day stalemate possibly leading to governmental crisis. His replacement is not yet known. 
Last night, engulfed in a political scandal due to a Facebook comment, Reform Party vice chairman and finance minister Jürgen Ligi announced his resignation. So far, Prime Minister Taavi Rõivas has not picked the person to take his seat.
To the reporters gathered in Stenbock house, Mr Ligi said he acted carelessly in providing a pretext to attack him and attach interpretations to words he wrote; even so, he refused to own up to the accusations hurled at him. «I am not good with an excerpt of my exchange of ideas turned into a big [try] to stir feud among nations,» he said.
Asked if the soc dem education minister Jevgeni Ossinovski ought to also step down, Mr Ligi said that would be very elegant while underlining his conviction Mr Ossinovski would not do that. «I'm afraid it is in his nature to just brutally press on [and] with his own agenda, I have seen it,» said Mr Ligi.
Mr Ligi confirmed he was returning to the Riigikogu and continuing his work, while disappointed in the reactions and ability in society to resist «such unseemly campaigns».
Though Mr Rõivas, back from Brussels late Friday night promised to tackle the problem as soon as possible, till last night there was no news regarding steps by Prime Minister. To Postimees' knowledge, Mr Rõivas consulted own party cadre, the soc dem chairman Sven Mikser, and Jürgen Ligi personally. Also, Mr Rõivas cancelled today's planned visits to Lithuanian and Sweden.
A new finance minister has yet to be proposed, but the plan is to find one fast in days to come. Among the names thrown around are Riigikogu member Remo Holsmer, a candidate while the coalition altered in the spring, and Kristen Michal, Arto Aas and Aivar Sõerd. In 2005–2007, the latter was finance minister in the first government of Andrus Ansip. Meanwhile, a possibility exists for the new finance minister to appear outside of Reform Party's parliamentary faction.  
Asked by Postimees whom Mr Ligi would like as his replacement, he said let the others decide. «When unable [to do it myself], let others decide. Taavi Rõivas would have been my next choice,» said he.
Prime Minister said Mr Ligi's stepping down was statesmanlike, while both criticised behaviour by coalition partner. «Blowing an unfortunate message into nationality-based conflict, to add likes on Facebook or short-term political profit, is not the right attitude and I do hope all Estonian politicians realise that,» said Mr Rõivas.
Meanwhile, last night's announcement by Mr Ligi struck soc dems, Reform Party's coalition partners, as surprise. Several of soc dems core cadre only learnt about it via the media. Last afternoon, the soc dem leader Sven Mikser was expecting yet another meeting with Taavi Rõivas, which only happened after the press conference by Mr Ligi.
After the roughly one-hour meeting, Mr Mikser said Mr Ligi's resignation underlined his apologies were sincere. «This surely is prerequisite for the government to proceed with as little tension as possible,» he said.
As assessed by Mr Mikser, the entire episode is a lesson to all Estonian politicians that there are topics which cannot be taken lightly: «I believe that after the elections we will need to form a coalition which is able to cooperate and would have a shared understanding of political culture and norms of behaviour.» The incident will not make it impossible for current coalition partners to continue in power together, he stated.
In telephone interview to Postimees, education minister Jevgeni Ossinovski said he recognised Mr Ligi's decision to step down. «I think there could not have been any other solution,» he said.
Commenting on what Mr Ligi had said, Mr Ossinovski underlined the scandal erupting was not just them quarrelling, but that it was broader by nature. «Jürgen is convinced that he was not speaking about nationality, but meant something else, but still it is obvious from his statement that people of other [ethnic] origin ought to shut up in Estonia. Whether it's nationality or something else, an argument like this is unacceptable to me,» underlined the education minister.
«He surely was not expecting such a discussion from a comment like that, but it is still not me who caused it. Rather, it is still he and I have said I'm ready to be reconciled to him,» said Mr Ossinovski.
According to Mr Ossinovski, he has due to the scandal gotten dozens of abusive mail. «I have received abusive mail over these three days and in these I have been reviled much meaner than what Jürgen Ligi did,» said the minister. «I also stopped reading the writings on the Facebook wall. There, all kinds of people have appeared who are explaining to me how to be a true Estonian.»
---------------------------------------------------------
Centre Party faction chairwoman
Mr Ligi's decision was the only right thing to do as without stepping down he would have set the entire government under pressure, as if such sayings were acceptable. Thereby, they would have assumed collective responsibility by implying that a certain category of people in Estonia have no such unquestionable right to have their say as the kind represented by Jürgen Ligi. That would have been a negative message to a large part of the society.
Soc dems would have lost face, had they after such an insult said they are okay to continue in such an atmosphere. No doubt, had Mr Ligi not assumed sole responsibility, Reform Party would have stood alone at no confidence vote.
For Reform Party, this was a forced move as even on Thursday Mr Ligi and Mr Rõivas clearly took the stand that [resignation] was totally unnecessary. And even in today's (yesterday's – edit) announcement, they cited not the criticised message as the core cause of criticism, but a cause clearly party-political.
Presumably, Reform Party politicians were trying to put pressure on soc dems to withdraw their demands, which failed to happen. In order to not split the government, the step had to be taken. In the politics of recent times, I do not recall such a war of words between government politicians.