Great expectations in jobless footballers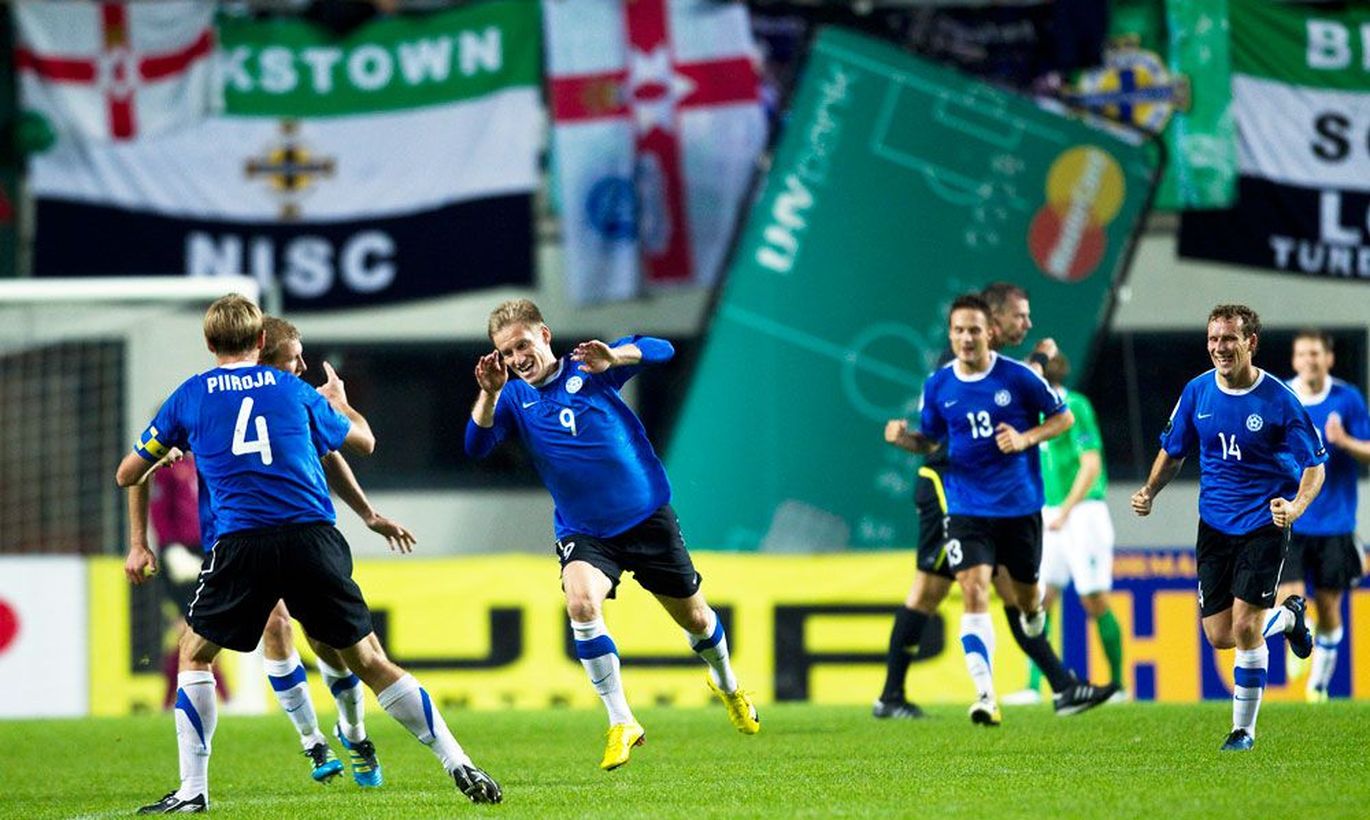 Over the years, a routine has set in Team Estonia – people playing with no games under their belt in home clubs, and some jobless altogether. Former Estonian defender Marek Lemsalu says the boys think too highly of themselves and ever keep seeking openings in the good clubs. Estonian Football Association president Aivar Pohlak fails to fully agree.
«Players have too great expectations towards home clubs. They are seeking employers a bit over their level. Thus, play time is lost and that is painfully felt in the national team,» quite critically said Mr Lemsalu.
According to him, the problem is nothing new – that's the way it's been for years. «It's a mystery for me how we have guys play teams like England who have not been in a club game for months on end,» continued Mr Lemsalu.
Mr Lemsalu pointed out right-winger Enar Jääger who last played in a Belgian top league club at the beginning of May, and has after that just trained in Estonia. Same goes for Tarmo Kink, a man with many a vital team goal kicked but not a field choice for coach Magnus Pehrsson lately. Also since spring, he is fruitlessly seeking a new club.
Mr Pohlak said the problems are rather the personal kind and – begging to differ with Mr Lemsalu – he is not detecting the pride. «I'm currently rather detecting personal issues – Mr Jääger has always been highly selective in his decisions, first and foremost when it comes the location. Mr Kink has clearly stated he's not willing to play just wherever, and I understand his motivation on the field is directly related to the environment he's in,» said Mr Pohlak.
«The career of Kink and Jääger thus far relieves them of the material pressure to play wherever, for any cost,» added Mr Pohlak. «Having met many footballers in my life, both Kink and Jääger greatly differ, but are in certain ways very extraordinary players when it comes to demands – I'm not talking money, rather just the place to play. And with this we cannot find fault,» said the president.
For national team, however, the situation is definitely not good. Mr Jääger did play quite confident against England, and his experience showed, but in order to be bright for Estonia a creative-type attacker needs to be constantly playing. 
Mr Lemsalu recalled the times running up to previous European Championship cycle when Konstantin Vassiljev, a leader in Slovenian top league club plays, came to the team and got everything going. Mr Kink, in like position in Hungary, did the same and kept scoring for Estonia. And Mr Jääger, a full-time weekly player in Norway, was a pillar in the national team. Now, it's hard to rise and shine purely by training sessions.
As assured to Postimees lately by former striker Indrek Zelinski, at training it is impossible to fully imitate the competitive situation – while practicing, no-one is really as hungry to rob you of the ball as in UEFA qualifiers.
It's not just the unemployed who lack the competitive situations – players like Sergei Pareiko, Igor Morozov, Henri Anier and Sergei Zenjov, all starting 11 guys against England, have backslidden to spare-player benches in home teams. Of the eleven who played England, only the captain Ragnar Klavan (working in Germany) and Estonian championship league boys  Karol Mets, Artur Pikk, Martin Vunk and Ilja Antonov play full time. Health allowing, Mr Vassiljev would probably be starting choice at his employer, Gliwice Piast.
Mr Lemsalu is not one to accuse the younger ones as, lacking experience, they are still searching out their limits. «Those under 25, let's forgive them for the time being. The problem is the older players who are ever waiting for too good offers. One could understand that, somewhat, as they are quietly thinking of career ending and we all need money. But it's bad on the national team,» reasoned the man.
Here, football does differ from other ballgames like handball, basketball and volleyball. There, it's almost always the good club guys who shine in national teams. «The football market vastly differs. While after the so-called Bosman Rule the market developed lots of free players, the status does carry a stigma of sorts – the serious clubs preferring guys whose rights need to be bought out as a sign of them being valued,» explained Mr Pohlak.
The president also proceeded to list players who have come back home to get play-time: Taavi Rähn, Aleksandr Dmitrijev, Martin Vunk, Dmitri Kruglov, Sergei Mošnikov and Alo Bärengrub. «These ought to be proof that the footballers generally aren't overestimating themselves,» argued Mr Pohlak.
Along with Kink and Jääger, jobless ranks have also engulfed Sander Puri – always a starting eleven guy under former coach Tarmo Rüütli. «Regarding him, I'd dare to have the hindsight wisdom of saying his decision to leave Levadia to play at any cost wherever as free agent was a mistake, and every step thereafter has been downwards,» deliberated Mr Pohlak.
Also wise after the event, Mr Lemsalu says Mr Vassiljev leaving Slovenia for Russia wasn't the step most reasonable, as the midfielder has not been his best over there.
Summing it up, Mr Lemsalu thinks it positive that the new generation is coming up in the team. Still, he would urge one and all to find a club to be playing full (and all the) time. «Let's hope we live to see the day when the older guys find their suitable clubs, and the younger generation will be shining real bright,» he wound up with a silver lining. The sooner the Day dawns, the greater the chances for Estonia to squeeze into UEFA finals 2016.