The hidden impact of dismantling a monopoly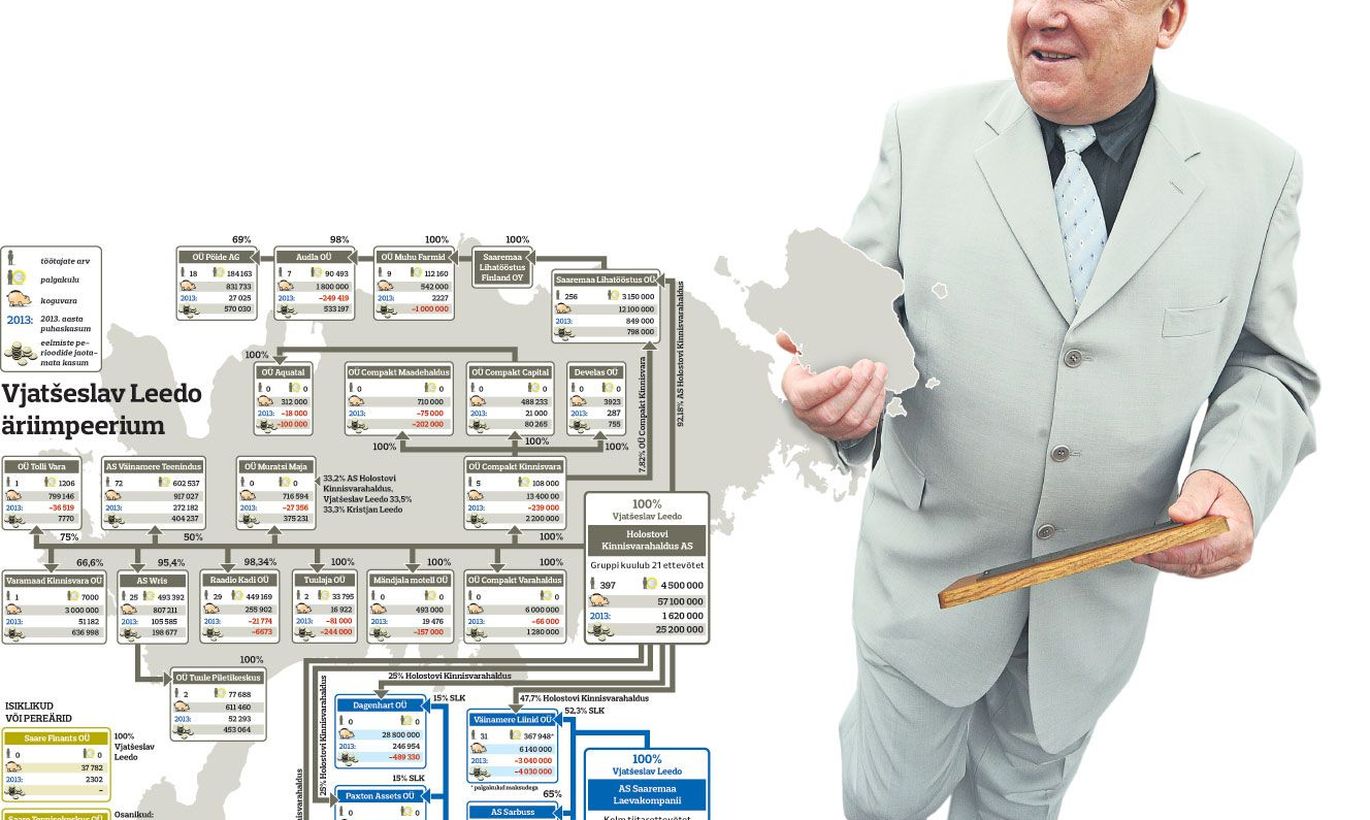 In the isle of Saaremaa, hundreds of employees today depend on the businessman Vjatšeslav Leedo who built up his empire largely on government-given ferry-money. Should the state turn off the funds in 2016, they're asking: «What about us?».
«It if will be Port of Tallinn operating the ferries, then all that came to us will go someplace else. This equals a strong social blow: one thing is the jobs, but it's also the culture and all else attached to it. Like the opera days and the Saaremaa rally [racing competition],» frankly says Raadio Kadi CEO Gunnar Siiner. Talking about the money that is coming to Saaremaa, directly or indirectly.
By the way, Mr Siiner himself works for Mr Leedo, the radio station Raadio Kadi being part of the Mr Leedo owned public limited company Holostovi Kinnisvarahaldus made up of 21 companies. The PLC, christened after a top-value lot in the heart of Kuressaare [the capital of Saaremaa – edit], is the fist and vital pillar of Mr Leedo's business empire.
The palette of forms in it provided employment to nearly 400 locals, involved in everything imaginable from agriculture to erecting exclusive apartment houses in Tallinn. Though some of the companies seem to be in standstill and a couple have tax arrears, the overall picture looks more than sunny: in addition to the €25m accumulated earlier, the group made €1.62m of net profit in 2013.
The picture is much darker in the second pillar of Leedo-empire. Alas, it is here that government money comes into play. The second pillar being the so-called Tuule Grupp built up by Mr Leedo since mid-1990ies in order to service ferryboat transport ordered by Estonian state. At the heart of the group lies Saaremaa Laevakompanii (SLK), employing about 175 people on both shores of the straits.
According to Mr Leedo, SLK and Väinamere Liinid are deeply in the red because the company's investments into new ferries were vast, while the ferrying orders by the state are too small. The near €16m state ferry-subsidy is flowing, via intermediation firms part-owned by Mr Leedo, on to companies of his business-partner Olav Miil, from which three ferries – Saaremaa, Hiiumaa and Muhumaa – are rented.
This is what led to the accusations that, using subsidy money, via intermediary firms Mr Leedo is buying himself a private fleet, and the entire scheme is so opaque as to make it impossible to see who pockets the subsidy.  
The key here being: the two pillars aren't as separated as shown on paper. A keen businessman, over the years Vjatšeslav Leedo has used the years to craftily intertwine firms of the two pillars so one would profit the other as well.  
As an example of that, catering and retail on the ferries is provided by AS Väinamere Teenindus – a firm with four stores and about a dozen service points – partly owned by Holostovi Kinnisvara. And Raadio Kadi, also under Holostovi Kinnisvara, is into sales of digital media unto the ferries and the ports.   
It would be premature to conclude it is all purely Mr Leedo's business interests. For instance, in these past years the ferry king has, out of his own assets, steadfastly paid up the near €400,000 losses of the county newspaper Saarte Hääl. True: by doing this, he is keeping open the advertisement channel for his companies, while also maintaining a competition in the local media.
Even more importantly, perhaps, for the Saaremaa folks: lion's share of Tuule Grupp companies are registered in Kuressaare. Just for the last two months, SLK and its shipping-related subsidiaries have paid taxes to the tune of €550,000. Part of it went to the state, part into Kuressaare city coffers – to mend streets and boost local life.
As assessed by Mr Leedo's close friend, former politician Ain Seppik, interweaving the two pillars is nothing wrong: if in one thing an entrepreneur earns profits, he is free to decide where to invest it. Meanwhile, Mr Seppik is disappointed in the thoughtless behaviour of the state – should the economy ministry prevail in the ferry procurement, the local shipping is as good as sunk.
«Clearly, Saaremaa Laevakompanii as such will disappear from Saaremaa. It will be replaced by some kind of a monster located in Tallinn and not so closely touched by the Saaremaa people's interests,» says Mr Seppik.
As one, all locals who talked to Postimees do affirm that, first and foremost, Mr Leedo losing his ferry licence would be an emotional blow to the locals. Under pressure by locals, Väinamere Liinid have – in addition to state order – also done commercial trips; a new carrier may not care.  
Kalle Laanet, a politician close to Mr Leedo, says the ship crews are already worried about their future: «Regional-politically, Mr Leedo's input is a lot larger that apparent to a bystander.» As an example of that: Port of Tallinn, owner of a largest harbour on the island, only employs one local and the rest work in Tallinn.
According to PR-man Meelis Kubits, freshly out of a long-term cooperation with Mr Leedo, it would have been better for Estonia to call SLK to the table years ago and to honestly discuss a new long-term contract. They ought to have agreed transparency of yields, stopped the artificial suppressing of ticket prices, and installed state representatives into the company council. «A bona fide people's company would have been born. All would have won [from that]. Now, I only see losers,» said Mr Kubits.
Ain Seppik went even further. «Actually, it would be polite for the state to thank Mr Leedo for what he has done. Probably, by participating in this contest, he wanted to do leave his mark, do it for ten years more and then to retire. This the Estonian state did not facilitate, but opted to wage war against him – which, in my thinking, is ugly,» said Mr Seppik.
Mr Seppik has no doubts Mr Leedo is able to find ways to use the SLK ferries elsewhere in the world.
«Business-wise, nothing will happen with Mr Leedo. Chartering of ships is hardly a problem in this world, and knowing his business instinct, he is a persona in the local Saaremaa life who has the ear of everybody and who's opinion all will consider.»