Tensions building between business and the state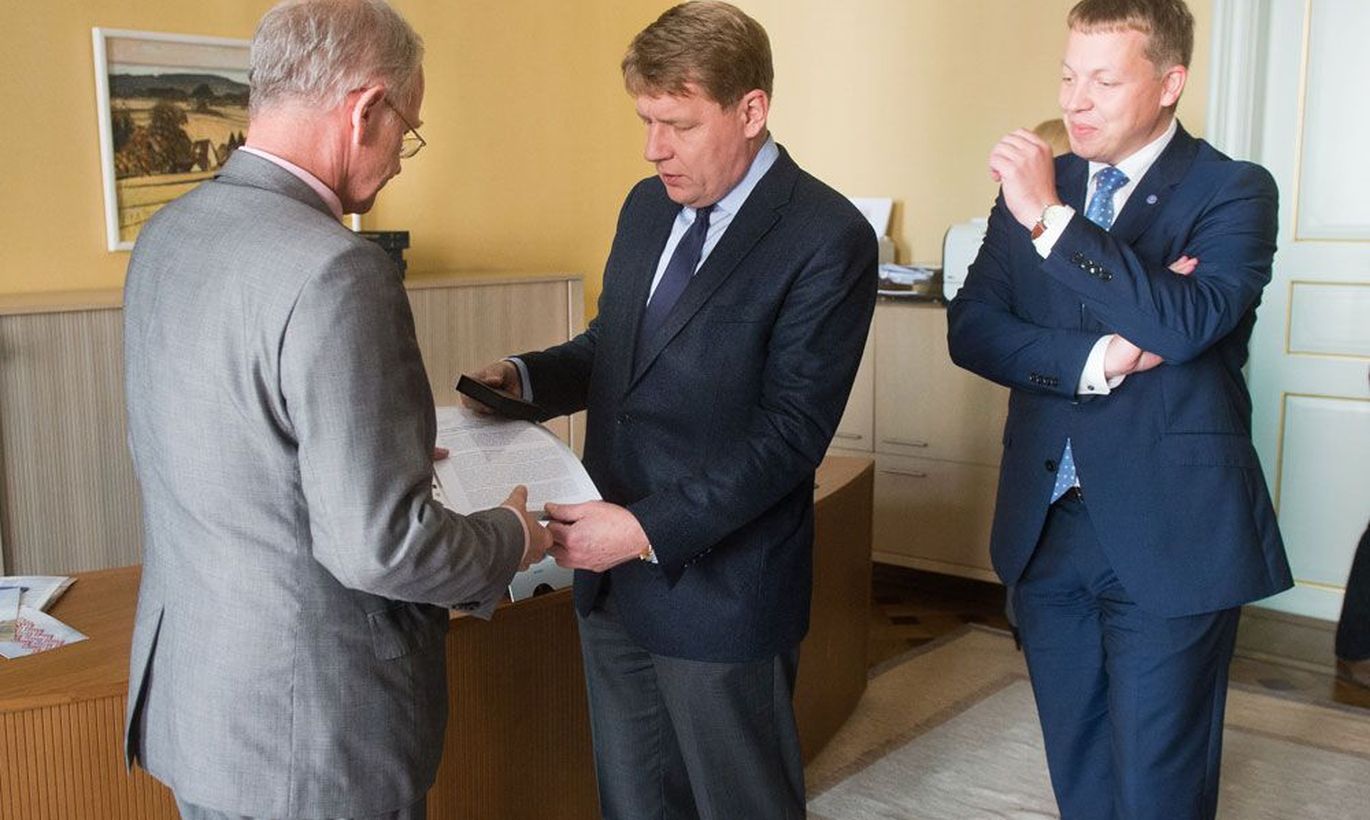 When, this past spring, a bunch of amendments nasty towards businesses were pushed through in Riigikogu, it initially appeared that peace was unbroken. Turns out, the fire was just smouldering beneath ashes.
At the end of August, Estonian Chamber of Commerce and Industry, umbrella for nearly 3,200 enterprises operating in Estonia, begun to collect signatures under a petition to call politicians to order: don't you change tax laws overnight. In barely a month, 1,256 signatures were given, and last afternoon the collective address was handed over to President of the Riigikogu Eiki Nestor.
On Wednesday in Tallinn, at Estonia's largest top-managers oriented «Business Plan 2015» (Äriplaan 2015), it was stated in his opening speech by soc dem defence minister Sven Mikser that «the state needs to push the entrepreneurs out of the comfort zone».
The reprimand, complete with a promise to raise minimum wage to €800 in five years, loaded the conference with an atmosphere where every other entrepreneur cussed the state and politicians for not trusting the Estonian businessmen.
After an emotional address by glass facade maker Windoor owner Mailis Lintlom, in the which she – among other things – expressed hopes that the state will cease hiding its pathetic administration behind accusations towards the entrepreneurs, Alexela majority owner Heiti Hääl applied for a word of comment.
«Perhaps, we should form an entrepreneurs' trade union and do a strike against the state?» Mr Hääl asked Ms Lintlom. «Let's do it!» Ms Lintlom answered, after a bit of parrying. The ovation was awesome.
After the petition was handed over to Riigikogu, yesterday, Chamber of Commerce and Industry CEO Toomas Luman said the sense of the state at times failing to appreciate input by the entrepreneurs did not emerge overnight. «I have also felt at times that... what's up?» admitted Mr Luman.
He thinks the tensions may have arisen from the large amount of young politicians presently in Estonia who have become politicians straight out of school, with no contacts whatsoever with the world of business.
«I'm not saying they are all real mean and don't want to understand (the business world – edit), but their life's experience just won't allow them to understand it, I guess,» expounded Mr Luman. «But – nothing doing – three fourths of Estonia's jobs are in the private sector and that's where the bulk of tax revenue comes from. They still should somehow try to get a grip of that.»
Finance minister Jürgen Ligi told Postimees the businessmen aren't definitely being heard too much, but he agrees not with the sweeping statement of them not being heard at all.
«Public interest is not even the balance of the opposing private interests, but it also contains considering the inevitable [issues] far removed from business. In politics, many a decision needs to be made even to avoid some major loss, even to compete with those with hearing impediment,» explained Mr Ligi. «Entrepreneurs are listened to a lot more than is their percentage of the electorate.» Asking Mr Luman to comment on that last piece of Jürgen Ligi mind, the man grew serious.  
«That's been his incompetent stand for a long time now. Then, why not ask Jürgen Ligi what he would do if that comparatively small share of voters up and leaves for Latvia, say?» observed Mr Luman.
But Mr Lig­i, the Reform Party cadre, went on to explain how, in Estonia, politicians are generally more accessible than elsewhere and the routine works even without physical meetings, but despite that the top level meetings have been marked in their calendars and they do understand the backdrop to the murmuring.
Asked to specify if the meetings to come are related to an overall general murmur or the commerce-industry chamber bill, Mr Ligi thus retorted: «Neither. And the grouches will not be met with, by the way.»
Regarding the «Business Plan» conference talks, Mr Ligi said: «Some speeches by their spirit did turn embarrassing and proletarian. I'd really rather not have heard them.»
Lauri Linnamäe, PR chief for the 1,500 entrepreneur strong Estonian Employers' Confederation, explained that a lot of spite was caused in entrepreneurs by things like the company car VAT amendment. 
«Not just the tax rise, but the rhetoric whereby the need was substantiated – instead of admitting that the budget is not adding up, they let everybody know that all the business is one big bunch of cheats,» described Mr Linnamäe.
«There are the cheats, but instead of tackling the real cheats – usually the man-and-dog type firms where the main asset is family car – everybody was made to make up for it.»
The other point of concern, according to Mr Linnamäe, is the trust towards stability of tax environment – as autumn nears, the business always grows restless: what is the new tax or tax rate surprise this time?
«Last week, employers met with the prime minister who promised that this time, as the budget is forged, there will be no unexpected tax rises. That's a great sign and for that the entrepreneurs give credit to the government,» said Mr Linnamäe.
Prime Minister Taavi Rõivas is trying to ease the tensions. He assured us he is regularly meeting with entrepreneurial organisations and is sincerely thankful for feedback and proposals from businessmen.
Mr Rõivas agreed that tax policy needs to be predictable and planned as long in advance as at all possible, this principle also stipulated in governmental action plan – but it cannot be hammered into a law. 
«The principle of predictability needs to be adhered to, even in times to come; even so, by turning a right principle into a law, there would be the risk that should a crisis erupt we would be unable to react swift and prompt. Hard times may need faster decisions than is the custom in good times,» said Mr Rõivas.