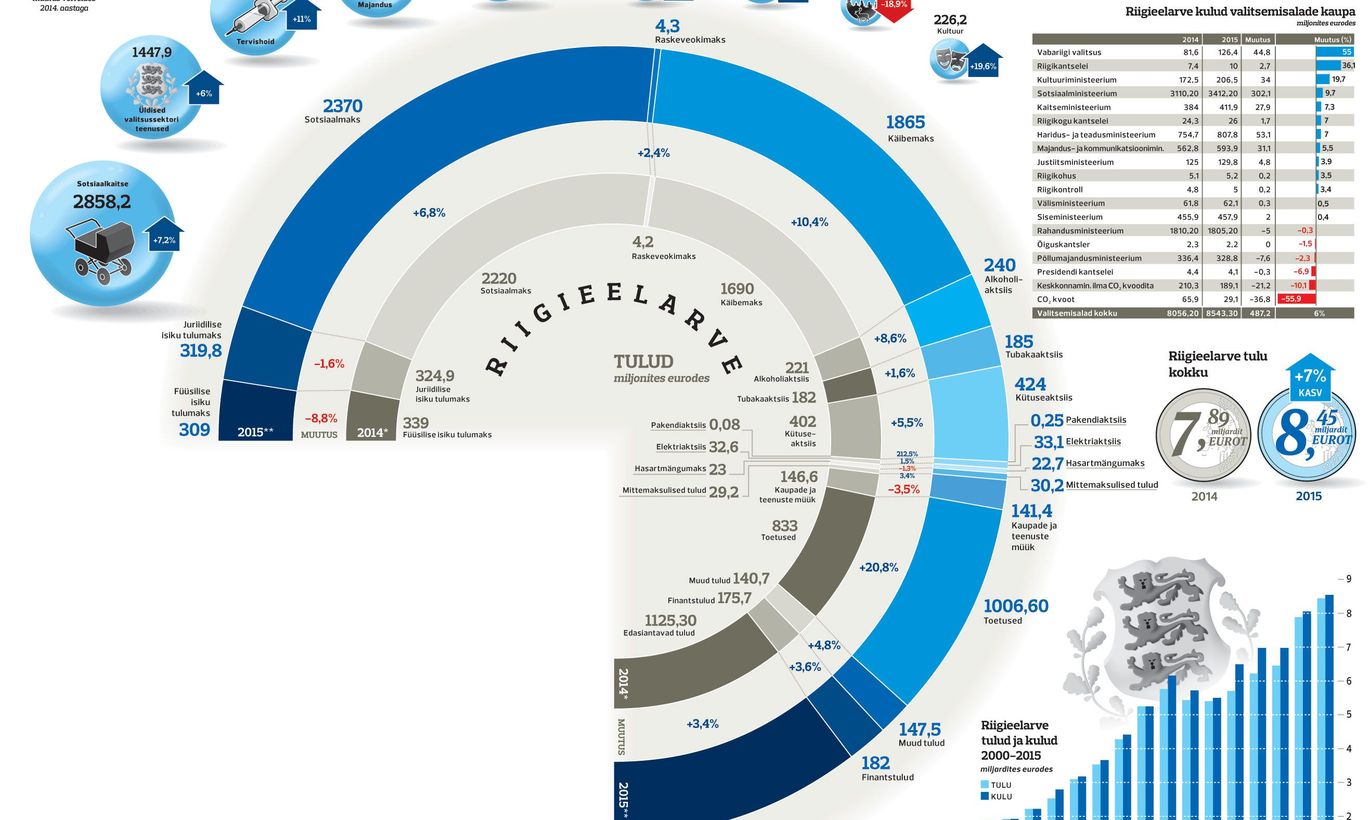 Predictably, the budget bill shaped with general elections in mind is cautious yet bursting with good news. In it, chief promises by both coalition buddies are fulfilled, such as the lowering of income tax rate (squirrels) and rising of child benefits (soc dems).
While the end-of-August governmental promises spelled a 4.5 percent rise in next year spending, after the final polish the number is six. On the revenue side, the hopes are high for a whopping 7 percent increase to €8.45bn.
According to Prime Minister Taavi Rõivas (Reform Party, RE) the budget is aimed at enhancing our feeling of safety via security guaranteed, households helped, and state finances in order.
Mr Rõivas says the focus is obviously on defence spending which they desired to keep at the two percent level of GDP plus extra expenses to host allied forces.
Defence minister Sven Mikser (Social Democrats, SDE) listed as largest spending in next year the equipment needed for historically grand military exercises «Siil» (Hedgehog), and the acquisition of anti-tank system Javelin and infantry battle machines CV 90, as well as development of Ämari air base and radar network.
Significant spending increase is related to internal security, with notably large money allocated to fortify the border – finalising its marking and investing in cordons.
State agencies wage fund will grow at least three percent, with 4.5 percent rise due to internal security staff, teachers, social and culture workers. However, Mr Rõivas thinks the state payroll ought to be cut so as to pay more to those that remain.
Financially, a major fresh spending item is child benefit rise, taking 1st and 2nd kid support to €45, and €100 for the third baby born.
On the dark side, agriculture minister failed to obtain the added  direct support sought by farmers to mitigate Russian food ban related problems. 
According to agriculture minister Ivari Padar (SDE), the decision had already been taken at the springtime coalition talks. Mr Padar thinks the budget serves to well reflect the current reality. «Come the new elections, come the new coalitions, so come the new proposals,» said Mr Padar.
On the face of it, the worst loser is environmental protection; however, the mighty minus is a result of EU support exhausted – to be mostly restored in 2016. Also, environment ministry budget reflects the CO2 quota transactions, substantially lower the next year. 
Culture ministry budget is basically boosted by wage rise, the added remuneration to youth sports coaches, and several large investments into cultural objects such as the Arvo Pärt Centre.
By opposition, the project was judged a bona fide election year budget, with all good news crammed in. Centre Party vice chairman Kadri Simson praised the income tax exempt minimum lifted after a long while, but denounced the lowering of income tax rate. According to Ms Simson, this robs the budget of over €70m in income which could have been rather spent to repair local roads, for instance.  
Finance Committee vice chairman Sven Sester (IRL) told BNS he has an issue with Estonia's dwindling state reserves and assets which means that the government is living beyond its means. «While it used to be the aim to reach nominal budget balance by 2015, a glance on the draft badger shows this will not be. By end of 2015 we will have arrived at a situation where we have debt bigger than reserves by €320m,» said Mr Sester.
Finance minister Jürgen Ligi (RE), however, stressed that structurally the budget is in surplus by 0.8 percent and that during the more difficult cycles a nominal deficit rather serves to stabilise.