Evidence: border was violated from Russia into Estonia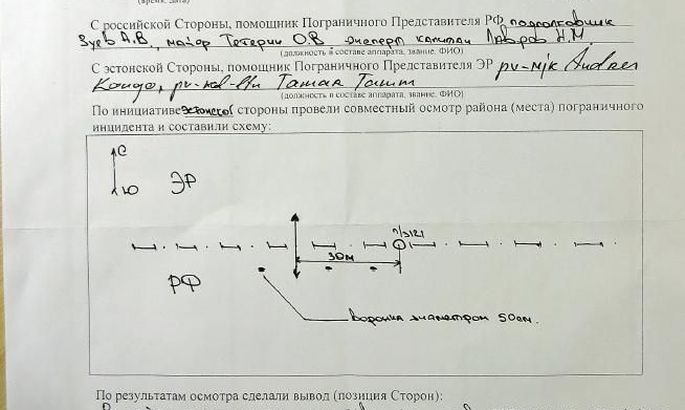 Estonian Police and Border Guard Board published the records documented by assistant Estonian and Russian border representatives at joint inspection on September 5th.
As required by border representative of the Estonian Republic, Border Guard Colonel Aimar Köss of Police and Border Guard Board, the joint inspection with Russian border guard was performed on September 5th at 1 pm where it was confirmed by both parties that the border had been violated from Russia into Estonia and back to Russia again. The corresponding records were formalised as signed by deputy border representatives of Estonia and Russia. To this day, the Russian border guard has not consented to officially confirm this document dating September 5th.
A meeting scheduled yesterday at Luhamaa border point between Estonian and Russian border representatives was cancelled as the Russian representative said their delegation was not showing up.
The meeting was called off as Russia's border guard said the joint investigation of September 5th border incident should be arranged later when additional facts are available. In their reply to the Russian border representative, Estonia's Police and Border Guard Board stated that the facts regarding border violation are established in the joint inspection minutes formalised on September 5th, the Estonian side has already provided all evidence regarding the border violation and is expecting the minutes signed by Russian assistant border representative to be confirmed. 
Last Friday Security Police issued a statement saying that unknown persons entering from Russia near Luhamaa border point at 9 am apprehended a security police officer on duty and, by use of force and at gunpoint, took him to Russia. From the Russian side, prior interference of radio communication was applied, and a smoke grenade used.
In the evening, ITAR-TASS released a statement by Federal Security Service of Russian Federation (FSB) claiming FSB had apprehended an Estonian security police officer Eston Kohver in Pskov Oblast, Russia. Estonian Security Police indeed confirmed the security police officer taken to Russia (one involved with accumulation of information in Estonia regarding cross-border crime) as the very Mr Kohver, but underlined that as opposed to claims by FSB the officer was seized on Estonian territory.
On Saturday, it was announced by the Russian TV channel Pervy Kanal (Channel One Russia) that Lefortovo regional court of Moscow had granted permission for Mr Kohver to be arrested. According to Russian media he is accused in espionage, as well as of illegal border crossing and unlawful transportation of a firearm.
In Estonia, criminal procedure has been initiated regarding the incident based on Penal Code sections describing deprivation of liberty and illegal crossing of temporary border line.