Firms hard pressed to find specialists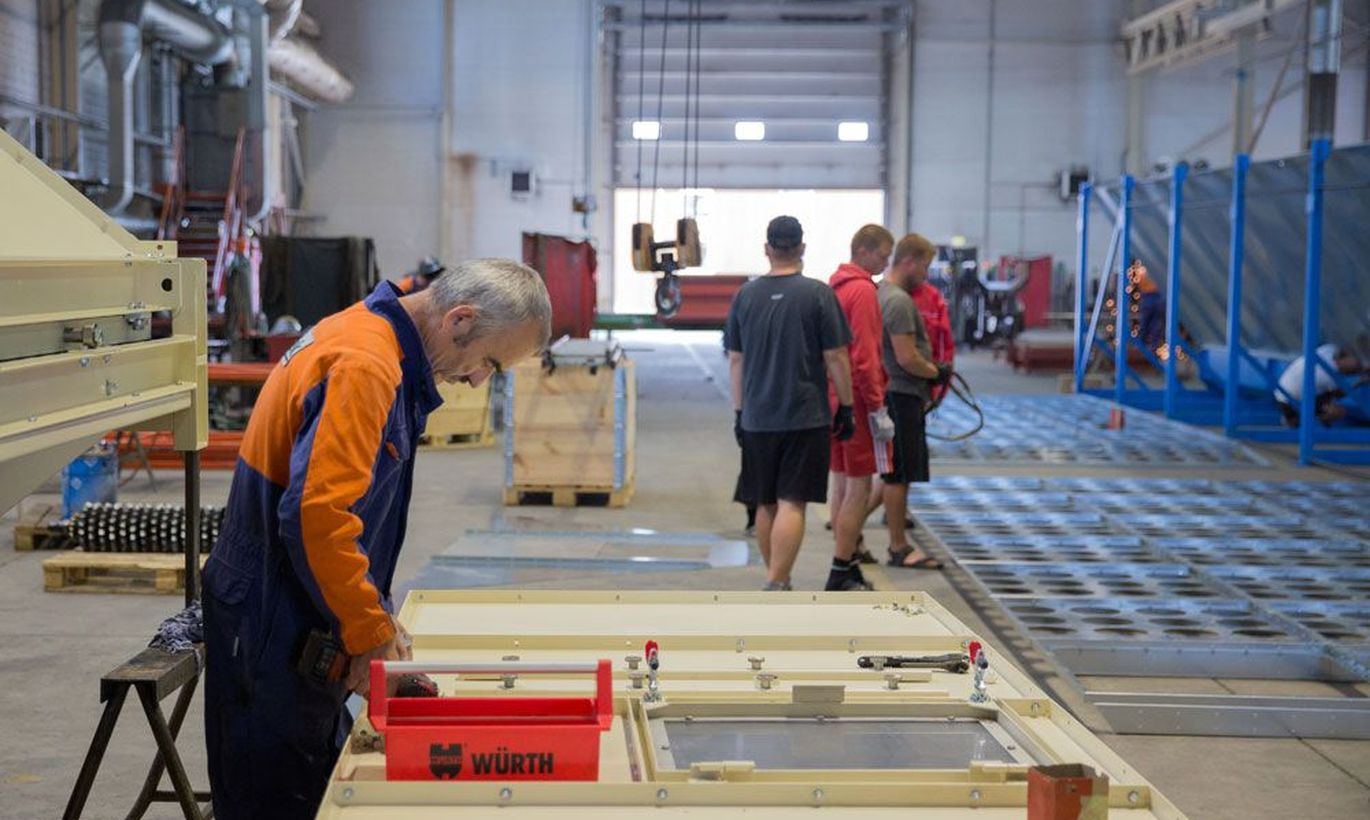 Skilled workers are of short supply for almost all industrial undertakings, and it's getting worse. Several specific specialties just aren't taught in Estonia's vocational schools and the enterprises have to do the training on the spot. But even to find a man fit to train is hard.
At the end of last week, Lääne County people panicked as PKC Group closed down its Haapsalu plant – by year's end, 347 workers are laid off. The reason cited for the closure was the very lack of hands.
According to CV Online marketing chief Heikko Gross, Estonia is currently running at about 200 job offers for skilled workers – all in all. At that, there are an average of two vacancies per firm; thus, about a hundred companies have posted active job ads.
One way to alleviate the skilled worker shortage is closer cooperation with educational institutions. A recent example of that is the Elron / TTK University of Applied Sciences cooperation to train new train drivers. «For an outside observer, too often cooperation between enterprises and educational enterprises is very limited or remains just a dream for both as it never really gets going,» said Mr Gross.
Secondly, companies always have the option to train the workers they need. Both possibilities are resource-heavy, but there just don't seem to be any smooth, cheap and fast solutions, notes Mr Gross, adding that one trick could be luring back the Estonians now working abroad. That, however, will raise new issues and problems.
«In a way the present situation is our pay-back time for lots of Estonians heading to work in Finland and other Nordic countries in crisis times,» thinks Mr Gross.
In Tartu, TMB Element is making prefabricated concrete elements and the need for skilled workers is great. According to CEO Taavi Vesper, the wage gap between then and comparable Finnish companies is not large at all, though people have it ingrained in their brains that the difference is at least two-fold. «In reality, average gross wages for skilled workers at TMB Element come between €1,500–€2,500 and in Finland one could make €2,000–€3,000 for the same job,» said Mr Vesper.
Mr Vesper went on to note that often, mesmerised by the higher salary, people forget the ills of working abroad – like higher living costs and, with many Estonians employed in Finland, the weekly or monthly travelling expenses which in the final analysis level it all out.
According to Mr Vesper, problems with skilled workers is a constant bother not for them aloe, but also for the others. «It is especially bad at the moment, in the summer period,» said Mr Vesper pointing to competition by construction companies which pull men to building sites for a while. «Come fall, it eases up a bit.»
«We have used various job seeking portals and have been visiting vocational and occupational schools, but there is quite a lack of suitable workers,» says Mr Vesper.
Right now, TMB Element could definitely use 10–20 skilled workers, admitted Mr Vesper. «As a rule, our skilled workers are people formerly employed in the construction sector, but it would be even better if they had experience with the same kind of work at some plant.»
Mr Vesper said their skilled ranks also include men formerly employed in Finland for years. «The Finnish economy is bad right now, lots of plants are temporarily closed down and, therefore, they are seeing to the local labour force first,» analysed Mr Vesper, adding that Finland has state support programmes helping plants to retain their workers. «Therefore, Estonians are fired of sent back home, for a time or for good.»
Last year, we had a problem with trained men moving on to Finland within half a year, but this year things are better, noted Mr Vesper. «The resources are rather flowing towards Estonia; quietly, people are trickling back.»
«People are always looking at the salary, but the overall tendency is that workers are beginning to realise: it is not worth the while to spend years of your life abroad winning some €500 extra euros a month,» said Mr Vesper, adding that some years ago when the Finnish wages still towered higher, it may have been profitable.
To Tartu, skilled workers mostly come from South-Estonia, Põlva and Võru, admitted Mr Vesper. «Basically, they commute daily, three-four guys in a car. Some rent flats but go home for the week-ends.»
Hekotek is a machine-making company based in Harju County, designing and building wood processing equipment. «Geographically, we have such a broad home base,» said Vahur Eggert, department head at the factory for 20 years. Hekotek's production lies in Jüri, 13 kilometres from Tallinn – but workers come from settlements like Tartu, Paide, Rapla, Märjamaa, Palivere and, naturally, Tallinn and its surroundings.
«Far away? Yeah! Means these guys are good specialists; or, rather, they have turned into good specialists,» says Mr Eggert. There are those who do a daily commute; others have been accommodated at relatives. «For seven years, men came to work from Rakvere, every day. But 12 years ago the plant moved to Jüri, the commute lengthening by 15 kilometres so the guys quit.»
«They come from afar as Hekotek pays decent wages, the work is interesting, and near home the specialists may not be needed,» explains Mr Eggert.
The Tartu and Palivere people live in Tallinn, with relatives. Folks from Rapla and Märjamaa, however, travel every day. «Usually, it's 60–70 to work, and the same back home,» says Mr Eggert, adding that the purchasing manager does a trip just as long.
Teet Habo works at a bending machine, in Hekotek, commuting from Kehtna. «I been working here for 11 years and one day I was calculating and I'm driving 30,000 kilometres a year just for the work. And over all of these years that'll be eight rounds around the world.»
«A well-to-do company should strive to only employ specialists,» said Mr Eggert. According to him, if skilled workers aren't around on the labour market, they need to be trained on the spot.
«Regrettably, the most basic specialists available on the market are not ready-made specialists for us,» said Mr Eggert. Every company has its own specifics, you see – its requirements, traditions, rules for conduct, and customs.
It's always a pity when an excellent specialist leaves, admits Mr Eggert. The Hekotek experience says: training a new one will take some half a year. «By that I mean retraining a so-called specialist to be our kind of specialist,» specified Mr Eggert who has abundant experience with metal-workers and welders. «The guys come around, stick their chest out – I'm an EU certified welder – and ask for the higher kind of Estonian salary.»
By the way, Hekotek organises family events for its workers. «That has kept us together, those that leave are relatively few,» says Mr Eggert. Some have left and then come back again – drawn home to Hekotek's good conditions and worker-friendly atmosphere. «It's not always the salary that matters most.»
According to Estanc chairman Raigo Tammo, labour shortage is keenly felt. First priority for Estanc is the highly qualified welders, as well as project managers and constructors with higher education. According to Mr Tammo, the best workers are found through the existing ones. «A satisfied worker is the best recruiter,» he explained. The firm has tried it a bit via job seeking portals, but these people may not stay. And, according to Mr Tammo, not all CVs are pure gold...
There are the people, says Mr Tammo, who daily come to their Jüri factory from Rapla, or all the way from Risti – in Lääne County.