Tallinn sweats, jolts and groans in traffic havoc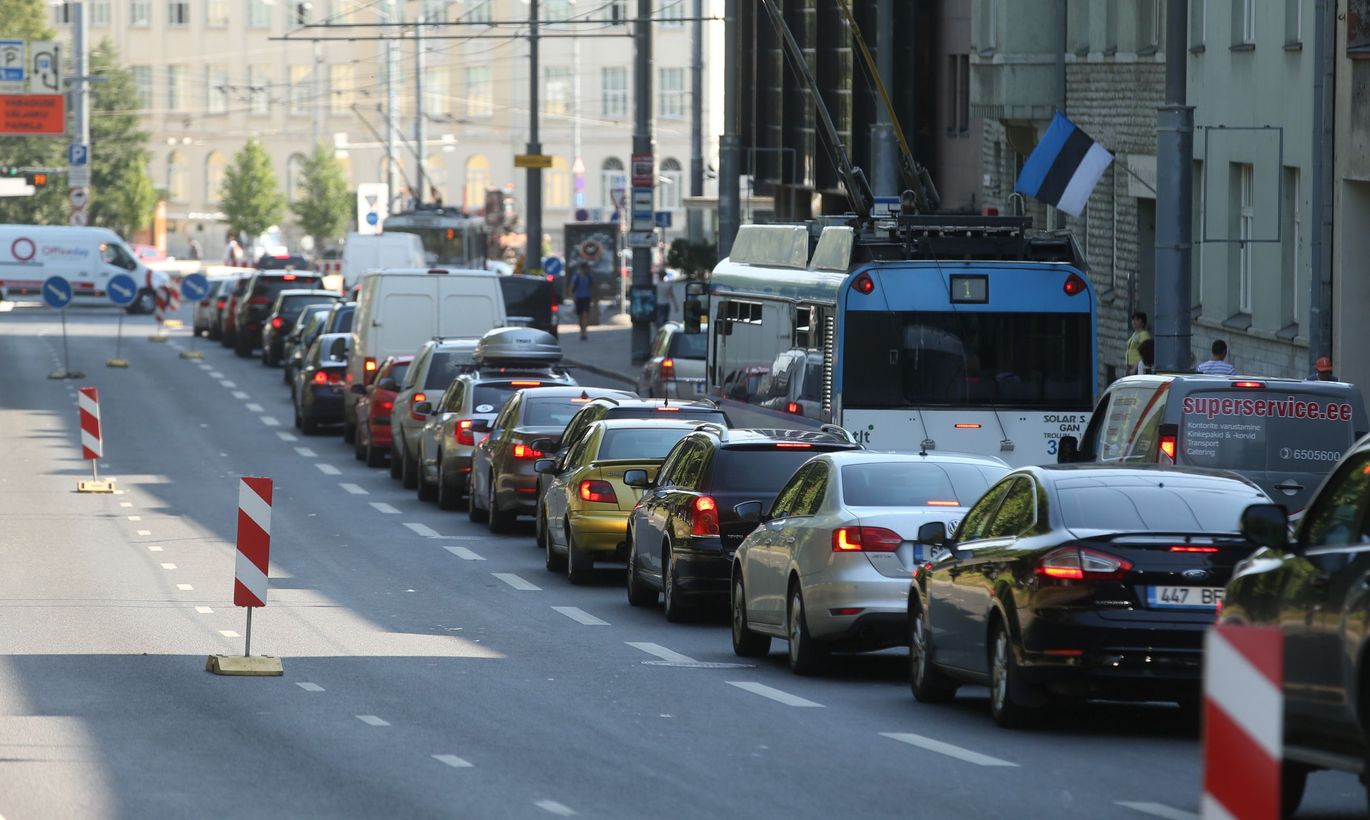 Job neglected by builder makes Tallinn city centre traffic worse than feared.
Long in advance, traffic controllers warned Tallinn would face increasing amounts of traffic restrictions starting yesterday. Never did they dream it would be this bad.  
«In the morning, we did have problems. The thing was, the builder was under obligation to set out temporary traffic signs according to traffic schemes, to order changes for traffic lights cycles, and to have traffic regulators located at the places prescribed for that. But, come Monday morning, we saw some things left undone,» said transport department traffic administration head Talvo Rüütelmaa.
«Regarding that, the transport department has initiated a misdemeanour procedure to clarify who exactly didn't do their job. At the moment, all our experts have set everything else aside and are tackling the things left undone,» he said.
Mr Rüütelmaa was mostly talking about the morning rush hour at Endla Street and Kaarli Avenue, which got quite jammed. «Freedom Square traffic lights programs were unchanged and that made things really bad. It was to be expected that the changes would make traffic conditions more difficult, but not as difficult as it turned out to be all over town,» said he.
Starting this Monday, Freedom Square has just one line each way from Kaarli Avenue to Estonia Avenue, across Pärnu Highway. The lines will have to accommodate both public and private vehicles. Driving from Estonia Avenue to Kaarli Avenue, the sole line will do a little bend and the long trolley-buses, for instance, are passing it at «speeds» that torment the others.
Alas, the standstill was not limited to the morning peak hour; till noon, the line of cars stretched from Freedom Square to Koidu/Endla St crossing. The scenario was repeated at the evening peak hour.
Morning jams were also impressive on Pirita Road and Narva Highway at Kadriorg towards the city. There, said Mr Rüütelmaa, earth moving has entered a phase where the alternating-line is not usable any longer at peak hours; therefore, he advises to avoid the place if at all possible.  
Starting this week, it is also prohibited for heavy vehicles to go from the port, via Petrooleum St, to Narva Highway. Nevertheless, many such were still spotted turning from Petrooleumi St to Narva Highway.
«This happens. Especially with the truck drivers coming from far-away lands and the GPS is showing one thing and the temporary traffic signs point another way. And having driven his large vehicle just a little off course, a driver will be in serious trouble adjusting it,» thinks Mr Rüütelmaa.
The day had its share of sufferings to those who take trams between Kopli and Lasnamäe. Namely, starting this week trams have stopped going altogether. Tram No 2 is substituted by a temporary Bus No 42.  
However, all buses that passed Tallinn city centre yesterday went on the so called free schedule.
«Trolleybuses, and buses that pass city centre are unable to stick to the schedule and they go as the traffic allows. The schedules just can't be kept. And that's the way it is going to be till the major digging is done,» said Tallinna Linnatranspordi AS press rep Urmas Tooming.
In near future, be braced for further squeezing in Tallinn traffic. Starting this week, the Viru Circle is also promised to only have one line each way. Yesterday, it was still business as usual over there...