Road Administration testing new type of speed camera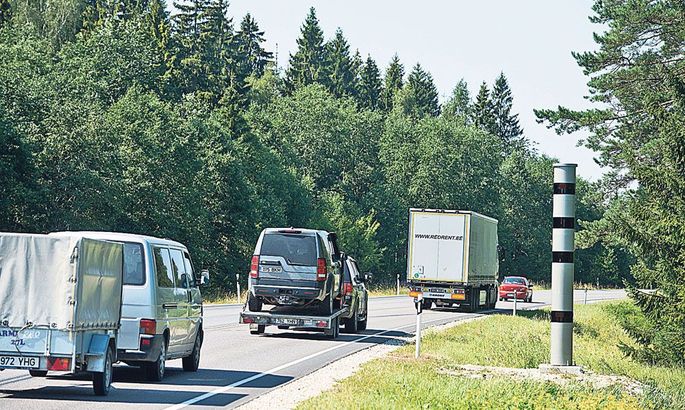 Not mass produced yet, the speed camera is based on current laser-based measuring technology.
On Friday, Estonian Road Administration set up a new type speed camera in Ardu, at Tallinn-Tartu Highway, for a test. By its appearance, the camera differs from current ones and will not do the red flash when recording speeding. 
«The testing period for the new camera will be up to three months,» said Siim Vaikmaa, a traffic management specialist at the administration.
As one drives from Ardu towards Tallinn, the test camera will be to his right. It measures vehicle speeds in both directions. As the ones currently in use, the camera is capable of measuring the speeds of several vehicles at once.
The camera is made by Vitronic (Germany). It is in test phase and not in mass production as yet.
While it does take the speed measurements of passing cars, speeding drivers will not be receiving tickets under the new camera's hand. Road Administration and Police and Border Guard Board are not storing the test camera recordings. As the test period expires, all recordings will be deleted.
«As this is testing a new system still in development, specific technical parameters cannot be presented,» said Mr Vaikmaa.
The speed cameras currently at Estonian road sides will «greet» a trespasser with a red flash as the camera shoots a picture of the speeding car. The new test version would just shoot and not flash.
«The test camera at Ardu is using an infrared filter unseen by human eye, to avoid disturbing road users with the flashes,» noted Mr Vaikmaa.
According to Mr Vaikmaa, it is too early to talk about the cost of the new camera –while it's development time. The cost will be evident after preliminary work and testing have been completed by Vitronic, and the camera is in production.
It is also too early to say if the new Vitronic camera would suit the Estonian conditions and if Road Administration will opt to start using them on roads of Estonia.
«Once the test period is over, the system is sent back to Germany. For new speed measuring systems to be used in traffic supervision, a thorough type approval process is needed in some EU state metrology agency. That, in turn, is precondition for type approval to be applied for, domestically in Estonia,» said Mr Vaikmaa.
Initial test speed cameras were set along Estonian roads by Road Administration on November, 2009. The first «working» cameras went into action, along Tallinn–Tartu Highway, on May 10th 2010.
By today, seven highways in Estonia feature 53 speed camera cases and 35 actual cameras – which are rotated between the cases. In 2013, police issued warning fines to 60,696 drivers caught speeding by the cameras.