Pocketbook puts brakes on excellent Estonian rally racers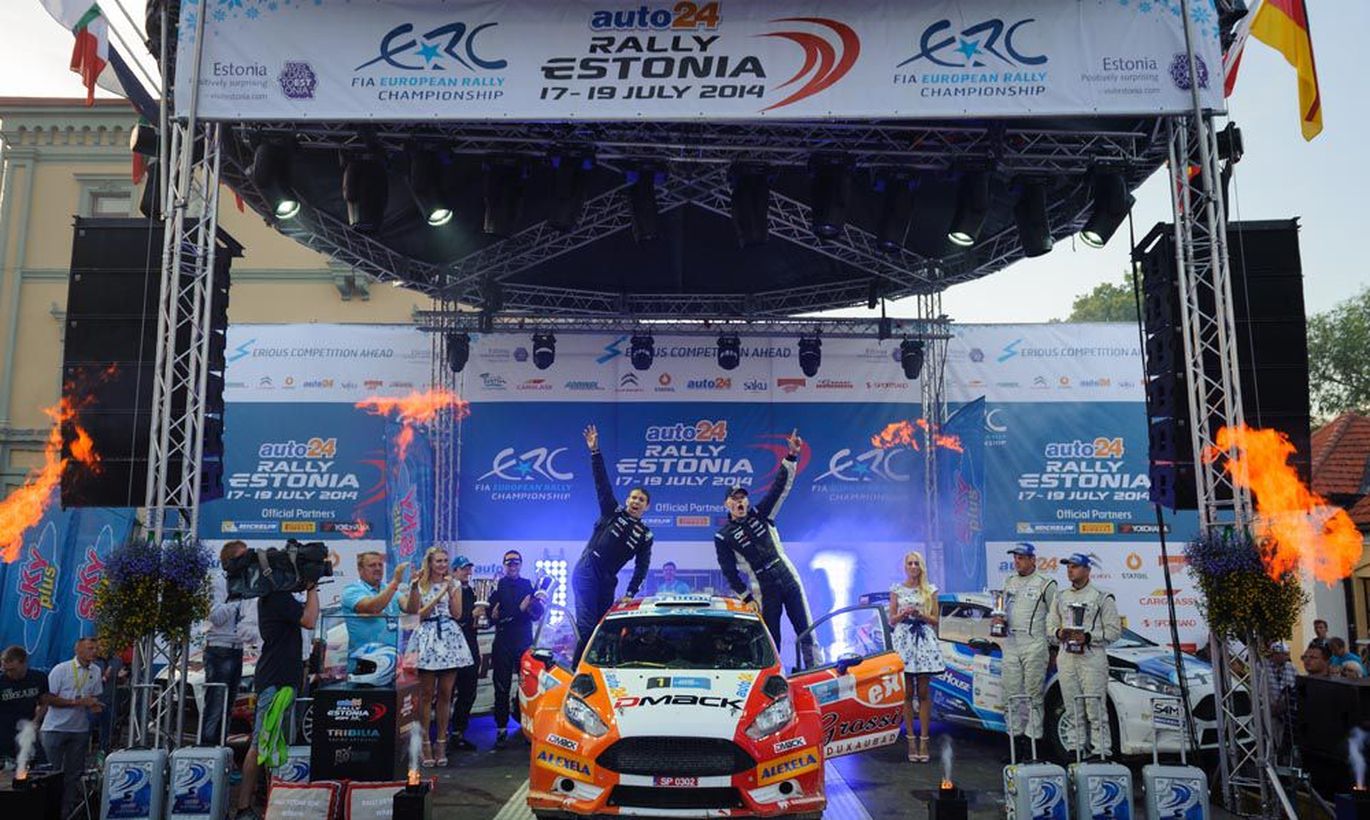 Rally Estonia, a stage of European championships, saw native drivers speed to glory.
«We don't know of our options to continue the season – the money has run out; there's holes even in the budget of this stage. Such a situation was depressing and caused tensions, as we knew we needed a good result… perhaps, this will help us to continue,» said Timmu Kõrge, having finished Rally Estonia. To the backdrop of the victorious race on roads around Tartu and Otepää, these words out of a hero of it, from Saaremaa, sounded especially sad.
Alas, this is the grim reality of Estonian rallying. Mr Kõrge's complex situation is a reflection of many a rally driver in the nation – possessing the skills to make it to the top, options are cut to near-zero lows due to emptiness of pockets.  
The dominance of Ott Tänak at Rally Estonia was in the air even before the stage begun. Even so, the overall ERC-series leader Esapekka Lappi, enjoying the benefits of Škoda factory team, was predicted a sure place among top three – among others, by Estonian Autosport Union president, former world champion Ari Vatanen, who even thought his fellow Finn could compete for 1st spot. What took place at the two days filled with special stages was altogether different.
There was nothing the 23 years old Mr Lappi could do against the fastest of Estonians. On the contrary: the Finn publicly proclaimed his amazement at how fast the locals could go on these roads. Indeed, for the thousands of fans gathered at the roadsides, the ERC rally – a first for Estonia – proved a marvellous feast.  
Mr Tänak, and his co-driver Raigo Mõlder, were a class by themselves and took a sure victory. Of other Estonians, Mr Kõrge and  Rainer Aus – a mega surprise on a Group N car – also came ahead of Mr Lappi.  
Add to this Egon Kaur and Kaspar Koitla who quit on opening day due to technical glitches but bounced back on day two and did a wonderful drive; Martin Kangur, the qualifications winner yet driving off the road on third special stage; and Karl Kruuda and Siim Plangi both plagued by technical issues – we have a decent bunch, all of whom could compete for high awards in ERC or WRC2 series.
In reality, it is only Mr Tänak, Mr Kruuda and, perhaps, Mr Kangur who can compete at that level.
Even before the start of Rally Estonia, Mr Kõrge  said he wanted to prove his class, pressing between the internationally recognised drivers. Driving at 2nd spot almost the entire distance and only dropping to being 3rd during the last special stages, they did a tremendous job with co driver Erki Pints.
«Before the rally, we wouldn't dream of coming among top three, so 3rd place is very good indeed,» said Mr Kõrge. «I have not really done such a lengthy rally before, but we managed to stick in there. I believe we made a mark and, thankfully, the car stayed intact – it can only get better from here.»
Meanwhile, Mr Kõrge could not speed with an easy heart. While marvelling at how the Russian Aleksei Lukjanuk who finally got ahead of him to place 2nd managed keeping his Group N Mitsubishi on the road at such speeds, he had to be ever so mindful to take his car over the finish line in one piece. The budget, in the red as it was, would otherwise been totally destroyed.  
«Now we must see what our supporters say – do they have anything to add to the budget or not…» mulled Mr Kõrge, who also happens to lead Estonian championships at the moment, before stepping onto the podium in Tartu city centre.
Rainer Aus, after a mighty start on opening day, took it easier after that, mainly focussing just to keep ahead of Mr Lappi. Driving with meagre means and just two guys to service the car, he was afraid the final spurts would have dealt a deadly blow to his ancient Mitsubishi.
In days ahead, Mr Aus will take an honest look at his financial options; already, he's basically convinced that all he is able to do is the Estonian championships.  
Egon Kaur has, this year, driven one WRC stage. Having destroyed his vehicle, he had no more money to race at that level. At Rally Estonia, the car engine failed him during special stage No 3; as he continued, on Saturday, with co-driver Erik Lepikson he again developed excellent speed. Awarded the «parallel» Estonian Championships Group N 2nd place.
«Well at least we got something out of this rally,» noted Mr Kaur, gazing at the cup gotten as trophy. «And, actually, we also got lots of confidence – for the times to come.» Regrettably, the confidence will only be used driving domestically.
Kaspar Koitla, having broken the radiator on opening day, did the second day special stages at top three level, thus proving he was – at least at this event – ready for the big league.
According to Mr Koitla, he could drive on higher levels indeed – having the finances. As things stand, he aims at winning the Finnish championships – over there, Group N winner will be awarded a €25,000 car. With two stages to go, he's mere 1.5 points behind the leader. If only he could win the car and sell it! That would be a decent seed for next season budget...      
Meanwhile, Estonians aren't the only ones plagued by lack of funds in the ever so expensive rallying. The Russian Aleksei Lukjanuk is faced with the same financial wall.
«Sure I like to put myself to test at some bigger competitions, but for that I would have to find new supporters. I am going to the Finnish WRC, but only as a spectator,» admitted Mr Lukjanuk, adding that 2nd place at Rally Estonia was a brightest spot in his career so far. «I'd only compare that to the overall victory at Saaremaa rally, in 2012. For me, that was a milestone.»