Report reveals Tallinn trash business blunder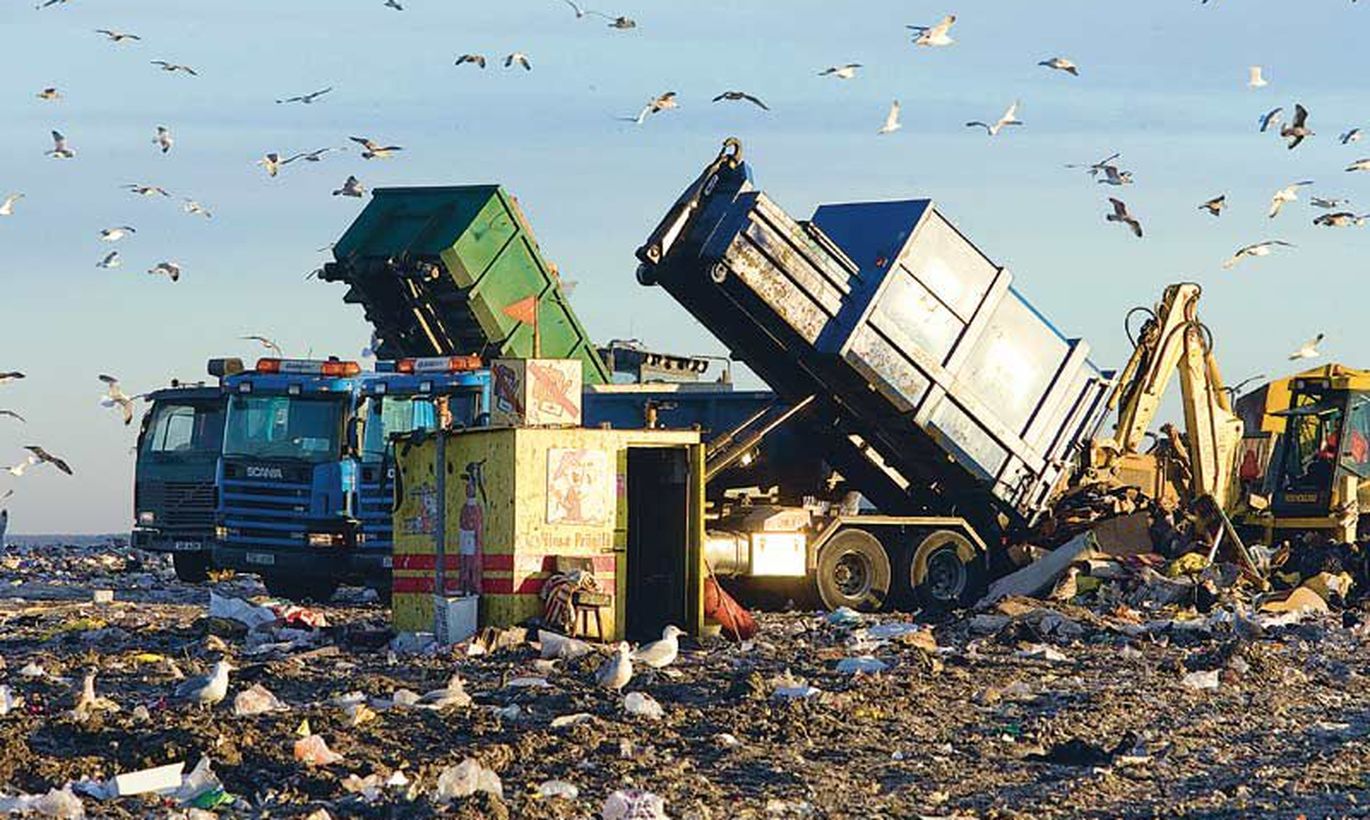 Desk drawer of Edgar Savisaar hides analysis, ordered by his very self, casting doubt on accomplishments of vice mayor Arvo Sarapuu.
In near future, Tallinn internal audit department intends to turn spotlight on waste management in town. The mayor Edgar Savisaar, reputedly a figurehead in Estonian politics, started smelling something foul as early as end of last year.
By the reform pulled by Arvo Sarapuu, smaller bills were promised as refuse collection was now organised by municipal waste centre. However, the opposite proved true: invoices penned by city officials bore numbers a lot larger.
An analysis ordered by Mr Savisaar by last November revealed that while in 2011 the city had such success with trash collection procurements that in some districts the price was halved, things went into reverse under Mr Sarapuu.
«To this very day, the favourable service prices offered in 2013 by Tallinn environmental department's new waste segment managers (i.e. by Arvo Sarapuu and his personal friends [waste centre head – edit] Kertu Tiitso and [environmental department head – edit] Relo Ligi) have not been offered to townsfolk,» reads the report.
As alleged by author of the analysis, procurements with waste carriers and processors offering good prices were indeed organised. Even so, contracts for city districts were not entered. In North-Tallinn, where carriage is organised by the municipal environmental department waste centre, emptying of an 800 litre container cost a third more than in Lasnamäe, where the centre is not mediator. «Tallinn environmental department takes a very large share of service fees paid by North Tallinn dwellers – as commission for mediation,» claimed the analysis.
«The inefficiency of the city department is reflected in the fact that during these past two plus years, only one city district has been switched into the scheme – North Tallinn. Thereat, eight officials are working with administration of North Tallinn waste transport! In reality, there should be one or two, definitely not more.»
According to Mr Sarapuu, the criticism is nothing but lobby work by trash carrying companies desiring to maintain the good old system expedient to them.
«I think creating the waste centre was right; I will stand by it no matter the disputes that arise,» said Mr Sarapuu. «The trash firms want to show that by creation of waste centre prices would be higher than on free market; but they do their pricing so as to make city centre dwellers pay for trash transport in Lasnamäe.»
The staff at city waste centre, says Mr Sarapuu, only looks large at the moment as the agency indeed administrates just one district. But by the end of the year already, North-Tallinn will be joined by Kristiine, Haabersti and City Centre. «The problems raised in this report date half a year back, and by now they have largely been solved,» added Mr Sarapuu.
From mayor Edgar Savisaar, in Singapore at a global convention of mayors, no comments were available yesterday. Neither did the mayor's economic and environmental adviser Tony Smitt desire to say anything. Tallinn's internal auditor Arvo Teder, however, assured us he would turn the spotlights on city waste management at the end of 3rd quarter, and to make his stand known by end of year.  
Vakra smells hidden trash tax, in Tallinn 
At the moment, trash lobby is pressing a Waste Act amendment in Riigikogu which would make the waste centre based system by Mr Sarapuu impossible. «The current act allows the waste monopoly that Tallinn is creating to enforce prices that defy any market logic. Clearly, this is a hidden trash tax which Tallinn dwellers cannot turn down. We are aiming to put an end to Soviet times where prices were set arbitrarily on state level,» explained Riigikogu environmental committee head Rainer Vakra, at their meeting yesterday. «Should they so desire, local government may continue to organise waste transport in cooperation with neighbouring local governments, by awarding such powers to an ASBL or a foundation, for instance. The only amendment is that a local government subunit may no longer ask for commission from inhabitants for its activity.» Environmental committee decided to send the bill to be read at plenary meeting on June 11th. Waste Act amendment is supported by Central Union of Estonian Property Owners, Estonian Employers' Confederation, and Estonian Waste Management Association.
•    Of the eight districts of Tallinn, trash transport has only been legally organised as waste transport in two; the city has lost overview and control over waste transport.
•    Waste transport lacks professional management and decisions are guided by personal interests, not needs of inhabitants; people with experience are forced to leave environmental department.
•    In the districts of City Centre, Haabersti and Kristiine, transport contracts are missing to this date.
•    Because of the poor functioning of waste centre, North Tallinn's waste transport fees are 20–59 percent higher than in Lasnamäe, and 26–148 percent higher than in Harju County communes.  
•    North Tallinn client contracts contain the very extra fees that the environmental department has earlier criticised regarding private companies.
•    Iru Power Plant started to import waste from England and Finland, as Tallinn environmental department – one awarded a favourable price offer – has failed to enter waste transport contracts in city districts and is therefore unable to supply the power plant with refuse.
•    The capabilities of the new waste transporter Ekovir, in servicing City Centre, is poor.  
Argo Luude, CEO of Veolia Environmental Services Estonia
When market is liberated, prices may pose surprises, as containers with certain volume may cheapen a lot while other volumes become much more expensive. The order now imposed on Tallinn waste management and already operating in North Tallinn is like a distorting mirror. Could you imagine that you are used to draw out money from an ATM, by yourself with a card. One day, however, you find an official standing there, who grabs the card, and draws the money out for you – for a commission. With the environmental department waste treatment, a first has happened in Estonia: a monopoly may set price without having to coordinate it with anybody.
Urmo Heinam, development director, Iru Power Plant
Indeed, our gate fee for refuse to be burned has risen, because we cannot be sure of amounts sent by Tallinn. At first they got a favourable price, but they have not been able to bring the expected amounts. We cannot say that the city has outright violated the contract, as otherwise we would make much more noise. But we did start importing refuse as, unexpectedly, there came the moment when local material was insufficient.