Mattias Lepp – godfather of the smart flowerpot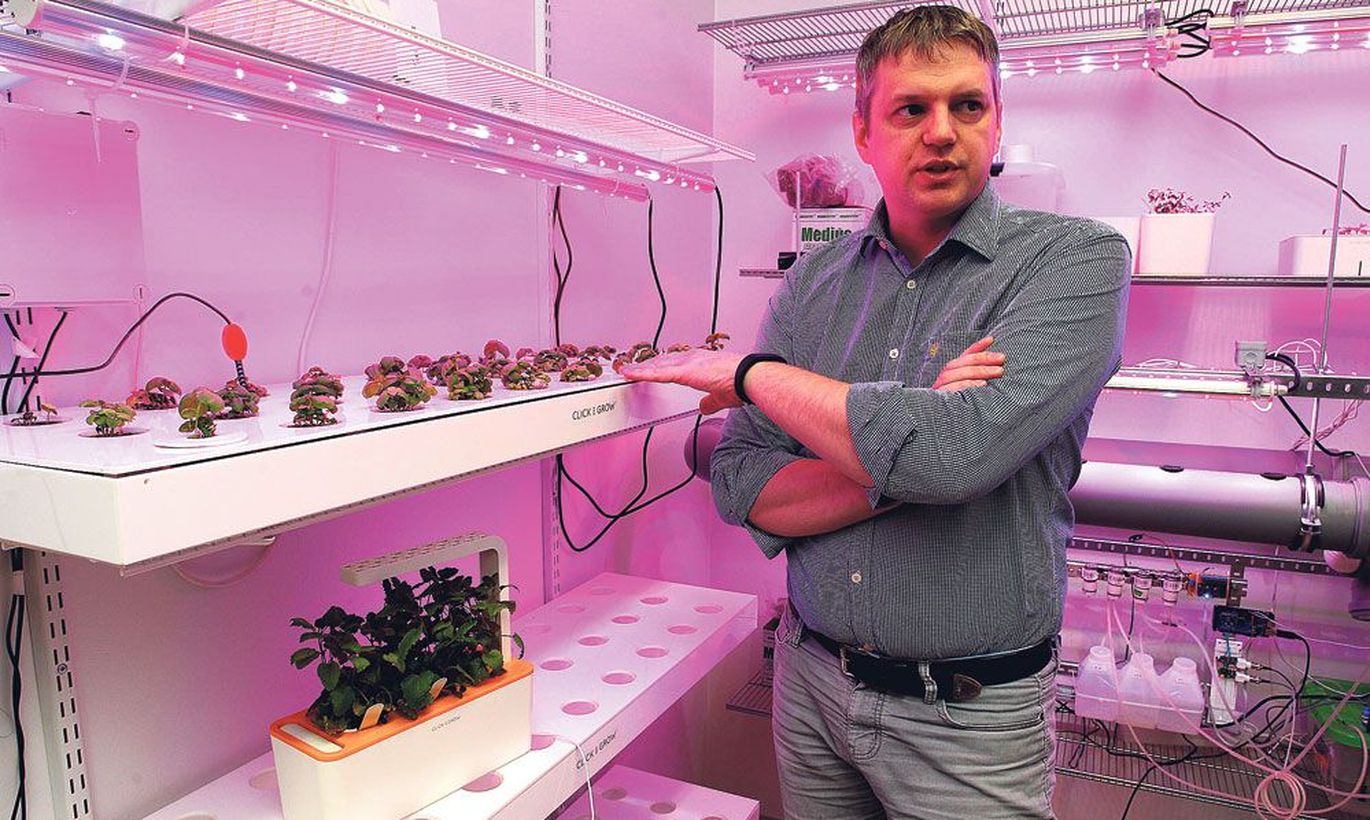 Mattias Lepp, the Click and Grow owner with winds in his sails since the Ajujaht TV «ideastorming» competition of four years ago, has hit rock bottom as businessman. He's back in the saddle again, though – doing better than ever.
On Tuesday, last week, Click and Grow jointly owned by Mr Lepp and his wife Helen Rägo, stormed the US marker with the brand new product called Smart Herb Garden – growing herbs humans need to eat. The firm's groundbreaking maiden product, the smart flower pot Smartpot, sold about 150,000 in three years' time. Mr Lepp hopes the new one will sell 300,000 before this year is done.
Of the global reach of the company based in Tartu, one get's an idea by the product being on sale in the giant Virgin Mega­store chain, as well as the planet's largest shopping centre Dubai Mall. At the end of 2013, in its rich list, Äripäev placed Click and Grow on 144th spot, assessing assets of Mr Lepp and Ms Rägo to total €16.4m.
Surprisingly, the Tartu-dwelling «millionaire» drives a Honda, his French philologist «millionairess» sits in a Suzuki. No Lexus, no Ferra­ri, no ... And being counted among the rich makes Mr Lepp nearly burst with belly-laughter.
«Don't take that table too serious. I don't feel I'd be among the wealthy, in Estonia,» admitted Mr Lepp, in his faded jeans and a totally ordinary shirt. The company office, at Fortuuna St, isn't exactly boasting with leather chairs. Before the reporter paid a visit, a table-tennis net was hastily unscrewed from the large meeting-room table.
Still, the newspaper Äripäev wasn't too wide off the mark: as admitted by Mr Lepp – Click and Grow's worth a lot. «These top-lists do depict the company worth, not how much we have on the bank account. But if you'd ask now, I think we're worth a lot more than offered by Äripäev,» explained Mr Lepp.
To prove his point, Mr Lepp shares future plans for the company – which are impressive. «We are clearly headed towards food production. It's our vision that, in 5–10 years, Click and Grow is world No 1 when it comes to development of technology for growing food in town. With the selfsame technology, we will also enter medicine and will grow plants used for pharmacy, for instance,» said Mr Lepp.
According to Mr Lepp, by now already they have had sci-fi type breakthroughs and developed technologies allowing growing food plants 4-5 times faster than in soil. In addition to that, the Click and Grow allows using 90 per cent less water to grow plants, as compared to ordinary agricultural settings.
The main developmental work of Click and Grow happens in university labs; even so, the firm does have its little «garden» at the office: the beds being white plastic shelves, each sitting 30 plants. The shelf is tapped into the city water system and needs practically no care. «From time to time I take a look at them over the Internet, but not every morning,» said Mr Lepp, pickling a little leaf from the basil bed.
In a way, the Click and Grow success story was birthed as, years ago, Mr Lepp happened to read a NASA report on a Mars-mission. Among other things, plants production devices were planned for the space, needing no soil.
«Looking at these pictures, I got interested; my first devices I did make after the NASA drawings. That wasn't too hard, and after a while I had tomatoes growing in my room, in mid-winter,» recalls Mr Lepp.
Next, he happened to read an article on how every year the world over house plants worth $30bn are discarded, because people do not know how to grow them.
«Then I thought: If that's a big problem, then why not deal with it more seriously,» said Mr Lepp, who had been far from a genius back at school. «I liked physics, languages and literature; but in math and chemistry, for instance, I was rather weak.»
In 2010, Mr Lepp, educated as a choirmaster, participated in the TV programme Ajujaht. «That was quite by chance, I read the ideas and they all sounded so terrible. But I'm not one to criticise others if I can't come up with something better myself. In the end, I did offer two ideas and happened to be among the chosen ones,» he said.
According to Mr Lepp, that was quite a shock for him as he realised that, after winning, he actually had to start developing a smart flower pot. «By now, Click and Grow is already a company known in Estonia also; but back then, no-one had heard anything about that,» said Mr Lepp.
By now, Mr Lepp has gotten rid of the idea of there being the good and the bad ideas. It having been proven that the funniest ideas may become true. In his opinion, almost any idea at the Ajujaht show could, in some context, be a success. But there's no guarantee.
At the moment, ten people are employed in Mr Lepp's company. The products are assembled in Hiiumaa. From there, they travel to central storehouses all over the world, whence retail chains take them to the stores. The largest markets are USA, United Arab Emirates, and Russia. The selection includes tomato, strawberry, pepper, lemon balm, basil, thyme, and lots of flowers.
According to Mr Lepp, people want ever more of fresh food, the trend towards healthy eating being tremendous. In the future, everyone could grow a smart flower bed in their apartments, providing them with daily salad, tomato, or herbs for tea.
«It is no longer the issue whether we will be using a technology like that, it's just the matter of how quickly we're able to do it,» said Mr Lepp. He underlined he's trying to eat as healthy as possible and take care of his health. For instance: around his wrist, there hanks the smart Jawbone, registering all his steps taken throughout the day, calories eaten, and hours spent sleeping.
Though Mr Lepp works 12 hours a day, the family still demands time. «We have a saying at home that there's the three kids: the son, the daughter, and Click and Grow. Alas, I'm dealing with the latter from dawn to dusk,» laughed Mr Lepp. Still, he's trying to spend more time with the real children.
Needing to recharge his batteries, Mr Lepp heads for the woods or swamps, to spend nights there – in the middle of winter. «I love hiking and, as opposed to the ordinary Estonian, I love cold,» said the businessman, a Tartu chap his whole life long.
«Tartu is a cosy spot, as living environment,» he noted. He desires to bless the city with an international competence centre. Mr Lepp aims at keeping the staff at his company as small as possible; even so, he predicts that in three years' time, it will have already tripled.
• Born: January 7th, 1976.
• Education: Tartu Karlova Gymnasium, H. Eller Music School, G. Ots Music School (choir conducting).