Entrepreneurs of Estonia: vaccinated by Russia, against Russia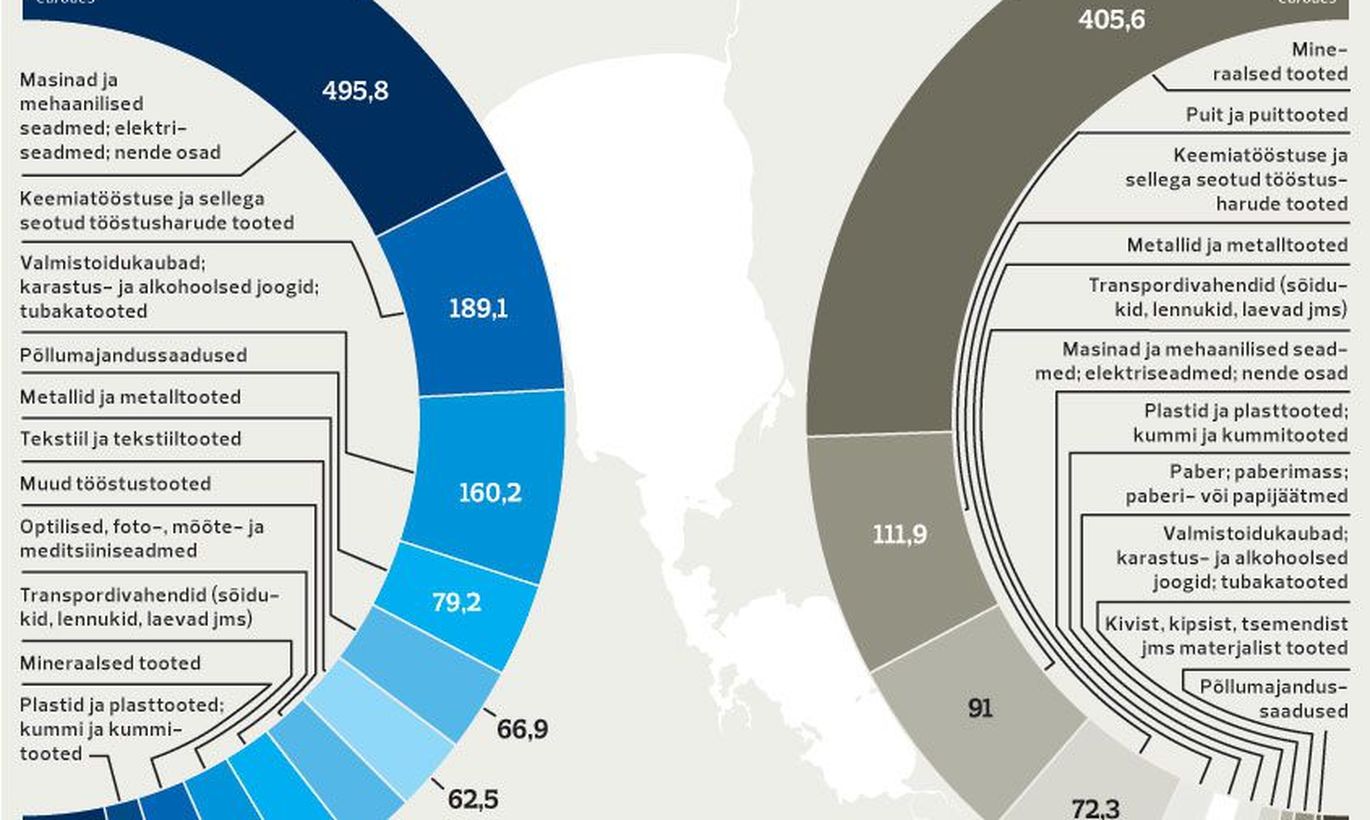 Above all, Estonia sells food products into Russia, while mostly buying their gas and petroleum oil.
Increasingly, the forward march of Russian imperialism triggers the question: what if... What if Russia, for instance, closes the gas taps of halts Estonian firms' export towards the East?
In the 1990ies, Estonia teemed with businessmen boasting in the excellence of their knowledge of Russia, offering themselves as bridges between the Wild East and Civilised West. Alas, despite their Soviet background, these guys were miserably whipped in Russia. Today, one no longer runs into the I-know-Russia-roosters around here. Even so, some do go quietly about their business, the boldest perhaps selling some two dozen percent into the East.
For producers, selling into Russia is oh so attractive, as over there they can turn up the price. Sadly, the red tape and the risk to be cheated are real hard on the nerves. As assured by Lääne-Viru pig farmers Urmas Laht or Saaremaa Piimatööstus chief Andi Saagpakk, in comments at the end of this story, Estonians have almost developed a reflectory ability to redirect their entire production to other markets, in a few weeks – once the Russian officials or politicians again resort to bullying. Thus, our businessmen are quite cool concerning possible trade sanctions by Russia.
Last year, Russia's share in our imports fell to the historic low of 5.8 percent. In 2006, it still amounted to 13 percent. In exports, however, Russia answered to 11.4 percent. For contrast: Lithuania imports close to 30 percent of its goods from Russia, while exporting thither a whopping fifth.
While, in the last decade, Estonian imports from Russia exceeded her corresponding exports, it's the other way round now – last year, we sold them for €1.4bn, the Russians responding with mere €787m worth of goods – over half of which, €405m, cane in gas and petroleum oil.
For Estonia, Russia is essentially a source for raw materials; at that, less and less of gas is being purchased, as the Eastern neighbour is charging more of us as the very Germans. Should Russia close the gas taps tight, with spring in the air Estonia would have the same kind of a laugh as Putin's cronies at current EU sanctions. With Latvians, their vast gas storage will last for three years; for Estonia and Latvia both – for two years or so.
According to economist Raivo Vare, it's comes with the territory, to get one's fingers burnt in Russia. «Having a big partner, you can do giant business – in our terms – with a one-off transaction; on the other hand, all may break down overnight,» he said.
Next to gas, the import item No 2 is timber and products made thereof, last year amounting to €112m. Added the chemical products imported (for €91m) and metal/metal products (€72m), whatever is left is marginal.
Meanwhile, the Russians still value our food products starting with curds and ending with Vana Tallinn. Dissecting the food exports, line by line, alcohol was our top export item to Russia last year with €124m, followed by cheese and curds (€27m). According to Eesti Pank economist Kaspar Oja, a lot of West-European alcohol goes to Russia from Estonia, just re-bottled over here.   
Next to the cheese-curds duo, some milk, cream and frozen fish was also headed towards the rising sun. All things food, from live animals to ready-made vinegar, amounted to some €240m of total exports. «Among food products exported by us, quite a large share is produced by ourselves,» added Mr Oja.
From there on came metal and metal products (€67m), textiles and textile products (€62.5m), all kinds of fine devices from photo cameras to medical equipment (€54m), and means of transportation (€53m). Of our traditional industries, furniture also stood out with €42m.
As opposed to food- or furniture production, exports of means of transportation does not create significant added value (read: jobs and money) to our economy. «The machines are brought here, adjusted somewhat cosmetically perhaps, and taken on to Russia,» explained Mr Oja. «Lots of goods exported to Russia are re-export by nature, with obviously a marginal effect on Estonian economy.»
Postimees asked Chamber of Industry and Commerce for top ten of Estonian exporters into Russia, but the chamber had no such data.
In Ida-Viru County, we have the large fertiliser producer Nitrofert, owned by the Ukrainian oligarch Dmytro Firtash. In the autumn, the plant with 400 on payroll was temporarily closed, thus remaining till spring at least. The galvanizing plant of Arcelor Mittal, also largely depending on Russian market, (formerly: Galvex Estonia) is still somewhat stuck. Thus, our Russian-directed business remains quite low-key.
According to Mr Oja, what needs to be feared above political risks is that Russian growth settles for long-term stagnation, thus leading to no growth of demand from us. Mr Oja said that the worsening relations with Russia may not only hit export of goods, but also sellers of services. 
Raivo Vare said that the rouble was currently getting cheaper, undermining competitiveness of our goods in Russia. «If they are limiting [anything], they are rather limiting transit via Estonia,» said Mr Vare. Even so, Russian transit through Estonia has by now shrunk to mere five-six percent of GDP.
«I think that our entrepreneurs are surely affected, in Russia, by the so-called grass-roots attitude as well,» added Mr Vare. «Whatever you do, in Russia you have to deal with the bureaucrats, who have been pre-tuned towards us in a certain way.»
Experience of Estonian entrepreneurs in Russia
Toomas Kruustük, CEO of meat plant Nõo Lihatööstus
Since January last year we have sold next to nothing to Russia, as we chose the European direction. Regarding Russia, we have experienced enough of the good and the bad, many times over. More prudent to direct one's efforts to neighbouring countries and to Germany.
Well, all industries are seeking for markets and we initially got burnt in Russia in 1995, as double customs duties were initiated. Already then we agreed that we would never let exports to Russia exceed a quarter of turnover.
And, lo and behold, inspectors did arrive from Russia, at the end of last year, closing down fish and milk industry exports for many. For several of them, this was a very painful experience.
With Russia, it's like when they want the goods, they want vast amounts; and while today they take much, tomorrow they take nothing. But one can't build a strategy on that.
Whoso has the chance to sell into Russia, let him do it; but get the money first. A few years ago, a Western European company built with the sole aim to export into Russia; what didn't come were the orders. The plant went bankrupt.
Enn Veskimägi, CEO of furniture maker Standard
We export all the way to Central Africa, a project in Oman is coming. We are connected to hotel chains and supply them furniture.
Via international hotel chains, a part of our production also makes it to Moscow. Perhaps two-three projects a year quietly go to Russian market. For instance, we built furniture for one hotel, prior to Sochi Olympics.
In Russia, there's a tremendous lack of hotel rooms, and the market is growing. It is rather the soft furniture producers of Estonia that export into Russia. Actually, all are interested in the Russian market, it being so vast.
Andi Saagpakk, CEO of the dairy industry Saaremaa Piimatööstus
Right now we are not selling anything into Russia; but before these inspectors came we sold a half of our production there, broadly speaking. Well, we had not dispersed our risks. At the end of the year, they found faults, and export into Russia fell away.
It's one thing to impose requirements on import products, another thing how these same things are being produced in Russia – these are two different worlds.
We did not have to lay off workers; even so, we are forced to sell some of the milk purchased from cooperatives just as milk and thus the added value is lower – as we make less cheese. Also, currently, we produce milk powder as ordered by others.
Still, more milk is being produced in Estonia than we ourselves consume, hence the need to export. For the products that went to Russia, we got better prices than from elsewhere. Also, our Russian partner was trustworthy and all payment schedules worked – for two entire months, we haven't sent any goods there, but we still got all outstanding payments to the penny. They are longing for our cheese, in Russia...
Ain Antons, CEO of trailers-maker Respo Haagised
From the mid-2000ies, we have a subsidiary in Russia, doing OK, but for the 20 percent drop of the Rouble that ill affects us. This year, we have been forced to raise prices for trailers, in Russia. The trailers are assembled from parts sent from Estonia, near Gatchina, and are marketed all over Russia.
It is very important who is in charge of the company over there – the director of the subsidiary is 25 percent owner of it. They have about two dozen of staff. If the local partner isn't trustworthy – expect no success. Of our total turnover, the Russian subsidiary provides 13 percent.
Our product is indeed more expensive the Russian trailers, but it's also better: they have clients over there who are willing to pay more. According tour knowledge, Respo is the bestselling foreign trailer brand in Russia.
The Russian bureaucracy is maddening – while, usually, writing an invoice is something you just do on the side, in Russia it's a job on its own, takes the whole day.
Looking at our Russian website respo.ru, it clearly states this is an Estonian-Russian joint company and the trailers have been developed by Estonian engineers. In the gates, the Estonian, Russian and EU flags are proudly hoisted. We are not intending to take major risks in Russia, and aren't predicting steep growth.
Urmas Laht, CEO of Viru County pig farm Markilo
There was a time I sold 99 percent of live pigs into Russia, but two years ago the market was closed down. They said cows had a kind of a fly that infects cows and they claimed that with a truckload of pigs the fly may travel to Russia, in neck cavity of a pig. Actually, these flies were found in Southern Europe.
Still, they also came over to inspect Estonian farms and found lots of faults – so that was the end of it, and exports of live pigs are stuck till today. So we took quick action, as a pig is no boot that you stick on a shelf, to wait for better times. In two-three weeks, we were able to make a turn towards the European market. Today, I'm alive. Right now, I sell into Latvia, Lithuania, Poland, with the first loads also going to Germany.
2011 was the glory days of export into Russia; then, 170,000 – 180,000 pigs went there i.e. 20–25 percent of the total production. Once the money was transferred, the next morning hogs were on the road again.
One needs to sell to where it's most profitable. Surely, in Russia a pig made much more money than in EU. For seven years, pig farmers could sell them live into Russia, and it was quite a boost for our pig farming. We earned 40 percent more on a live pig than now.