Ilves: era of peace is over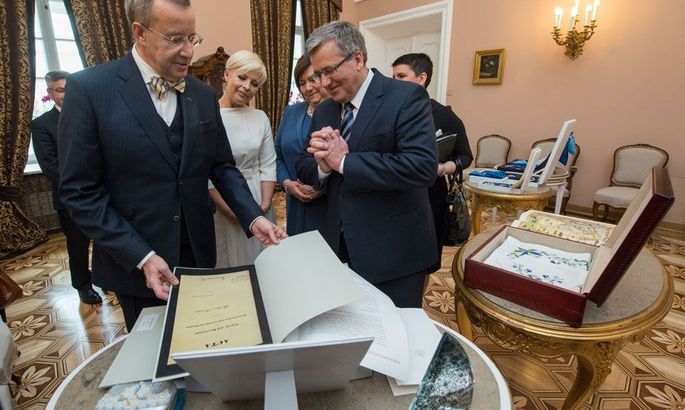 Representatives of Estonia and Poland express deepest concern over wider implications of events in Ukraine.
NATO, for a while turning its gaze to regions far away, must again concentrate on defending its very self – gone is the age when it was hoped that Europe had embraced a great love for peace and danger no longer existed. This was the message sounded again and again by President Toomas Hendrik Ilves, meeting after meeting, while on state visit to Poland since yesterday.
«We begun to plan this visit many a month ago; doubtless, however, it seems to have been ordained by the Lord God for us to be meeting right now,» noted Mr Ilves, at the start of the day, at a press conference in Warsaw presidential palace with his Polish colleague Bronisław Komorowski. «I am very thankful that we decided upon this very week, to come here.»
Mr Komorowski, who had been the first to speak, made no secret of what their main topic would be. «We see Ukraine as part of a larger problem,» said he. According to Mr Komorowski, the problem is the project, openly declared by Russian president Vladimir Putin to establish the Eurasian Union, to compete with the European Union – the one he is now trying to achieve by force.
To the dozens of journalists gathered at the palace, mainly Polish ones, Mr Komorowski reminded that their country and the Baltics are linked by joint NATO defence plans. «This also serves to explain out participation in Baltic air security programme,» added the head of Polish state. The next rotation of Poland, which has guarded the Baltic air before, starts already in May.
«We understand one another,» noted Mr Ilves, standing at Mr Komorowski's side. «Today, again we see how we both are receiving messages in which some of our colleagues admit that they didn't take us too seriously, but now they realise we were right.»
«Poland is the only large country understanding the term «mass deportation». Through the tragedies of our countries, we have arrived at a greater mutual understanding,» said Mr Ilves, then coming to the dark times now upon us.  
«Looking around, we see that Estonia and Poland share the same understanding of what the responses should be, what the countermeasures should be to an illegal occupation, to a think I would call occupendum – combining «occupation» and «referendum»,» he told those gathered at the palace. «The countermeasures must be strong.»
The period when the slogan was that NATO must turn its sights outwards of its own territory, or cease its activities, is over, observer Mr Ilves. «Not because our activities, but because activities of others,» he specified.
«It lasted for a generation. We are at the start of a new era,» noted the Estonian President. «I would not like to give it a name, but we can call it realism. Meaning: we must forget the grand slogans and wishful thinking.»
The initial plans for NATO's Wales summit, this fall, were moving towards the faraway, to the end of Afghani war, to be more specific. Now, said Mr Ilves, it is clear that the topic will rather be returning to self defence and Article No 5.
«20 years ago, there was the slogan that NATO should either start acting outside of its own territory, or cease its activities. Then, people did not know what to do with NATO,» said the president, adding a warning: «We'd better come back to our region now, and in a hurry!»
In light of the ominous events in Ukraine, another high level meeting was added to the president's programme yesterday, by just a few days notice. Namely, the Polish capital hosted a meeting between President Ilves and the US Vice President Joe Biden, in Europe to encourage allies living next to Russia.
Mr Biden, meeting both Latvian and Lithuanian heads of state in Vilnius tomorrow, said he'd come to Warsaw and Vilnius with the goal of once again confirm that the Americans stand loyal to NATO's collective defence principle, and its Article No 5.
«I want it to be totally clear, what it means for nations of Estonia and all the Baltics. President [Barack] Obama and I view the NATO base agreement article no 5 as an absolutely solemn commitment which we will honour,» vowed Mr Biden, repeating once again: «Which we will honour.»
As a definite example of how serious article five is for the United States, the Vice President underlined that within these past weeks they have brought considerable numbers of warplanes to secure both Baltics and the entire region, both to the Zokniai airbase in Lithuania, and to Poland.
Even so, Mr Biden said the Americans were not going to limit themselves to adding fighter planes. A whole list of additional steps are going to be taken, to enhance and increase cooperation – including the sending of US soldiers into Baltics, for infantry and navy exercises and training missions.
«And may God bless the people of Estonia, and may God protect our troops!» prayed Vice President Joe Biden as he wound up the crowded press conference at Marriott Hotel, in Warsaw, with numerous US reporters also in attendance next to local ones.
Even more forcefully than earlier, while standing by the side of Mr Komorowski, Mr Ilves declared that the times of danger-free Europe are over. «The East-West relations need to be set on a new foundation. We, in the NATO, need to draw our conclusions from Russia's behaviour in the current crisis. We need to review the whole scope of the NATO-Russia relations,» he noted. «The good-will basic principles of 1997, the NATO-Russia Council basic principles are no longer valid. There's no longer any respect for territorial integrity or transparency.»
According to Mr Ilves, he and Mr Biden also talked about European current response to Russian behaviour. «Europe has responded, but we in Estonia, as well as some other countries as I understand, think the response must be stronger,» he stressed. «The response must not be based on gas prices, rather on common values.»
In addition to Mr Komorowski and Mr Biden, Mr Ilves also yesterday met with the Polish foreign minister Radosław Sikorski – one of the foreign ministers of three major European countries who, at the height of the bloody events on Maidan, flew to Kiev for several days to solve the crisis.
Today, President Ilves opens an Estonian-Polish business seminar, meets the Polish Prime Minister Donald Tusk, and holds a lecture at Warsaw University on Twenty Five Years Later: Changes of Spiritual Geography in Europe. The visit ends tomorrow, as the president tours Gdańsk and Sopot.