Portfolio innovation spawns a socio-financial government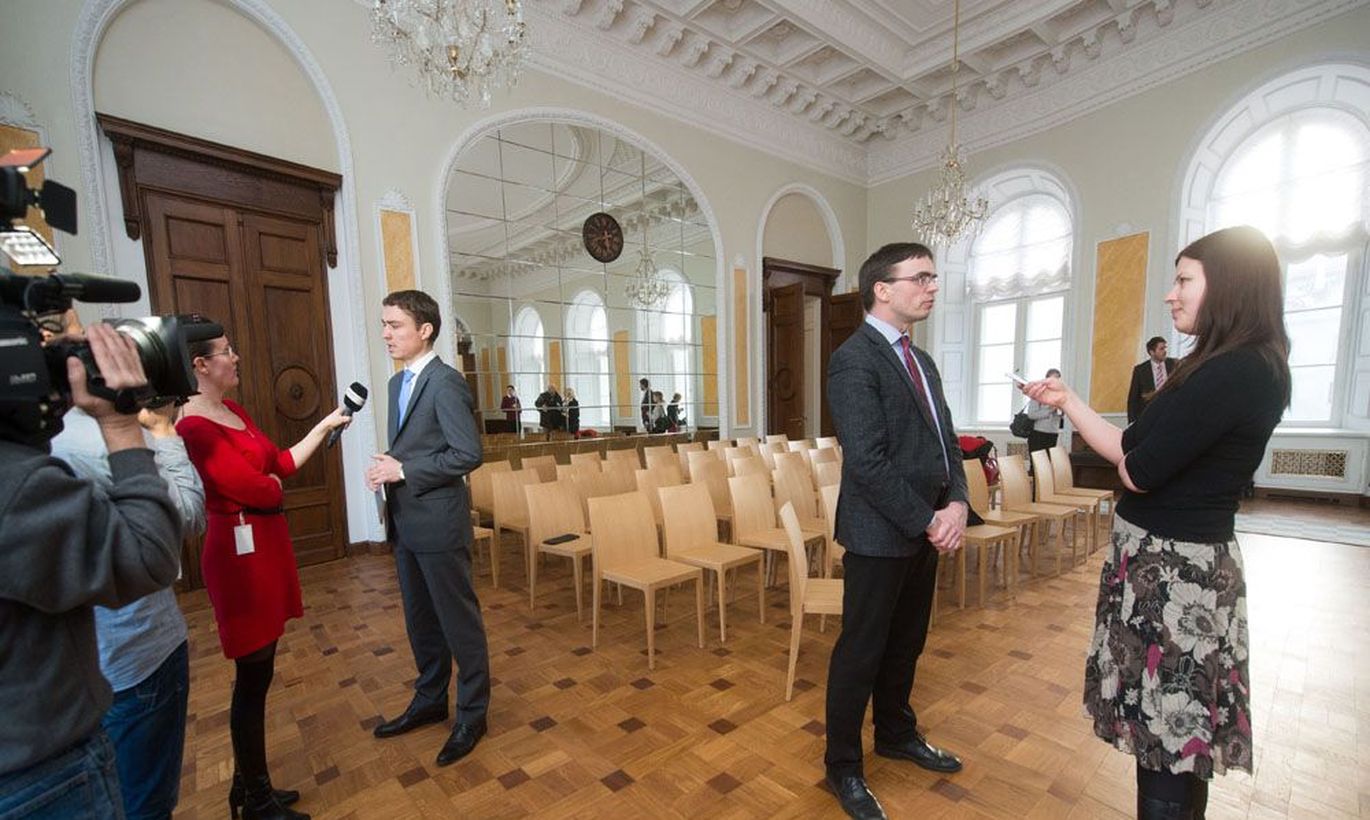 New ministerial positions needed to point towards definite problems, says coalition-to-be.
Spring-coalition is blowing fresh winds into old portfolios by sticking on new names. Hereby enter: health and labour minister; external trade and enterprise minister; economy and infrastructure minister; and a minster of social welfare.
Were all involved in negotiations prepared for the division of ministerial posts, yesterday? Not really. Among other things, there'd been the talk of a shift regarding foreign and defence portfolios – one passed over to soc dems, from paws of squirrels – but as the dust settled, the chief change appears to be the cutting away of regional minister as such (to be incorporated in Ministry of the Interior), as well as four new ministers created (two without portfolios). 
Despite the facelift, Reform Party appears to keep going with quite the old team: finance minister Jürgen Ligi, foreign minister Urmas Paet, environment minister Keit Pentus-Rosimannus, culture minister Urve Tiidus. With internal affairs post coming to Reformers, from IRL, state security will probably be in hands of current justice minister Hanno Pevkur, his old portfolio probably handed to the soc dem Andres Anvelt.
In addition to above, Reform Party also holds posts of health and labour minister and external trade/enterprise minister. These are new positions, the names of ministers to be announced at the end of this week – or the beginning of the next. «Guided by the Finnish example, we will make government work more dynamic, letting ministers manage areas which need not be stiffly linked to ministerial borders. The number of ministries will not change, but governments, now and in times to come, will be able to name ministers according to essential political priorities,» said Taavi Rõivas, the prime ministerial candidate soon to take charge.
Having, as social minister, seen the complexity of social issues and the upcoming reforms, Mr Rõivas is said to have been the one who thought it necessary to have a separate health and labour minister (whose great testing stone will be work incapacity reform) and a social welfare minister. The latter post goes to soc dems and seems to be fit for Helmen Kütt, a Riigikogu Social Affairs Committee member and formerly responsible for social affairs in Viljandi.
Continuing with soc dem ministers: Urve Palo might become economy and infrastructure minister, Jevgeni Ossinovski surfacing as education and research minister, MEP Ivari Padar likely to tackle agriculture – a field not unknown to the man.
«For social democrats, the vital subjects are children and family policy, education policy and a sustainable economic and agricultural policy. It is natural that in these domains we will be taking the governing responsibility, in the coalition to be created,» said the next defence minister, soc dems chairman Sven Mikser.
During the Reform Party/ Soc Dem government, income tax will drop by one percent, exemption minimum thereof rising to €154; also, they support lowering unemployment insurance premium rate by 0.6 percent.
«Raising the income tax exemption rate, the same for years, is good news first and foremost to people with lower and medium income, who will most feel it in their pocketbooks,» said soc dem Riigikogu member Rannar Vassiljev involved in the talks.
According to finance minister Jürgen Ligi, the new coalition will maintain budget balance. «Starting January of 2015, income tax drops to 20 percent and, as promised in the election programme, parallel to that we will start raising the income tax exemption minimum – from €144 to €154. We also support lowering unemployment insurance premium rate by 0.6 percent,» said Mr Ligi, introducing tax cuts by the new government.
To cover the costs, the new coalition intends to execute financial management more effective and flexible. Also, faster rise of substances harmful to health – alcohol and tobacco – and tax exemptions on fiscally marked fuels will be replaced by better targeted support, with the exception of fuels used in agriculture and recreational craft. Extra income is also supposed to come from extended advertisement rights for Eesti Loto, as well as effect of anti-tax-fraud measures and fight against black market.   
The new coalition also prioritises a rise in children benefit (from €19 to €45) and guaranteeing defence spending of at least 2 percent of GDP.