Soloist Siim sends squirrels towards dead end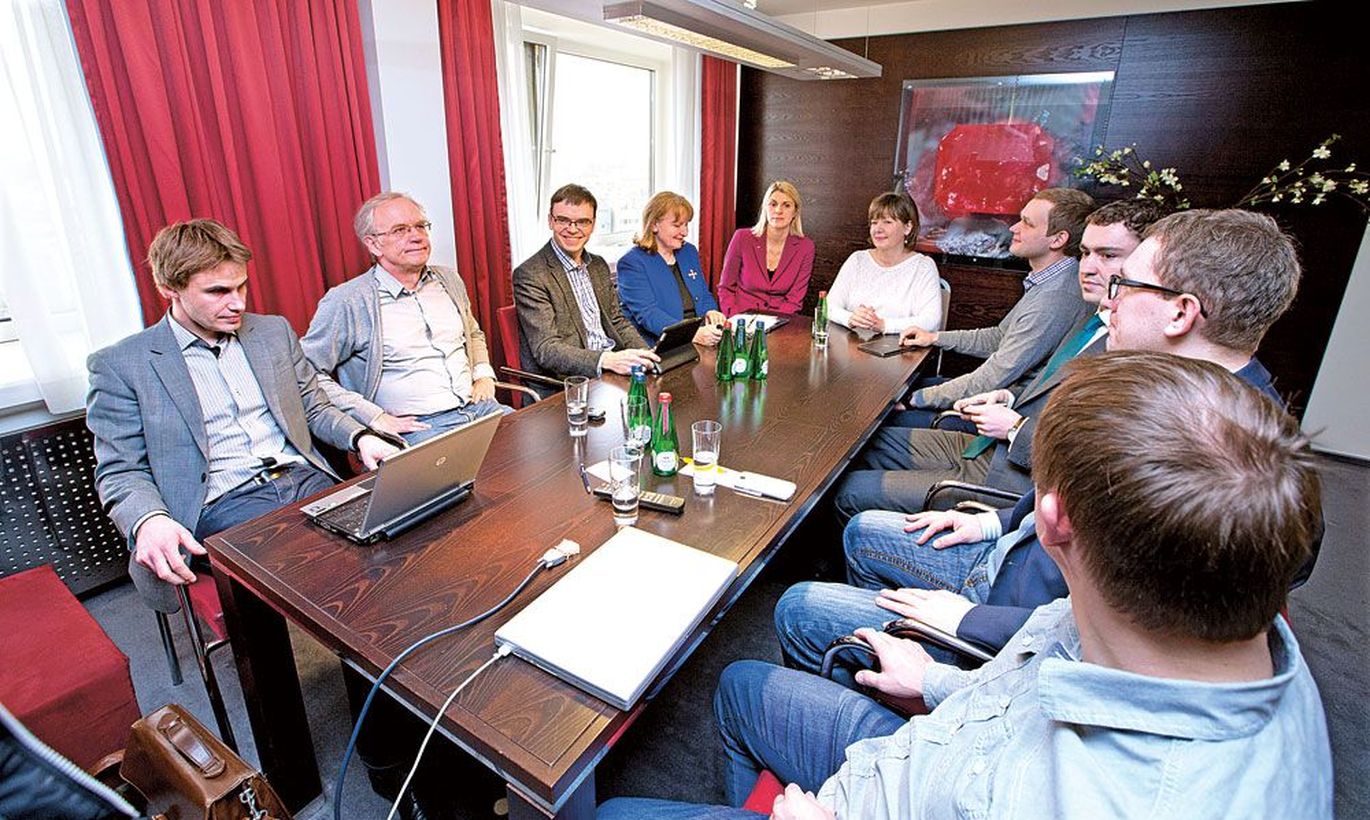 Reform Party honours pragmatism (power puts coat on back and bread on table!) and therefore values loyalty. In the almost-20-year-history of the squirrels-party, there's been just one moment when the inner life showed out a bit – in the spring of 2012, with the financing scandal exploding through Silver Meikar. A backroom-man of the party, the then justice minister Kristen Michal, after resisting for half a year lost his portfolio and shrunk to mere Riigikogu backbencher. 
In Reform Party, people are accustomed to swallow offences and resistance. For the very same pragmatic reason: to maintain the front of a strong and monolithic party, granting benefits also to those who lose positions in the game.   
Kallas, an aspiring Ilves
Late last fall, as prime minister Andrus Ansip and European Commission vice president Siim Kallas started to talk about the latter's return to Reform Party top and Estonian everyday politics, a very small circle was in the know. Other than the two we just mentioned, the coterie included Kristen Michal – a man hidden from public view for almost a year – who allegedly was the first to tell Mr Ansip of the Kallas Comeback Idea. Also informed was the rather unseen grey cardinal of the party, Rain Rosimannus.
Probably, the bunch included Taavi Rõivas, then recent social minister and now a prime ministerial candidate, the even less known Riigikogu faction vice chairman Remo Holsmer, and parliament backbencher Arto Aas.
The initial plan was simple: in the fall of 2014, Andrus Ansip goes to be EU commissioner, current foreign minister Urmas Paet is lifted to prime minister status, and Siim Kallas heads for European Parliament elections as Reform Party No 1. As the next move, Mr Kallas would have repeated the manoeuvre by Toomas Hendrik Ilves in late summer of 2006, arriving from Brussels to Estonia, in 2016, as presidential candidate.
The plan, again, was built on pragmatism; the aim being to continue the Reform Party government story even after the spring of 2015 Riigikogu elections – naturally, from prime ministerial party position. By the opinion polls, the party must have become worried indeed: for quite a while, they had stayed at third position which, in a four-party-system, may mean dropping out of government altogether, to say nothing about staying in Stenbock House.
By last Christmas, it became clear: the plan proposed to Kallas would not work – the latter already viewing himself as Prime Minister and party chairman only; into European Parliament he wished to send his daughter Kaja Kallas. Hence the new plan. Even though earlier, in several interviews and trusted private conversations, Mr Kallas has criticised Reform Party and also Mr Ansip, pragmatic calculations, as always, overcame possible offences. 
Definitely, the arrows shot by Mr Kallas were also the result of how his daughter Kaja Kallas – a newcomer in politics, elected into Riigikogu and into its Economic Affairs Committee – was if not openly attacked in the party, but surely scorned. This did reach the public, when finance minister Jürgen Ligi, a Mr Kallas contemporary from the early days, in the TV 3 show Kaheraudne made his remark regarding the beautiful big eyes and closed mouth of Kaja Kallas. But even that grew to no major fight before public – publicly, Reform Party swallows all things nice and quiet.
Urmas Paet, enjoying the most-popular-minister title almost as long as Andrus Ansip has stayed in Stenbock House (since spring of 2005 – edit), has in the official hierarchy been Nr 2 after Prime Minister; in domestic policy and within the party, he has lied low. For this, he has also been criticised. Maybe, the self preservation proved fatal to Mr Paet, weighed on the balance vs Mr Kallas.
This year, at the beginning of January, while Siim Kallas was in Estonia, a wider circle within the party learned that the mad was destined to become painter of the new and European-fresh face of Reform Party.
«Bringing him back and making him credible took a lot of effort, as the younger generation coming up in the party only new Mr Kallas, away in Brussels for ten years, by name and face only,» reasoned a squirrel-party cadre.
Still, the talk of Siim Kallas returning was not too widespread within Reform Party. Mr Ansip reckoned that the switch would be performed in the fall of 2014 only, when Mr Kallas' time is up as EU commissioner and he – Mr Ansip – heads there to take his place in Brussels.
Then, Mr Kallas sung his first public solo: while Mr Ansip was in Sochi enjoying opening ceremony of the Olympics, Mr Kallas, on February 7th, sent party comrades, party board and its Riigikogu faction a letter, informing them of his willingness to be Prime Minister of Estonia, should Mr Ansip decide to step back before the 2015 elections.
At the bottom of the letter, Mr Kallas wrote it was meant for addresses only, not for public at large to discuss. Penned by a politician, the phrase means the opposite: please leak it to media. As also happened, a couple of days later.
The Kallas Letter ended with an ambiguous figure of speech: «All who are ready to row are welcome in my boat!» That was a signal that his ambition was bigger than just a cosmetic switch on prime ministerial seat. IRL, coalition partner of squirrels, got nervous right away.
Now, Mr Ansip was cornered: as his next step, the public awaited abdication. And, indeed, he had announced two years before: being tired, he'd not be forming the next government anymore.
While the Reform Party/ IRL government exceedingly sounded like a bad marriage, one might have guessed they'd stay together till the kids grow up i.e. 2015 elections. True, in wake of local elections, IRL – so far for years No 4 in polls - had spurted ahead of Reform Party for a moment, thereafter sharing third and fourth place with the partner.
Clearly, Reform Party needed a second wind; now, though prepared, it had arrived a bit before its time. To begin with, the public took an almost non-critical approach towards the comeback of Kallas. He became, as if, a long awaited messiah.
Indeed, on February 23rd, Mr Ansip did announce in his traditional Anniversary speech in Tartu that he was stepping back so Mr Kallas could ascend to Stenbock. By now, the retired prime minister also knew he had to go to Brussels in spring, not in autumn, and thus to survive the European Parliament hearings twice.
IRL did indeed protest («no-one has booked an EU commissioner spot for Mr Ansip!»), but Reform Party turned a deaf ear. For that, there indeed was no serious reason as, a couple of days before, Reform Party and soc dems had held their initial meeting to sniff out a possible new coalition under Mr Kallas. In the first days of March, coalition ideas begun to be put on paper.
While within Reform Party there were those who doubted the Kallas comeback idea, authority of Mr Ansip was so strong there wasn't the shadow of a doubt that party council would approve candidacy of Kallas for prime minister. Surely there were those that were worried for their place in the feeding chain, as Mr Kallas might be willing to refresh the team. No big worry, however, as a victorious result in elections after one year would guarantee loyal cadre well paid jobs in times to come.
A multi-scene show in now on, how to form a new government. Since March 9th, the public was fed politically correct explanations about talks with soc dems. In Brussels, the office of Mr Kallas remained empty, even though he took no vacation to be in Tallinn. Seeing he wasn't officially even prime ministerial candidate, as yet.
On March 4th, Eesti Päevaleht published its first story of a $100m letter of guarantee bearing signature of Siim Kallas. For quite some time, hints had been in the air regarding existence of the old document.
As journalists begun to ask questions about it, Mr Kallas was visibly disturbed. The ten years behind the safe Brussels doors has weaned the commissioner of direct accountancy to public. Mr Kallas was offended – he came with plan to make Estonian politics more European, but here he's bullied by guarantees – never used – and given in some messy distant times.
For the public, new coalition talks dragged on in the former boring manner. For March 10th to 12th, President Toomas Hendrik Ilves had invited all parliamentary parties over for a discussion, one by one. In the morning of March 12th, it was Reform Party's turn to send a delegation headed by Mr Kallas. Thereafter, Mr Ilves might have proposed to form a government.
That Mr Kallas would give up becoming prime minister, only his family, Kristen Michal, and the President knew prior to the party board meeting on March 12th morning. Even Mr Ansip knew nothing.
By the way Mr Kallas looked and behaved, party comrades could not read anything about his inner hesitations and decisions. A party buddy who knows him for years said Mr Kallas is like that, never showing his feelings. Even when opening an economic conference, in Riigikogu small hall Wednesday morning at 9, he appeared brisk as always.
An hour later, the party board convened; this was planned as a routine discussion, not even attended by Mr Ansip – to begin with. For 11 am, the Reform Party delegation had been invited to Kadriorg. Mr Kallas didn't wait for Mr Ansip to arrive; to the stunned board, he declared his change of mind. Long silence descended upon those gathered.
At about the same time that Mr Ansip, environment minister Keit Pentus-Rosimannus and Riigikogu faction head Jaanus Tamkivi went to Kadriorg, a squirrels press representative sent out statement of Mr Kallas throwing in the towel; in it, the latter explained decision by media attack.
Meanwhile Mr Kallas reached Rävala Alley, his Tallinn office on the European House. Just before mid-day, he was off for airport, only accompanied by his assistant Hanna Hinrikus and the driver. In Reform Party, it was not known he'd be leaving Estonia so fast.
While, a month ago, Mr Ansip had presented Mr Kallas as a fresh face back in Estonian domestic policy top, on Wednesday he was already speaking about Mr Kallas' being elderly and his health at risk. Clearly, Mr Ansip is offended at Mr Kallas.
Why oh why did Mr Kallas throw away the chance to return to Estonia, as prime minister? Mr Kallas personally and his party buddies are adamant that he opted for health and family, instead of public attacks with documents from eras past.
At the party top, there are people unknown to Mr Kallas; no comrades any more with whom to sit down in tense times, in the evening, to sip some good wine or brandy and talk about life as friends. The passionate politicians of 1990ies have been replaced by professionals, recent youth-politicians in their 30ies, aiming at proper and peaceful rise on career ladder.
At noon, on Wednesday, one might have thought it'd be justice minister Hanno Pevkur that Reform Party would push forward as next prime minister candidate. The thoughts were there in Kadriorg, obviously – why else would president call Mr Pevkur, separately yesterday, to meet with him?
In the evening however, at Reform Party board, the choice was up between Mr  Pevkur and social minister Taavi Rõivas. Mr Ansip and Mr Michal supported Mr Rõivas, so he became the man.
Comeback plan of Siim Kallas, and its flop
European Commission vice president Siim Kallas hinted, in an interview to Postimees, that as his term expires he might not be interested in working at European Parliament. «Just recently I was listening to a plenary session at European Parliament and thought: do I really want to do this job for the next five or ten years? Don't know.»
Riigikogu member Kristen Michal, worried at the low popularity ratings of Reform Party, launched confidential talks with Mr Kallas, to bring him in as new leader for the party.
foreign minister Urmas Paet took several stands at ETV live broadcast Foorum. «Everybody sees that the ratings are falling, everybody understands that the backdrop developed over these past months or maybe over a longer period of time is definitely one the party could be satisfied with.» For many, this was a sign that the self-preserving Mr Paet has taken upon himself to try and become new party-leader.
Mr Kallas and prime minister Andrus Ansip were in talks regarding prime-minister-switch. Allegedly, Mr Ansip desired to go work in Brussels in autumn of 2014 only.
Reform Party board and faction got letter from Siim Kallas, the latter informing he wanted to become the new prime minister. «The aim that motivates me personally is Estonian EU presidency in 2018. /.../ This is a chance to show the so-called old Europe how much better than they were actually are. I have been loading this motivation into me, winding myself up for close to 10 years.»
At the same time, Prime Minister Andrus Ansip was present at opening ceremony of Sochi Olympics, in Russia. Allegedly, the solo by Mr Kallas took him by surprise, as Mr Ansip was counting on the new prime minister's candidacy staying a secret till his resignation speech in Tartu.
Siim Kallas announced that Andrus Ansip is worthy of EU commissioner post.
Reform Party board decided at its extraordinary meeting that, should Mr Ansip step down, Mr Kallas would be authorised to form the new government. The decision caused consternation in office of the President as, pursuant to the constitution, a prime ministerial candidate can only be appointed by President; and only parliament can grant a candidate the powers to form a government.
Andrus Ansip announced his resignation, in his speech held in Tartu. «Still, I deem it prudent to hand over prime ministerial post even now, as only this will give people the chance to vote, in 2015, for or against continuance of current policy.»
Andrus Ansip assured he was interested in working as EU commissioner.
Reform Party announced their No 1 for upcoming European Parliament elections is Kaja Kallas, daughter of Siim Kallas – not foreign minister Mr Paet as had been offered earlier.
Reform Party council approved prime ministerial candidacy of Siim Kallas. In a speech at general assembly of the party, the latter declared: «I would like the people of Estonia to believe in a better future, to see a better future both for themselves, and for their children and their grandchildren.»
Eesti Päevaleht published an article talking about a $100m letter of guarantee issued, a couple of years after Estonia's regained independence, by then Eesti Pank governor Siim Kallas. In the days that followed, the newspaper continued covering the topic. Reform Party saw coalition partner IRL as initiator of the media attack. That very day, Mr Kallas sent fellow-squirrels a letter of explanation, starting with the words: «The next strange copies from the time that I was governor of Eesti Pank. The timing is excellent.»
Reform Party launched coalition talks with soc dems, putting IRL on standby.
Siim Kallas finished an interview published in Eesti Päevaleht, on bank guarantees, with the following words: «By this interview, I have told all that I know.»
Eesti Päevaleht claimed Siim Kallas set state forest as security for the billion-guarantee. The same morning, Mr Kallas announced he was giving up becoming prime ministerial candidate, returning to Brussels. «From the very moment that somebody got the idea that I might become the future prime minister of the Republic of Estonia, a media campaign was launched. It has gotten especially bad now. There is no reason to believe the campaign would not continue. /.../ Repeatedly, I have advised people finding themselves in such situations to step aside. Now, I do that myself.»