Tallinn abuzz with black banned baton business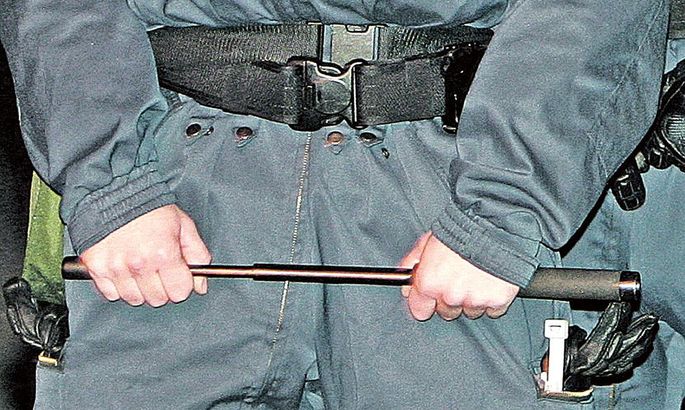 Around the harbour, foreigners are being sold telescopic batons. For buyers, «no entry» into Estonia may result.
Rightfully, the Tallinn harbour neighbourhood might claim Estonia's most criminal region title. There, foreign tourists abound, flush with cash, relaxed and careless, not thinking of the basic precautions. That attracts the petty crooks, the bigger baddies, and the ones after easy gain.
Lately, another forbidden business has announced its arrival. In the shopping centres near the port, people have appeared offering foreigners telescopic batons.
The peddlers are active within the very walls of shopping malls, like Norde Centrum and Merekeskus. Their young trained eyes spot a tourist; promptly, they approach the visitor and offer their goods. As admitted by foreigners, the idea of this being illegal never entered their mind, as it all happens in a store.
The unpleasant truth hits home as the buyer enters customs check, baton in bag – whether while crossing the border, or on board of ship. The baton will, understandably, be confiscated, being considered a weapon forbidden for civilians to use. The punishment isn't limited to a fine; also, the people will be prohibited to enter Estonia.
For understandable reasons, no one desired to talk openly about the illegal business, to a journalist. A shop assistant at Norde Centrum assured me she never saw a strange salesman in the store.
«Sure, foreigners are being approached and offered all kinds of stuff, including canned food, but that's not happening in the port itself but farther away, near the Russian cultural centre,» she said.
Her colleague mentioned she had heard of the telescopic baton trade, but has never seen a transaction taking place. «I haven't seen them enter the shopping mall. Here, we have security staff around all the time, in many placed there's video surveillance. But yes, I have heard about the sales. The other thing is the thieves, constantly milling around. In our department, thank God, it's peaceful right now, but in the sports department they are stealing all the time. Bags, mainly.»
In Merekeskus, the talk was much the same. «Dear me, they never dare to really enter you know. We will not let them in and the security guys are all about,» said the ladies selling clothes and souvenirs. «The active trading happens in the street, in the parking lot. There, all kinds [of peddlers] are to be found, both ours and the Gypsies. Police often comes. By the way, the police do come to us at times... quite rarely, though.»
According to Police and Border Guard Board Northern Prefecture press representative Andres Sang, people are often caught in the customs check at Tallinn Harbour, carrying cut-and-thrust weapons, including telescopic batons.  
«Regarding the goods, Tax and Customs Board initiates proceedings pursuant to Strategic Goods Act. If the offender is a foreigner, arrest may be replaced with a fine into State Treasury,» said Mr Sang. «Also, the board informs officials involved with migration issues, and the police. Depending on the circumstances and the person of the offender, two decisions may be made: the person is ordered to leave the country voluntarily; or the person is expelled, whereupon he/she will also be prohibited from entering Estonia again. A ban of this sort may also be imposed upon an EU citizen if the person poses a danger.»
Mr Sang pointed out that the hit-cut-and-thrust weapons banned in Estonia are also prohibited in Finland, where the penalties are even more severe. With our southern neighbours, however, the law is quite soft and it is from there that the banned goods reach us.
As stated by the police, trade with cut-and-thrust weapons is constantly being attempted around the harbour. «Lately, we have started to receive notices that the peddlers have appeared again. Last week, for instance, over 20 cut-and-thrust items and forbidden electric shock weapons were discovered at a store near the port,» specified the police press representative.
Last year, 69 cases were recorded regarding attempts to take forbidden weapons across the border, 43 of these at Eastern and 26 at Northern border of Estonia.
Sales of telescopic batons to private persons is prohibited. Only representatives of state authority may possess such arms.
§ 20. Weapons and ammunition prohibited for civilian use
(2) Cut-and-thrust weapons prohibited in civilian use are:
1) brass knuckles, knuckle knife, bayonet, telescopic baton, steel whip, as well as other items specifically produced to inflict physical;
2) cutting weapons, thrusting weapons, or striking weapons imitating the shape of some other items or hidden inside of such;
3) knives with blades thrust out by spring or weight power, thereafter firmly established, with blade length exceeding 8.5 centimetres or with blade sharpened at both sides. 
(3) Electric shock weapon is prohibited in civilian use.
§ 892. Illegal handling of electric shock weapons and cut-and-thrust weapons prohibited from civilian use
(1) Manufacturing, acquisition, ownership of, sales of, wearing, forwarding or carriage or any other illegal handling of electric shock weapons is punishable by pecuniary fine up to 200 units or arrest.