Andres Oper: half a life in Team Estonia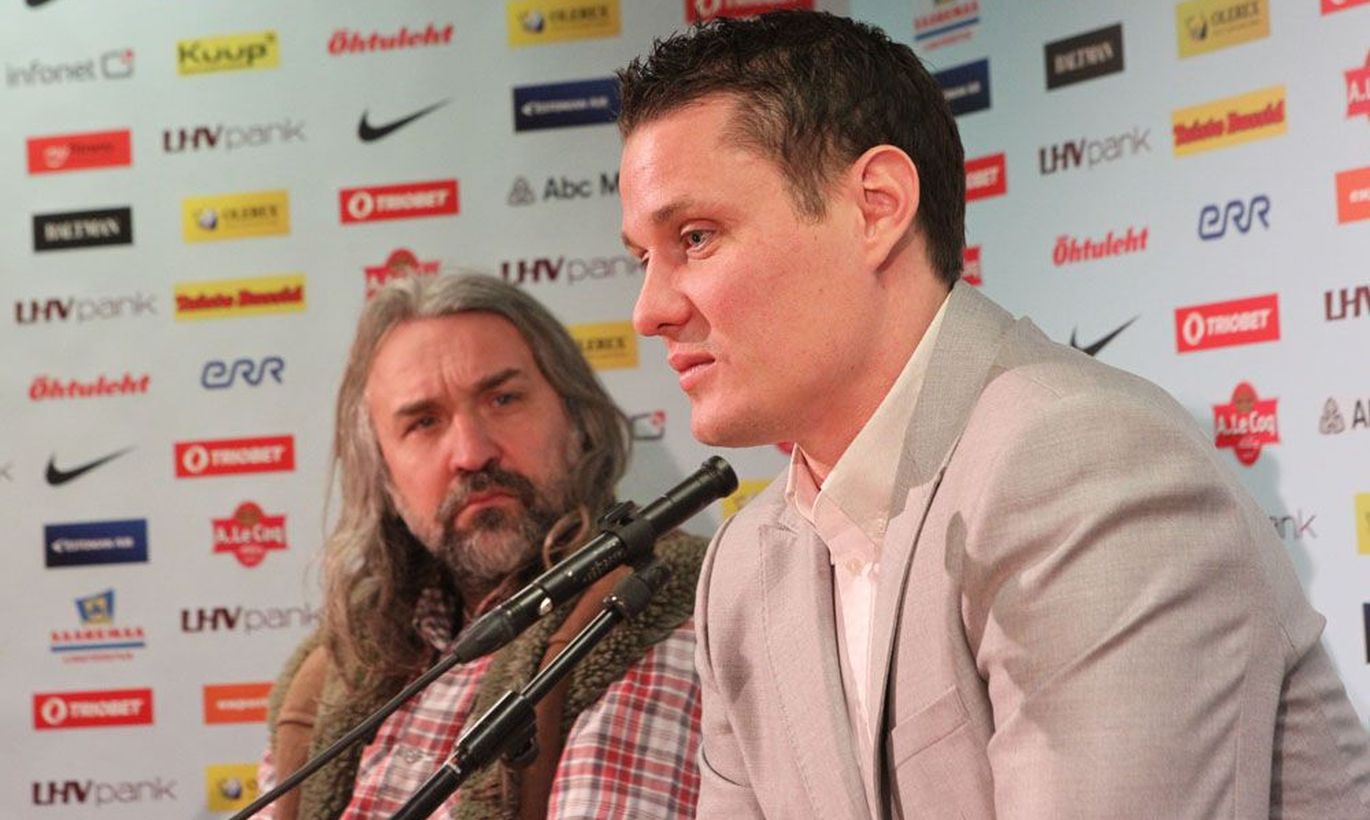 With historic amount of goals under his belt, for Estonian national football team, Andres Oper announces departure from top sports due to injury.
133 games for national team. 38 goals – more than any other wearing the Estonian colours.
An unforgettably beautiful hit into the Dutch net – career of Estonian striker Andres Oper begged for the best of finishes. Life still had its way, a different one.
At a press conference, yesterday, Mr Oper let it be known that it's all over, with top football. «Not an easy decision, mind you,» said the man. «But all things, some day, come to an end. Perhaps I'll be playing, somewhere, but that'll be purely for fun. The career is over, life is not!»
The striker said it was the neck, hurt in a car accident this past summer. «I was deep in depression, following the crash. The pain is no more, but it rehabilitation took too long. Had I gotten myself fixed three months ago, perhaps I'd have considered continuing; now, however, I felt time was ripe for new challenges. It was not an easy thing to break the news. I was thinking: really? Why? But the step was needed.»
To draw the line, Mr Oper will play friendly against Gibraltar, for Estonia, in May 26th. «The new head coach just called, I promised him I'd be real good!» joked Mr Oper. «I'll have three months not to get myself in shape. Went jogging, yesterday – on form? Well that would be some exaggeration... Hopefully, though, I'll still get to wear the shirt, No 8!» laughed the man. «I'll talk to the coach!» promptly promised Aivar Pohlak, seated at his side – the president of Estonian Football Association.
While for a biography of Indrek Zelinski, Mr Oper's long-time attack buddy, the title Half a Life in Offside, has been teasingly suggested, then  a book on Mr Oper could surely be sold as Half a Life for Team Estonia. The debut came in the summer of 1995, at a Baltic Tournament, playing against Latvia while only seventeen. To the first «national goal», he'd have to wait for two more years. Then it came: playing Sweden, in Estonia, for World Cup qualifier. More than 15 long years after that, Mr Oper scored last for Estonia. Andorra was beaten – at World Cup qualifiers, again – 1:0.
Bracketed between these two summer-time games, there was a long and a successful career, first taking Mr Oper to Denmark's top league, in 1999, to play for Aalborg. An historic sum was paid for the Estonian, back then – a million dollars. He could have risen higher, though – allegedly monitored by Arsenal, while really young, in 2005 he almost cracked the English Premier league.
The last minute decision by Sunderland, to rather get Andy Gray, in hindsight perhaps gladdened Mr Oper's heart more than the Englishmen's. In his half a year at Sunderland, Mr Gray only scored once and was quietly sold off. Mr Oper, in his turn, made it to the topmost Dutch league, Roda, and got his career going like anything. His best Holland- days came in 2006/07, rising to be Roda's best scorer with 19 goals.
What wrote Mr Oper forever on Estonians' hearts, however, were his goals against Russia and Holland. The first one understandably weighty, the other – for the first time ever, perhaps – raising the sceptre of playing the global tops, out of sight and out of touch for the longest of whiles, as an equal. These two goals did lift him to a level of the chosen few, where Mart Poom used to be, and now perhaps Konstantin Vassiljev – men exalted to symbolise the national team just being who they are.
«That's not for me to answer,» Mr Oper parried the question regarding him being an Estonian legend. Rather, he would expound on the bright spots of the team career. «Teitur,» he said, with full confidence – head coach Teitur Thordarson, reshaping entire Estonian football.
Glancing back at the long career, Mr Oper has no regrets. Regrettably, though, he missed out playing some great opponents – like Spain (Mr Oper was injured), and England, twice. For the Game of the Century against Brazil, he wasn't invited from faraway China. His latest low coincided with Estonian team's best period ever, European Championship almost within reach. In these qualifiers, Mr Oper only played a couple of initial matches.
Despite not being his best, in clubs, in recent years, the experienced Mr Oper still made it back to national team after a little pause. The last part of career, however, was not to be as trouble free as the early years.
For starters, a strong concussion in a friendly against Scotland: «Of that match, I remember absolutely nothing,» Mr Oper admitted to Õhtuleht, following the game. Still, after the collision in initial minutes, he had played till end of first half-time.
The final blow came outside of football – a bus driving into a taxi carrying Mr Oper, in Tallinn, from behind. The striker's shoulder was hurt so bad he had to have surgery, by Dr  Madis Rahu. Optimistic after the operation, the opposite proved true for Mr Oper – a disk got into the habit of scratching a nerve, bad. «Never had such pain in my life. Quite depressing,» the player admitted to Postimees.
This January, involved in UEFA B-licence coach trainings, Mr Oper confided to Postimees he was rather thinking of getting healed, not playing. «Recovery took too long... Would be worse if one day I wouldn't feel my arm, or foot. A pity, of course, to have career cut off like that. But I can still improve it, at the final match!»
What does the future hold, for Mr Oper? Dwelling in England, currently, where will he be? «We'll see about links to Estonia, depends on job offers. Coach would be an option, scout, technical director...  At Aalborg, a friend just became sports director. I have developed some few contacts,» said Mr Oper, promising to stay with football.