Traffic insurance price to rise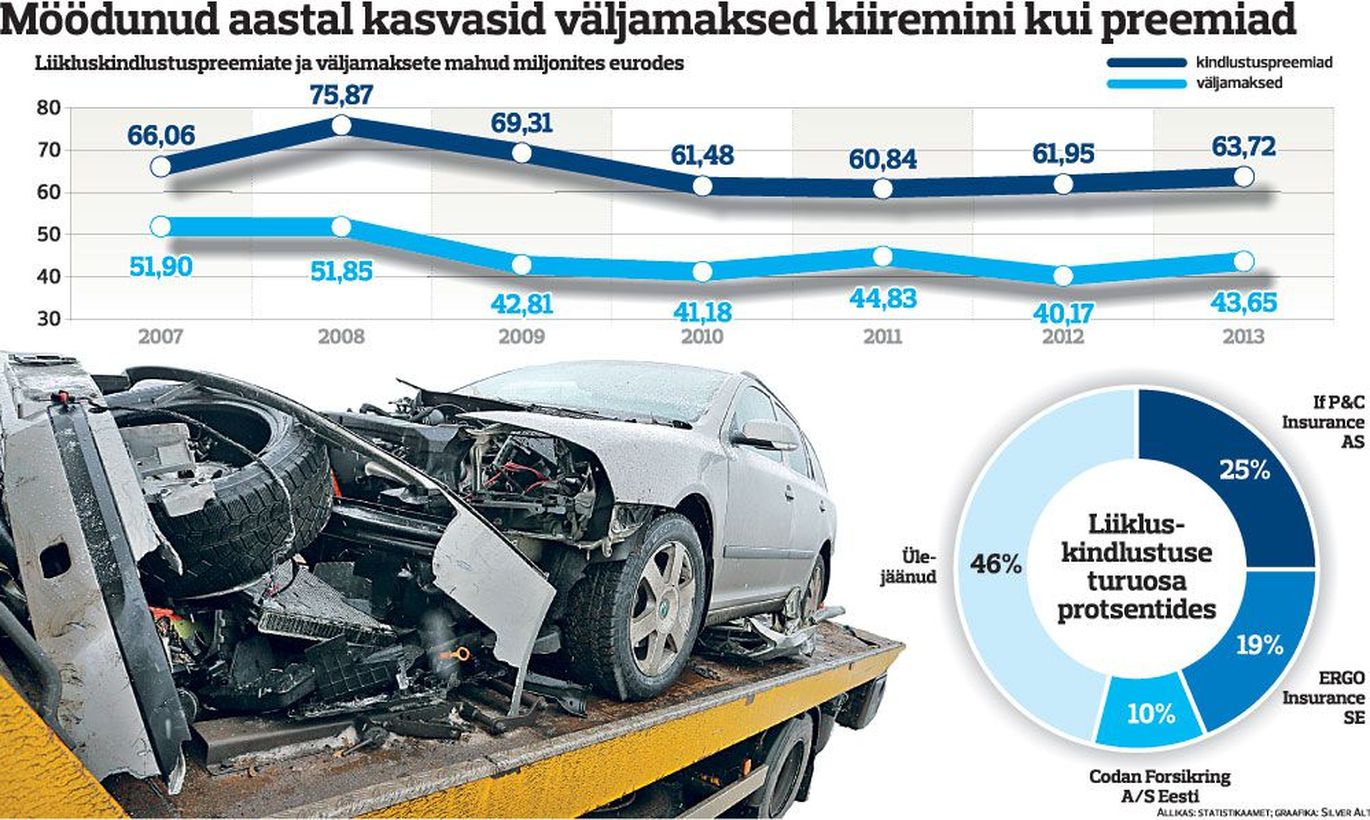 In months to come, hundreds of thousands of car owners may face the sad surprise of traffic insurance getting costlier.
Price hike will touch the 300,000 plus physical and 44,500 legal persons possessing the 615,544 continuously insured vehicles as at December 2013.
«This year will definitely be characterised by price level rise, as 2013 was basically a loss-making year for traffic insurance, all across the market,» said Andres Konsap, insurance director at Ergo Insurance. According to Andres Piirsalu, board member of Estonian Insurance Association, traffic insurance is in the red for quite a while already; in 2013, the losses amounted to €3.5m.
Commenting the price rise, insurance companies are tongue tied as the one taking the first step will probably get a backlash.
«First of all, this is the issue of price tolerance – who and to which extent is willing to take a risk and, having raised prices, at least temporarily to give up some market share. No doubt, gradually the others will then also raise their prices; even so, traffic insurance has been in the red, as a product, for many a year across the market,» explained Andres Konsap. «How much and how fast the price will rise, that will vary according to companies; still I do believe that as the new Traffic Insurance Act is being implemented, rising prices for the service will be unavoidable across the market,» he added.
In Riigikogu, the new Traffic Insurance Act (more precisely – Motor Third Party Liability Insurance Act), is at its second reading. As, in spring last year, finance minister Jürgen Ligi introduced the bill, he said it was not traffic insurance system reform, the aim being updating the sector – the amendments, he said, were rather the legal and technical kind.
Still, financial results and pricing policy of insurance companies may be affected by the planned rise of damage compensation limit. With property damage, this will rise from one million euros to €1.2m; with personal injury, from five million euros to €5.6m. The bill also means manifold rise of sum insured for non-patrimonial damage – from current €640 to €3,200. According to plan, the new Act would enter into force as soon as March 1st. Probably, the price rise will not come all at once and will not be the same size with all companies.
«A definite trend is hard to predict, as new players will add to competition,» said Ivika Torpel, managing director at Swedbank P&C Insurance, in Estonia.
The new players are the Polish insurance company PZU, which started selling traffic insurance this January. Also, Vienna Insurance Group is entering damage insurance market, probably including traffic as well. Already, Vienna is present in Estonia's life insurance market under brand Compensa Life.
According to If Kindlustus board member Artur Praun, If has not artificially kept its traffic insurance price low at the expense of other kinds of insurance; therefore, they feel the least pressed to rise prices.
«Price rise in traffic insurance is needed; the issue is, to what extent,» said Mr Praun.
According to Andres Piirsalu, traffic insurance as mandatory insurance service is not too profitable across in the whole world. 
«One reason why many still do this is the so called economies of scale,» says Mr Piirsalu. «Even if the service is in the red, to a certain extent it may make sense as the overall volume of payments is big, providing large cover for operating costs,» he added.
In Estonia, traffic insurance totals 26 per cent of non-life insurance payments; at the moment, there are ten active players in the field.